NEWS
Tosu defeat Higashi Fukuoka in a "Kyushu Showdown" to remain in first place - Prince Takamado Trophy JFA U-18 Football Premier League 2022
27 June 2022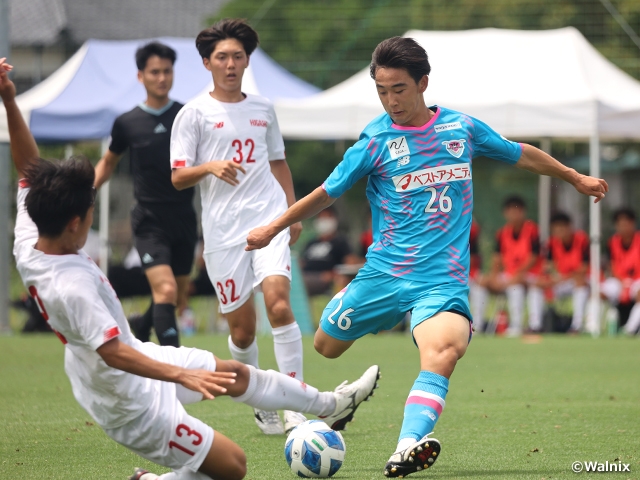 The 10th sec. of the Prince Takamado Trophy JFA U-18 Football Premier League 2022 WEST took place on Sunday 26 June. At Saga Healthy Active Life Promote Center, Sagan Tosu U-18 (Saga) squared off against another side from Kyushu, Higashi Fukuoka High School (Fukuoka).
Featured Match
Sagan Tosu U-18 3-0 (2-0, 1-0) Higashi Fukuoka High School
Tosu, the provisional leader of the WEST, ended their five-game winning streak after losing to Cerezo Osaka U-18 (Osaka) in their previous match. Seeking to start another winning streak, the players of Tosu entered this match with plenty of enthusiasm, as NARAHARA Yoshiki (#7) mentioned, "Tosu is a team that should not lose, so losing consecutive matches was out of the question."
Reflecting on their poor start in the previous match, Tosu were sharp from the outset and displayed great intensity. Seeing how Higashi Fukuoka defended with five in the back, the home side applied pressure by moving the ball at a good tempo and effectively used the width of the field by collecting the ball to their two wingers, SAKAIYA Keisuke (#9) and MASUZAKI Kosei (#17). In the 22nd minute, IMAMURA Motoki (#5) made an overlapping run to receive the ball from Masuzaki in the left flank. The defender then delivered a cross towards the centre, which was met by YAMASAKI Haruki (#26), who calmly controlled the ball before striking a shot that captured the goal, as the striker later reflected, "I was able to control the ball where I wanted, so I just had to keep an eye on the goalkeeper before taking a shot."
Even after taking the lead, Tosu continued to apply pressure from the frontline, as YAMAMOTO Sota (#2) forced a turnover in the opposing end before taking a shot from distance. In the 33rd minute, Narahara received the ball from FUKUI Taichi (#10) and played a pass-and-go to enter the penalty area. The shot taken by Narahara, which he later described as "a perfectly executed shot," found the back of the net to extend the lead for the home side.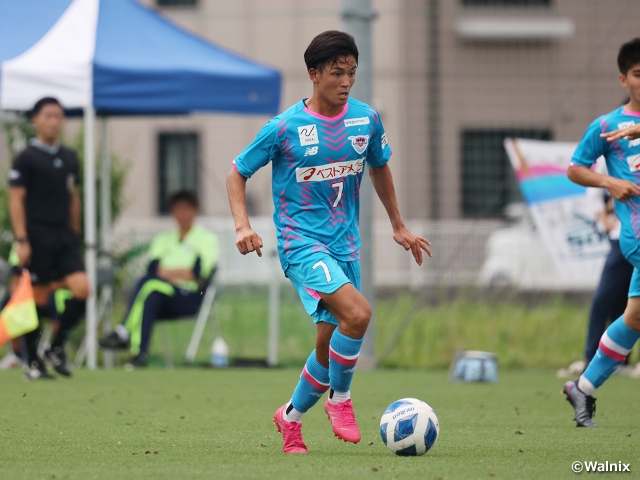 The second half saw Higashi Fukuoka taking the initiative, as SHIMOKAWA Shosei (#10) mentioned, "We were in a position where we had to score goals, so we tried to push forward as much as possible." Although the visitors made continues efforts to create opportunities, the Tosu defence displayed great composure to keep the Fukuoka side at bay, as SAKAI Shunya (#4) later reflected, "We knew our opponents were going to press forward, so we were ready for them."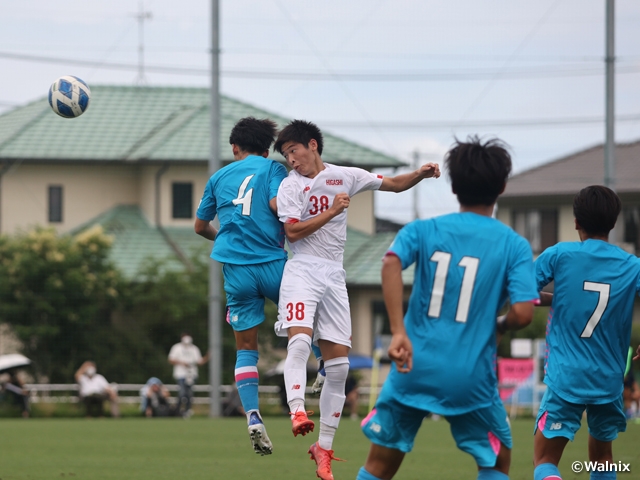 After a period of patience, Tosu had another chance in the 70th minute when Yamasaki received a throw-in deep in the opposing end, and delivered a pass to Sakai, who fired a shot. With the shot taking a deflection off a Higashi Fukuoka defender, Sakai collected the ball to setup the shot of Yamasaki, who converted the opportunity, as he recalled, "I noticed the goalkeeper was off position, so I aimed towards the opposite side."
Tosu's goalkeeper KURIBAYASHI Hayato (#1) was challenged by a long-range shot taken by Shimokawa in the 75th minute, but the goalkeeper made a spectacular save to keep the clean sheet intact. The home side utilised all of their substitutions to finish off the match, as they kept their top spot in the WEST with a 3-0 victory.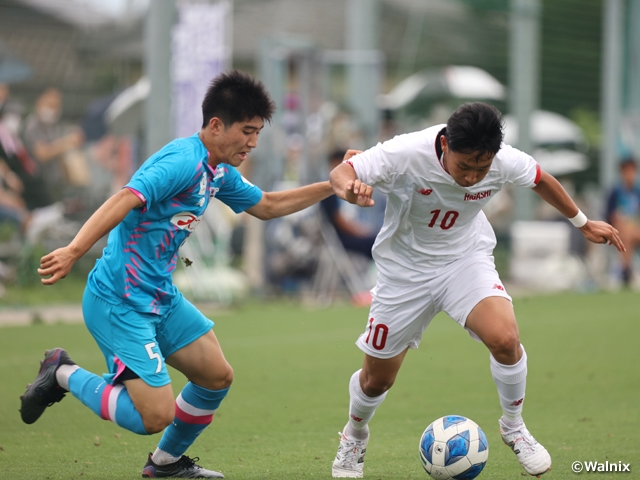 Coaches and Players' Comments
TANAKA Tomonori, Coach (Sagan Tosu U-18)
With the opponents dropping deep to park a bus in front of their goal, we thought it would be tough to score goals against them. It would have been better if we could have scored more goals, but it was nice to see our side find the rhythm to take an early lead. With the team also keeping a clean sheet, I am satisfied with the way we played today. We may be the provisional leaders, but we think Jubilo, who have played one less match, are in first place, so we will do our best to beat them next week.
MF #4 SAKAI Shunya (Sagan Tosu U-18)
Fukui was absent when we lost our previous match. I was very frustrated that people thought we lost because he wasn't there. But at the same time, this match really reminded how influential Fukui can be. The fact that we were able to win while being conscious of our top-team's playing style, which is to make quick transitions after losing possession of the ball, gives us great confidence moving forward. We will not change our approach in the remaining matches of the first half. Our top priority is to win matches, so we will continue to execute our game plan and try to showcase a solid performance on the pitch.
MORISHIGE Junya, Coach (Higashi Fukuoka High School)
We focused on our defence to prepare for this match, so we didn't have enough time to thoroughly go over our attacks. With new players coming in due to the change of entries, I felt that there was a lack of communication as to where they wanted the ball and how to attack. However, there were some scenes where we managed to create opportunities, including the start of the second half. It would have been nice if we could have kept our composure in those scenes. We will try to make the most of this experience to grow as a team.
MF #10 SHIMOKAWA Shosei (Higashi Fukuoka High School)
Facing an opponent who we lost 0-4 in the Sanix Cup in March, we knew it was going to be an uphill battle for us, but they were much better than we expected, and we couldn't create much attacking threats. We entered this match with the intention to keep a clean sheet, but the Tosu players worked extremely hard to get involved on the ball and they were simply the better team today. Before entering this match, we had a two-game winning streak going, so we hope to get back on our winning ways when we face Sanfrecce next week.
Results of other matches
Ozu High School 3-4 (1-2, 2-2) Jubilo Iwata U-18
Shimizu S-Pulse Youth 2-2 (1-0, 1-2) Gamba Osaka Youth
Shizuoka Gakuen High School 3-2 (1-1, 2-1) Riseisha High School
Nagoya Grampus U-18 0-2 (0-1, 0-1) Vissel Kobe U-18
Sanfrecce Hiroshima FC Youth 2-2 (2-1, 0-1) Cerezo Osaka U-18
Jubilo Iwata U-18 (Shizuoka) defeated Ozu High School (Kumamoto) away from home, thanks to the game winner scored by GOTO Keisuke (#17) in the 90th minute. Despite taking a 2-0 lead, Shimizu S-Pulse Youth (Shizuoka) conceded two goals in the second half to share a point with Gamba Osaka Youth (Osaka). In the match between two high school giants, Shizuoka Gakuen High School (Shizuoka) and Riseisha High School (Osaka), the Shizuoka side walked away with a 3-2 victory thanks to the brace of TAKAHASHI Ryuta (#10). Vissel Kobe U-18 (Hyogo) earned their fourth win of the season after scoring a goal apiece in each half to defeat Nagoya Grampus U-18 (Aichi). Sanfrecce Hiroshima FC Youth (Hiroshima) failed to hang onto their two-goal lead at home, as they drew 2-2 against Cerezo Osaka U-18 (Osaka).
Prince Takamado Trophy Premier League Official Twitter
%F0%9F%8F%86#高円宮U18 プレミアリーグ 2022%F0%9F%8F%86
%F0%9F%9F%A2WEST 第10節(6/26)%F0%9F%9F%A2

%E2%9A%BD試合結果%E2%9A%BD#鳥栖 3-0 #東福岡#大津 3-4 #磐田#清水 2-2 #G大阪#静岡学園 3-2 #履正社#名古屋 0-2 #V神戸#広島 2-2 #C大阪

結果詳細はこちら%F0%9F%94%97https://t.co/GNr6Ievn0n#高校サッカー pic.twitter.com/h6Mzz7op0Z

— 高円宮杯 JFA U-18サッカープレミアリーグ (@jfa_u18) June 26, 2022
%F0%9F%8F%86#高円宮U18 プレミアリーグ 2022%F0%9F%8F%86
%F0%9F%9F%A2WEST%F0%9F%9F%A2

%E2%9A%BD暫定順位表%E2%9A%BD
1%E2%83%A3 #鳥栖
2%E2%83%A3 #磐田
3%E2%83%A3 #静岡学園
4%E2%83%A3 #C大阪
5%E2%83%A3 #V神戸
6%E2%83%A3 #名古屋
7%E2%83%A3 #清水
8%E2%83%A3 #東福岡
9%E2%83%A3 #履正社
1%E2%83%A30%E2%83%A3 #広島
1%E2%83%A31%E2%83%A3 #大津
1%E2%83%A32%E2%83%A3 #G大阪

詳細はこちら%F0%9F%94%97https://t.co/UFlr6DqbvG#高校サッカー pic.twitter.com/U2HtA1WvJJ

— 高円宮杯 JFA U-18サッカープレミアリーグ (@jfa_u18) June 26, 2022
Prince Takamado Trophy JFA U-18 Football Premier League 2022
League Duration: Sat. 2 April - Sun. 4 December 2022