NEWS
Kids Traveling Guidance Report (June)
20 July 2022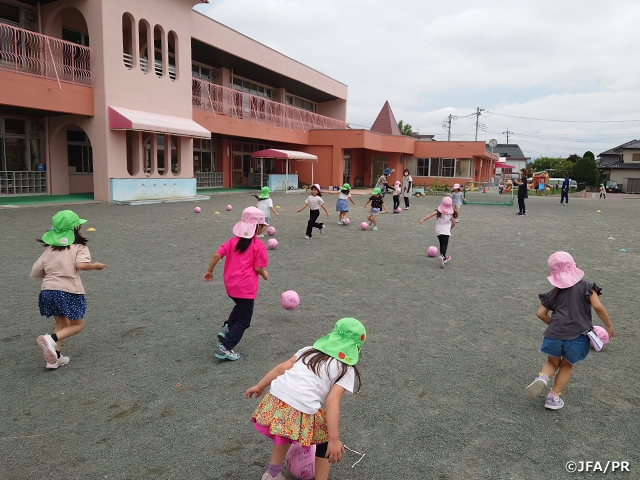 With the support of the Kids' Committees of each prefectural football association (FA), JFA has been organising "Traveling guidance" courses around the country. In the "travelling guidance" course, travelling guidance staffs from each prefectural FA go to kindergartens, nursery schools, and primary schools to offer a variety of programmes for children to enjoy football. This is an initiative to give nursery staff and teachers, who may not have much experience or knowledge of football, the opportunity to join a team of experienced football coaches and give the children time to exercise with the ball. Here we will introduce the traveling guidance activities that were recently conducted.
Thursday 16 June, Koma Nursery School (Minami-Alps, Yamanashi)
The football class was held under favourable weather conditions, with 32 children energetically greeting the coaches. The children went through various drills while the coaches taught them what kind of sport football is and guided them so that everyone, including those who are new to football or who are not good at physical activities, could easily follow. The children listened carefully to the coaches and were having great fun in the process. We will continue to work with them and show them how fun football can be.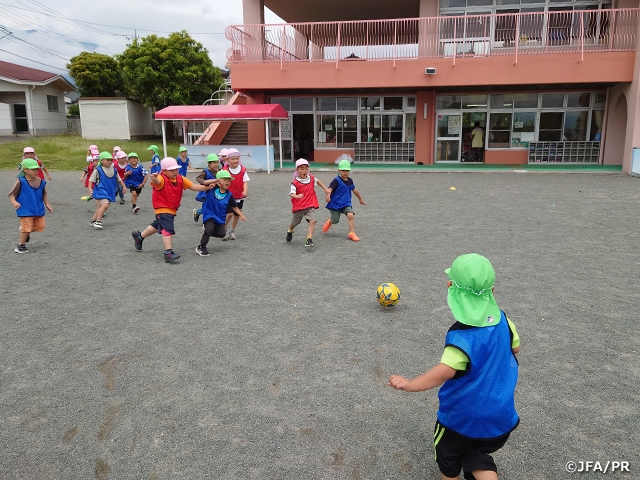 Coaches and Teachers' Comments
YAMAKAWA Satoshi (Yamanashi FA Traveling Guidance Staff)
When we asked the children, "what kind of sport is football?" they responded by chasing the ball with great enthusiasm and using their feet to control the ball. The smiles they had shown after scoring goals were just priceless to us. I am looking forward to playing football with everyone again.
SUGIURA Kaho (Yamanashi FA Traveling Guidance Staff)
Everyone showed great focus as we went through various drills, and they played the final game with great enthusiasm. As we were packing to leave the school, many of the children approached us and told us that they would like to play football again, which made me so happy. I had so much fun in this travel guidance.
KASAI Rika, Teacher (Koma Nursery School)
Thankyou very much for holding this course. Although this was the first football class for these children, they seemed to have so much fun thanks to the easy to understand guidance provided by the coaches. Many of the children expressed that they had fun and wanted to play again. They are now more interested in playing football and more willing to play outside in general.
MURAMATSU Reina, Teacher (Koma Nursery School)
Thankyou for your guidance. Like the children, this was my first time attending this class. It was very easy to understand and even the children who don't usually play outside also seemed to enjoy this course. Some children were showing great enthusiasm when scoring a goal in the game, and we are seeing more and more children wanting to play football when we are outside.