NEWS
Kids Traveling Guidance Report (May)
20 June 2022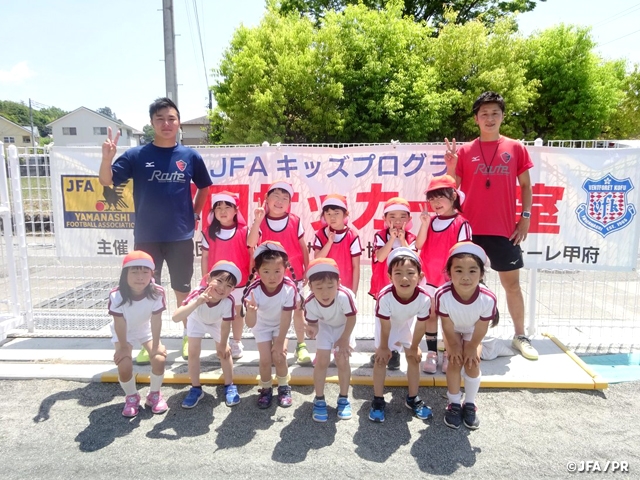 With the support of the Kids' Committees of each prefectural football association (FA), JFA has been organising "Traveling guidance" courses around the country. In the "travelling guidance" course, travelling guidance staffs from each prefectural FA go to kindergartens, nursery schools, and primary schools to offer a variety of programmes for children to enjoy football. This is an initiative to give nursery staff and teachers, who may not have much experience or knowledge of football, the opportunity to join a team of experienced football coaches and give the children time to exercise with the ball. Here we will introduce the traveling guidance activities that were recently conducted.
Wednesday 18 May, Futabanishi Nursery (Kai, Yamanashi)
A football class was held for 36 five-year-old class members. The weather was good, and everyone enjoyed the football lesson. At the traveling guidance, children are encouraged to have fun playing football in good spirits, to never give up on difficult tasks, and to keep challenging themselves no matter how many times they fail. These are some of the mottoes of the activities, which are designed to help children discover the joy and excitement of playing football and other physical activities.
On this day, the children were full of smiles and were heard saying, "I did it, Coach!" and "It's difficult, but I'll do my best!" We will continue to carry out these activities so that the children can experience how fun and exciting it is to play football.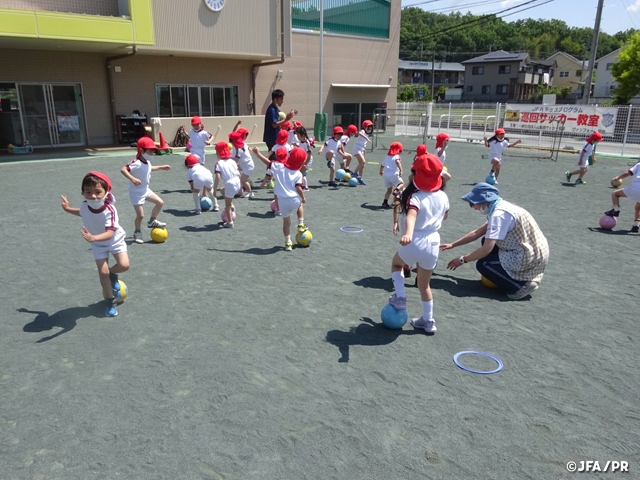 Coaches and Teachers' Comments
MOCHIZUKI Shota (Yamanashi FA Traveling Guidance Staff)
I was very happy to play football with everyone today. The children were very polite and listened to the coaches very carefully. During the game we played at the end, they all celebrated when scoring a goal and cheered on their friends when they were watching from outside. I am looking forward to playing football with everyone again. Thank you very much!
YAMANAKA Ryoji (Yamanashi FA Traveling Guidance Staff)
The children challenged each trick the coaches taught them and expressed great joy when they were able to do it. They controlled the ball with their feet, took shots, and scored many goals!
Mr. ITAYA Yuichi, Teacher (Futabanishi Nursery)
Everyone was so excited for this event that they kept asking "When is the football class?" "Is it tomorrow?" They all had a great time and told us that they are now "friends with the ball."
Ms. MITSUI Yumi, Teacher (Futabanishi Nursery)
There were kids who were interested in football and those who were worried if they could play at all, but as the course went on, everyone was having a great time. Some of the children were disappointed to lose the game, but that too seemed to be an enjoyable memory for them. Thank you very much.