NEWS
Class S Coach Training Course 2022 Participant's Report Vol. 15
16 December 2022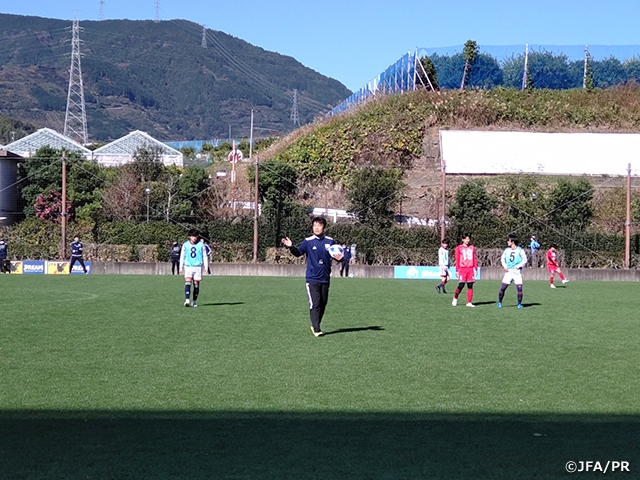 Almost a year after the trial to select the participants, the Class S Coach Training Course 2022 is now in its last week, as the participants took the final coaching exam.
We would like to take this opportunity to thank all the support players who helped us during the intensive and short courses, the lecturers who took time out of their busy schedules to hold the lectures, and the assistant students who supported us throughout the course.
We would like to conclude this series of report by wishing all the participants, who have become more experienced as coaches through the training course, further success in their future work.
Class S Coach Training Course 2023 is scheduled to start in April.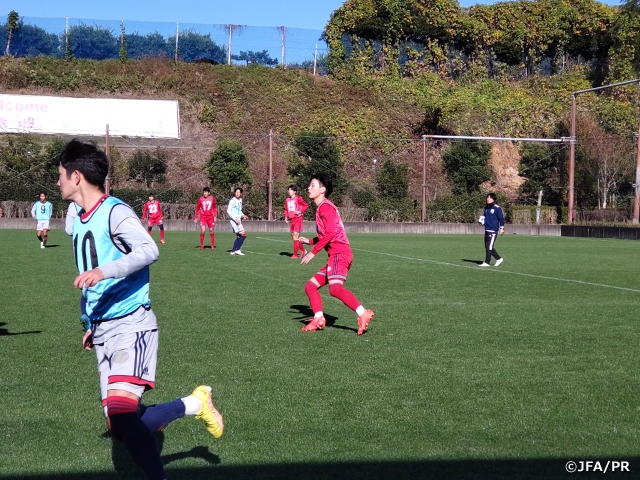 Duration: Mon. 5 - Thu. 8 December
Mon. 5 December
PM
Guidance
Game (Ryutsu Keizai University)
Tue. 6 December
All day
Coaching Exam
Wed. 7 December
All day
Coaching Exam
Thu. 8 December
AM
Closing ceremony
Support players: Ryutsu Keizai University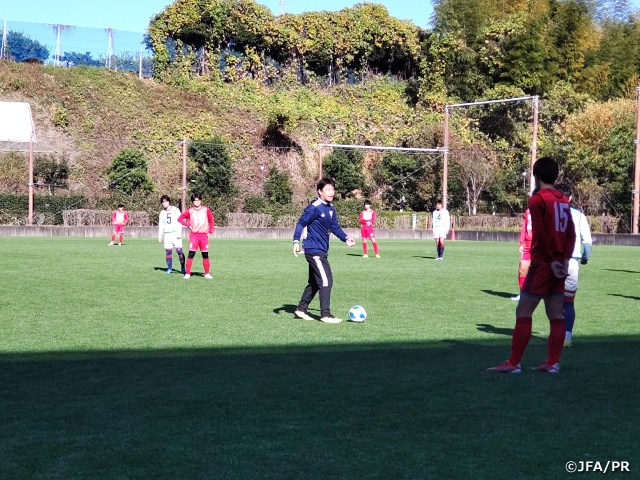 Participant's Comment
Mr. YABUTA Mitsunori (Tokyo Verdy Youth)
Since the course began on 10 April, we have finally reached the final week of the Class S Coach Training Course 2022. This week the participants took the final coaching exams, which was supported by the players from Ryutsu Keizai University. I think that all the participants were able to demonstrate everything they had learned throughout the year in this final exam. This opportunity to coach in such a tense environment and the guidance I received from my instructors and fellow participants have both proven to be invaluable assets for me. The idea that this course is coming to an end makes me sad. I would like to make the most of the lessons I have learnt over the past year in the next step of my career. The Class S Coach Training Course was developed by the tutors, assistant students, JFA, support players, and all of the participants, and I am extremely grateful to have been able to take part in it. I was able to advance to the next level with everyone's help. Thank you all for your hard work over the past year. We look forward to your continued success. Thank you very much.
Mr. WAKAI Kenji (Fukuyama Heisei University)
Time seemed to fly by from last year's Class S trial, our first short course, to the final exam in Module 5. Looking back, I recall the indescribable feeling of nervousness and excitement I experienced, while I was still trying to get to know all the people's faces and names. The final exam is the culmination of this year-long coaching course. Everyone worked hard to improve the sessions based on the feedback from the tutors and support players, and in my opinion, the sessions' quality was higher than ever. It seems like only yesterday that we were working late every night, by trial and error, to rework our training plan as a group, based on the seven themes. Each participant had 25 minutes to conduct their training session, which had to include an intrasquad game, during the final coaching exam. Everyone spontaneously applauded when the first participant finished, which I believe was a sign that everyone felt a strong sense of emotion and respect for all the work we had put in over the course of the year. We concluded our sessions feeling sad that our time with these friends was coming to an end, but also satisfied that we had done our job and feeling responsible for the future. I was once again struck by the phrase "we will remain friends and rivals" at the conclusion of the last session when we greeted the support students who had assisted us, and I was genuinely grateful to have been a part of this group. A "best mate" can go through various stages, from being a new mate, a close mate, a trusted mate, and to becoming a soulmate. These participants are genuinely my soulmates, and I will always be grateful that I was able to take part in this wonderful Class S Coach Training Course. In addition to the participants, the tutors who led us were also instrumental in making this course possible. I consider myself fortunate to have found my life mentor at my age. I believe that is why this course is categorised as S-class.
Last but not least, the course was made possible thanks to the efforts of many people involved in conducting the course. I would like to thank the tutors, support students, assistant students, the JFA office, the lecturers, and also Hayashi-san for representing the members, Nagayama-san and Tamura-san for arranging the support students, Murakami-san for encouraging everyone as captain, and Oshiba-san and Hasegawa-san for kindly watching over us. The end is the beginning of a new start. As we are now prepared to take on a new challenge, we will value what we have accomplished, acquired, and grown from this training course and we will "aim to be the happiest, footballing nation in the world!"