NEWS
AFC Beach Soccer Coaching Certificate Course Level 1 held at JFA YUME Field
05 January 2023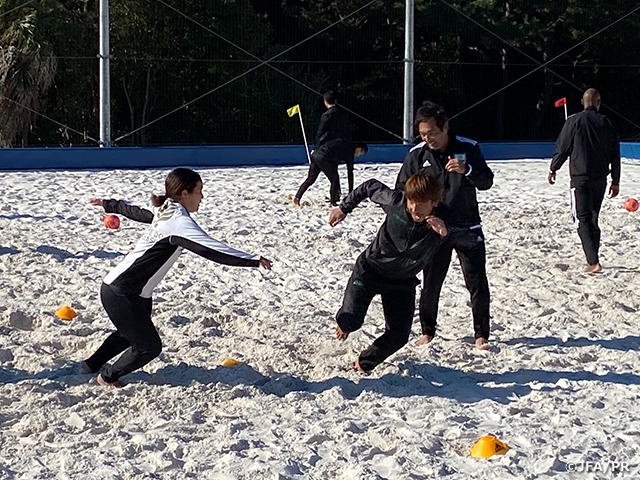 The AFC Beach Soccer Coaching Certificate Course Level 1, a beach soccer coaching course organised by the Asian Football Confederation (AFC), was held from Sunday 11 to Friday 16 December at the Prince Takamado Memorial JFA YUME Field.
Japan Beach Soccer National Team head coach and AFC instructor Mr. MOREIRA Ozu served as the main AFC tutor, with assistance from national team coaches Mr. TABATA Teruki and Mr. TANAKA Akihiro, beach soccer international referee Mr. SAKURADA Masahiro, Dr. TATEISHI Tomohiko, Japan Beach Soccer National Team goalkeeper Mr. KAWAI Tomohiko, the course was attended by 10 beach soccer coaches and active players.
This course is one of AFC's specialised courses and aims to train individuals to be able to coach basic beach soccer. It has been designated as a requirement for coaches of teams competing in AFC competitions since 2017, and Level 2 of this course will be compulsory by 2025.
Course content
Theory
Coaching Process
Coaching Method
Laws Of The Game
Warm Up & Cool Down
Theory Physical
Type Of Passing
Shooting
Goalkeeping
Tactical Attacking
Tactical Defending
Development Phases & Mental Skills
Nutrition & Energy System
Hygiene & Sports Safety
Practical
Laws Of The Game
Warm Up & Cool Down
Practical Physical_Basic Physical Training
Principles Passing & Support Play
Principle Of Shootig
Goalkeeping
Basic Attacking Options
Defending 1v1 & 2v2
Group Task, Review & Discussion
Examination
Theory Examination
Practical Session
After returning to their respective teams and 60 hours of coaching experience, the participants will be certified based on the results of the practical and written examinations.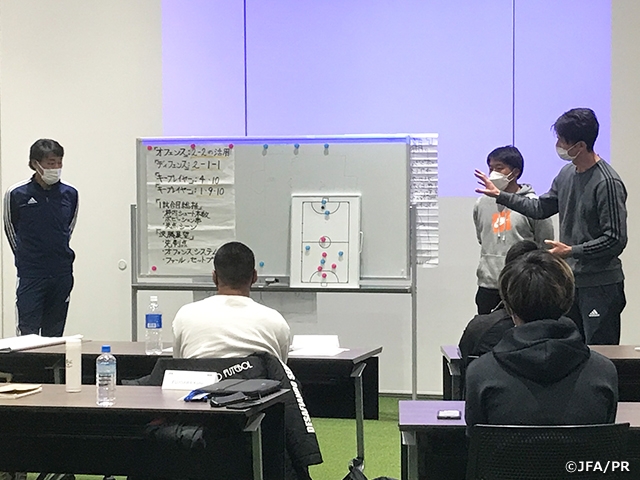 Tutor's Comment
MOREIRA Ozu, Head Coach of Japan Beach Soccer National Team/AFC Instructor
Together with Japan Beach Soccer National Team coach Tabata and others, we completed this six-day AFC course. It was a very valuable experience for me to participate as the main tutor for the first time. Thanks to the support of the staff and players of Japan Beach Soccer National Team; team doctor Tateishi, goalkeeper Kawai, and physical coach Tanaka, we were able to deliver a high-level course focusing on a variety of areas. This course has made me think about what I can do and what is needed for the future beach soccer coaches in Japan. In the future, I would like to make the most of my experience and knowledge to promote beach soccer in Japan and increase the number of beach soccer coaches.
Participants' Comments
Mr. OKUYAMA Masanori (Loewe Yokohama)
I had the pleasure of attending the AFC Beach Soccer Coaching Certificate Course Level 1. Participants from various backgrounds attended the course with Ozu-san and Tabata-san serving as the tutors. I personally learned a lot and it was a very valuable time. Beach football is facing challenges in many aspects, including promotion and development. It is great to see more people getting involved and interested in this sport through this course, which is necessary to overcome the challenges. As mentioned during the course, "Beach soccer is a great complement to football training, especially for children," I believe that the beach is a special surface that can be used by everyone from children to athletes and the elderly, and everyone can benefit from it. In order to achieve our goal of fostering a culture which encourages people to actively engage in physical activities on the beach in Japan, we would like to continue our efforts through this course to learn proper information, bolster the competition, and spread the love of beach soccer and the beach to as many people as we can. I want to express my gratitude to the tutors, participants, and anyone else who helped make this opportunity possible.
Mr. FUJISAWA Kohei (Director and Head Coach of Beach Soccer Club Kawasaki)
The six days we spent at Prince Takamado Memorial JFA YUME Field with our tutors Mr. Moreira and Mr. Tabata was a wonderful learning and enlightening experience for us. The positive exchange of opinions with beach soccer coaches from all over the country and the high quality training sessions were very valuable experiences for me to expand my knowledge and enhance the quality of my future activities. This course has reminded me that, while it is undoubtedly important to make the sport more competitive—especially by having the Japan Beach Soccer National Team win the World Cup or having the sport being added to the Olympic Games—playing football barefooted and exercising on the sand is actually very beneficial for the growth of children and our general health. The high compatibility between football and futsal, and the many benefits that can be gained by incorporating each sport's strengths, is one of the reasons why we should promote the sport. It is true that the environment surrounding beach soccer is still underdeveloped in many aspects, but we hope that the participants of this course will play an active role in each region and cooperate with each other to promote the development of the Japanese beach football community, train more players, and engage in activities that are valuable to our society.