NEWS
S-Licence Coaching Course 2021 Module2/Intensive Online Course (4) Participant's Report Vol.6
25 June 2021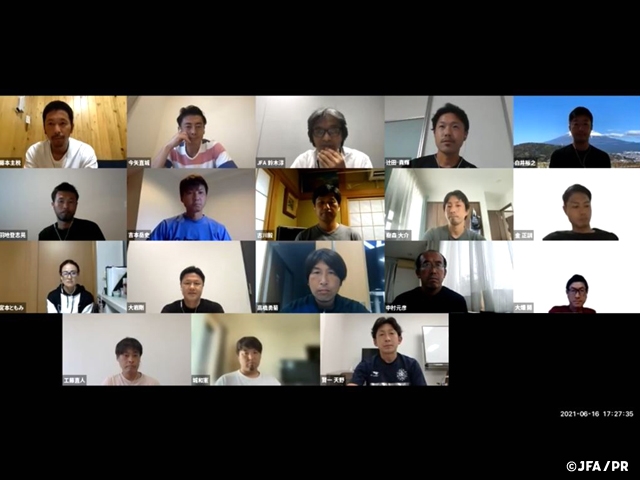 After the intensive courses were held entirely online, the three week section of the second module came to an end. The participants will now enter a "study period" ahead of the third module, while the instructors will visit the participants' clubs to assess their daily coaching activities and provide feedbacks. The third module is scheduled to start on 30 August.
Module2 Intensive Online Course (4)
Date: Mon. 14 - Thu. 17 June
Mon. 14 June
・Presentation on modern football strategy (Participant)
・Professional coaching theory: OIWA Go (JFA Class S Instructor)
・Physical conditioning: YASUMATSU Mikinobu (JFA Physical Fitness Project)
Tue. 15 June
・GKs at the Professional level/What coaches demand from GK coaches:
KAWAMATA Noriyuki (JFA Coaches Training Assistant Director/GK Project Leader)
・Presentation on modern football strategy (Participant)
Wed. 16 June
・Management of human resource development: HIROKAMI Junichi
(City of Kyoto Symphony Orchestra/Chief Conductor, Tokyo College of Music/Professor)
・Presentation on modern football strategy (Participant)
Thu. 17 June
・Presentation on modern football strategy (Participant)
・Module2 review/Guidance: SUZUKI Jun
Participant's Comment
Mr. KUDO Naoto (FC Imabari)
Continuing from last week, the intensive course was held online. At this section, we were given the opportunity to take part in four lectures, while also going through our strategical analysis presentations.
During the lecture on professional coaching theory, instructor OIWA Go talked about two topics. The first was regarding the roles of forwards and centre halves in modern football. Here, I was able to take a close look at the current trends of the international football scenes. A group discussion was held on the current situation and issues of Japan, where we talked about "how to approach the players," and "ways to provide personal support." In order to discover and develop players who can compete at the world stage, we must first understand the world standards and incorporate them into our coaching process.
The second topic was regarding the significance of the S-Licence. He mentioned that a person with a S-Licence must recognise that he/she is standing on the frontline of the Japanese football community, which made me aware of the responsibility and obligation that comes with the licence. It also made me feel the need to broaden my knowledge, work even harder to fulfil my duty, and work with more people from the football community.
Mr. YASUMATSU Mikinobu gave us a lecture on physical conditioning, where we learned about the "football environment," which included measures against hot/cold weather, high altitude, and time difference. Regardless of the sport, many athletes are now thriving at the world stage, which require them to be less susceptible to changes of the environment. They must make the necessary adjustments, condition themselves, and improve their performance under the given circumstance. This is an essential quality, regardless of the players' age. This lecture made us realise the importance for us coaches to stay current with the latest information and to be prepared for any situation.
On the second day, GK Project Leader KAWAMATA Noriyuki gave us a lecture on "GKs at the professional level" and "What coaches demand from GK coaches." We assessed the current situation of the Japanese football community and discussed what has to be done to win the World Cup by 2050. We also discussed the roles of the coach and assistant coach in a winning team. This lecture has made us realise that the coach has the obligation to manage not only the players, but the entire coaching staffs, and it is extremely important to assess and provide feedbacks for each coach.
On day three, I was deeply moved by the lecture given by Professor HIROKAMI Junichi (Chief Conductor of City of Kyoto Symphony Orchestra and Professor of Tokyo College of Music). An individual's attractiveness comes from their efforts, beliefs, and perseverance. I was able to receive great energy from the professor's communicative power and persuasiveness. I am looking forward to meeting him in person.
Lastly, we went through our analytic presentations on coaches who are thriving in Europe. Each participant chose a unique coach to hold their presentation. We each analysed the coach and club from multiple angles and used different styles to construct our presentations. Through this presentation, I realised that I was analysing a match that I preferred watching and made points based on a biased and subjective point of view. Instead of picking up ideal plays that I enjoyed watching, I should have looked for the hidden motives and ques that led to those big plays. I felt that I need to be more detail oriented and have a wider perspective.
Despite the ongoing pandemic, we were able to conduct this intensive course with the help of the lecturers and many people. We thank everybody for their efforts to make this course possible. We will have a short break ahead of the third module, but I will continue to stay humble and work hard to become a better coach.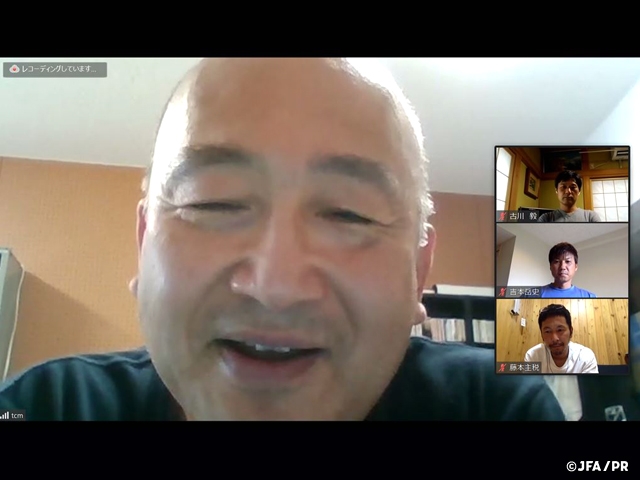 Next week we will share the report of Mr. JO Kazunori (JFA Coach).