NEWS
S-Licence Coaching Course 2021 Module 1/Intensive Course (2) Participant's Report Vol. 3
10 May 2021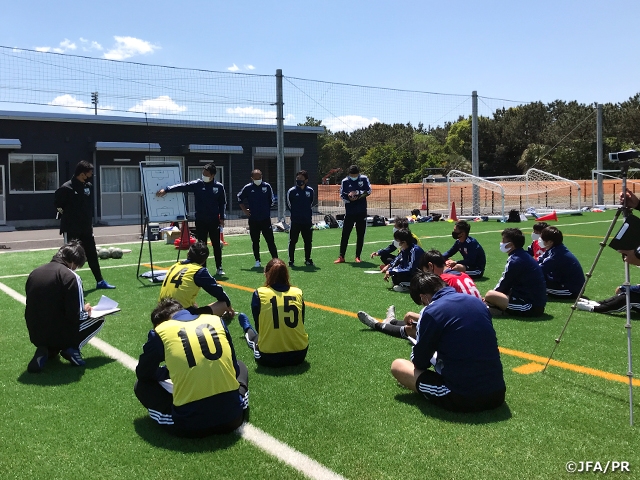 The first module of the S-Licence Coaching Course 2021, which lasted three weeks, entered its final week on Monday 26 April.
In order to prevent the spread of COVID-19, participants living in the four prefectures where the state of emergency has been declared and the areas subject to semi-emergency measures were required to take antigen tests prior to joining the class, but all 16 participants were able to complete the final week. Chiba City, where the Prince Takamado Memorial JFA YUME Field is located, was also designated as an area subject to semi-emergency measures from 28 April, which left some of the curriculums to be shortened.
The participants will return to their affiliated teams until module2 starts on 31 May, while observing the status of the pandemic.
Module1 Intensive Course ②
Duration: Mon. 26 - Wed. 28 April
Mon. 26 April
Coaching session
Brain-storming: Professor USAMI Makoto (Kyoto University)
Professional coaching theory: SUZUKI Jun
Tue. 27 April
Coaching session
Practical presentation: KATAKAMI Chie (Teikyo University/Media trainer)
Module1 review: SUZUKI Jun
Wed. 28 April
Coaching session
Participants' Comments
Mr. OHATA Kai (JFA)
Following the previous course, coaching sessions were held at Prince Takamado Memorial JFA YUME Field. Despite seeing the number of people infected by COVID-19 increasing nationwide, we are very pleased that we were able to hold this course while implementing strict measures to prevent the spread of the virus. We are very thankful for everyone who made efforts to make this course possible. Thank you very much.
At this intensive course, three lectures were held along with the coaching sessions.
The first lecture was our second brain-storming lecture. Here we learned that a leader must always think from the other person's point of view, hold discussions from many perspectives, and keep an open mind to other people's opinions.
The second lecture was on professional coaching theory, where instructor Suzuki Jun shared his own experience to lecture us on the role of a coach. I was very impressed when he mentioned that we are "drawing a picture on the pitch with the players." It means that we must share the same perspective with our players to draw a picture on the pitch together, which will make the spectators smile and impressed. Once I complete this course, I hope to become a coach that can "draw a picture with the players."
The third lecture was on presentations, where we learned the essential skills for an effective presentation before holding actual presentations and reviewing each other's presentations afterwards. We learned that we can be more effective in conveying our messages by changing our voice, eye level, pace, and gestures.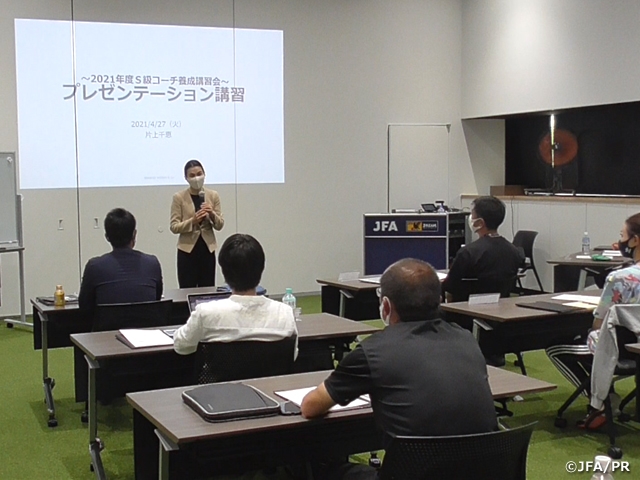 There are many new findings at each coaching session. We received many feedbacks from our instructors, which made us want to hold more sessions. Other participants also provided precious feedbacks that allows us to gain a wider perspective. Through these sessions, were able to gain opinions on organisation and coaching, as well as real life coaching advice, which helps us become a better coach. I would like to share more time with my fellow course-mates, continue to inspire each other, and grow together as a group.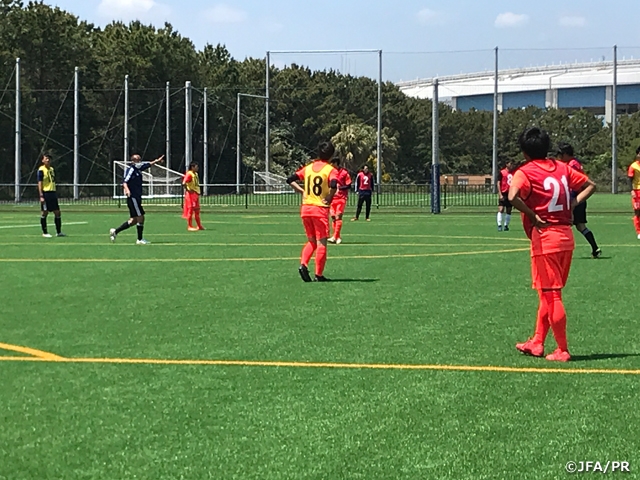 As I mentioned at the beginning, I am thankful to all the people who are making this course possible despite the ongoing pandemic. I will not take for granted of the time we are spending together to hold discussions and continue to participate in the lectures with a sense of gratitude towards everyone involved.