NEWS
S-Licence Coaching Course 2021 Module 2/Intensive Online Course (3) Participant's Report Vol. 5
18 June 2021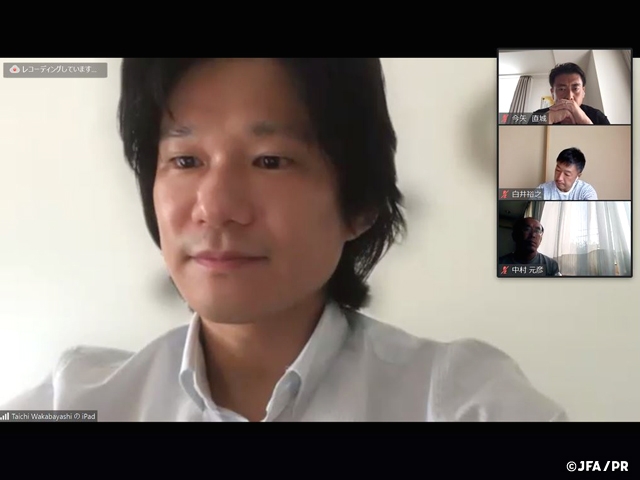 It has been determined that all of the intensive courses in Module2 will be held online. Starting from this year, the participants are given the task of analysing the tactics carried out by coaches who are active in Europe and hold a presentation on their analysis. With the sudden changes made to the course, the participants had to hold their presentations online, but it gave them the opportunity to rehears and polish up on their presentation skills ahead of Module3, where practical presentation sessions will be held.
Module2 Intensive Online Course (3)
Date: Mon. 7 - Thu. 10 June
Mon. 7 June
・Short-course review: SUZUKI Jun (JFA Coaches Training Director/Class-S Instructor)
・Presentation on modern football strategy (Participant)
・Introduction to conditioning: YASUMATSU Mikinobu (JFA Physical Fitness Project)
Tue. 8 June
・Presentation on modern football strategy (Participant)
・A job as an analyst at a foreign club: WAKABAYASHI Taichi (Sevilla FC)
・Activities of JFA (coach training): SUZUKI Jun
Wed. 9 June
・Presentation on modern football strategy (Participant)
・Mental training: TANAKA OULEVEY Miyako (Certified mental training consultant in sport)
Thu. 10 June
・Activities of Technical House: KATAGIRI Hiromi (JFA Technical House Leader)
・Presentation on modern football strategy (Participant)
Participant's Comment
Mr. KIM Jon-Fun (Kamatamare Sanuki)
After nearly a month, I was finally reunited with everybody, but the course was held online. I wish we could meet in person, but considering the ongoing situation surrounding the pandemic, this seems like a necessary measure to keep the course going. Although I was worried about how the course will proceed online, once I took a look at the lecture themes, I couldn't wait to take the lectures. I would like to thank all the lecturers and JFA staffs for preparing these wonderful lectures.
The first online lecture was given by chief instructor SUZUKI Jun, as we started by reviewing last week's short course. In retrospect, we talked about our themes, the roles we took on, and how we prepared for each session. By looking back on the sessions objectively, it allowed us to notice new findings and gain wider perspective, so it was a very productive time. Following the conclusion of Module1, we were given a homework assignment to pick out a coach who is active in Europe and analyse his/her tactic. 16 participants each chose a unique coach, analysed their tactics, and held a presentation on their analysis. Through the thorough analysis showcased by each participant and the discussions which followed the presentations, we were able to learn the colours of each coach and gain deeper understanding of their tactics. Although it was difficult to hold discussions online, all of the presentations were high quality and very interesting. I will use them as a reference to build my coaching philosophy and tactics as I proceed my career as a coach.
We then took lectures on conditioning, mental training, coach training, and the activities of the technical house, which were full of interesting contents that I wouldn't be able to here elsewhere, and it really made 90 minutes feel very short. We also had the opportunity to listen to Mr. WAKABAYASHI Taichi (Sevilla FC) who works as an analyst for a foreign club. Analytical skills have taken an extremely important role in modern football, and I think they are an essential factor for a team to win. It meant a lot for us to hear the stories of Mr. Wakabayashi, who works for one of the top clubs in Europe as a Japanese analyst and engages with top class players and coaches in a day to day basis. His lecture made us think about how we need to interact with the analysts, what roles we should give them, and how to convey the information to the players. As we strive to become a coach in the future, these topics could be one of the most essential aspects in order to express our football style as a coach.
The first four days of our online course went by so quickly. I am looking forward for the next segment of this course. Once again, I would like to thank all the lecturers and staffs for making this wonderful course possible. Thank you very much.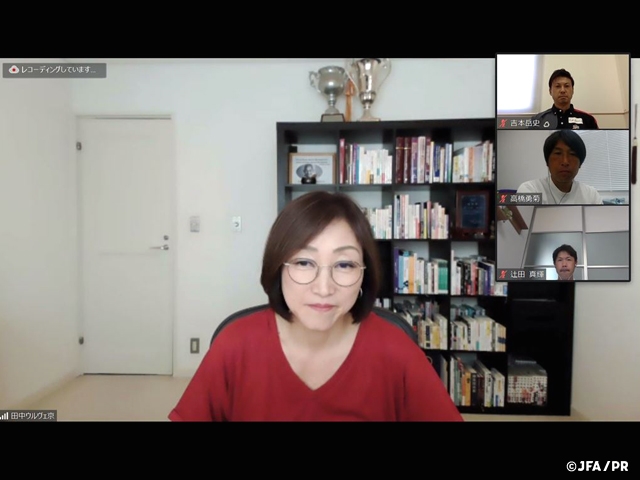 Next week we will share the report of Mr. KUDO Naoto (FC Imabari).