NEWS
Panel discussion held as part of the JFA Women's Football Day project
01 April 2022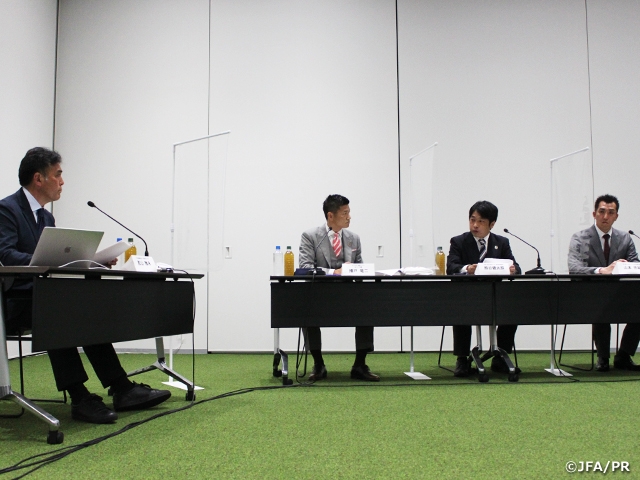 On 30 March, Japan Football Association (JFA) held an online panel discussion titled "Don't give up on what you love. Let's think about junior high school girls' football club activities" as part of the JFA Women's Football Day project.
One of the challenges for women's football in Japan has been the lack of opportunities for girls to play in the junior high school age group, and the significant decline in the number of 13 - 15 year olds involved in the sport. However, a recent survey found that many female players are actually continuing to play football in their junior high school football clubs, without being registered with JFA.
KAGEYAMA Masanaga, Youth Development Director of JFA Technical Committee, who facilitated the session, presented data showing that there are 5,551 players registered with the Nippon Junior High School Physical Culture Association (NJPA) compared to 2,134 registered with JFA, with a difference of 3,417 players playing for NJPA teams without being registered with JFA, and shared his take on the current situation, "It has recently become clear that the situation is not so pessimistic as we thought, and the fact that more players are registering with the NJPA and continuing to play is a positive factor and something we should be pleased about."
The NJPA, which serves as a receptacle for female athletes in the junior high school age group, is also involved in a variety of initiatives. According to Mr. KUMAGAI Kentaro, Deputy Director of the Kanagawa Junior High School Physical Culture Association Football Department, who participated the event as a panellist, players are being selected across regional blocks in Kanagawa Prefecture, such as Yokohama City and Yokosuka City, and female players are provided with opportunities to participate in joint training sessions and inter-block competitions more than once a month.
Mr. YAMAMOTO Yusuke, Chairperson of the Ishikawa Junior High School Physical Culture Association Football Department, introduced their joint training initiative launched in 2021, in which not only players from the NJPA but also high school girls' football and futsal teams can participate together. Both of these initiatives are designed to provide opportunities for female players belonging to junior high school football clubs to play and broaden their connections within the football community.
Junior high school football clubs are an important option for girls playing football in the primary school age group. When asked about the advantages of having football clubs organised by schools, Mr. Kumagai mentioned, "The activities are held within the school property, so there is no need to worry about providing locker-rooms, can be held immediately after school, and players can return home after each session to eat, study, and spend time with their families. The fact that the players can nurture the ability to design their own schedule and the safety aspect are the advantages of club activities held within schools." Mr. Yamamoto also pointed out the challenges they are facing, "We need to come up with ways to provide information to children who want to join a football club but don't know how or whether they can join or not."
Mr. BANDO Ryuji, member of the JFA SDGs Promotion Committee and WE League Executive Committee, shared his thoughts after listening to the current situation surrounding women's football in the junior high school age group, "By kicking a ball and being exposed to football, they become part of the football family. By expanding the number of our family, we can take on bigger challenges together."
The scheduled 90 minutes flew by, and the panel discussion was very productive in further improving the playing environment for junior high school girls.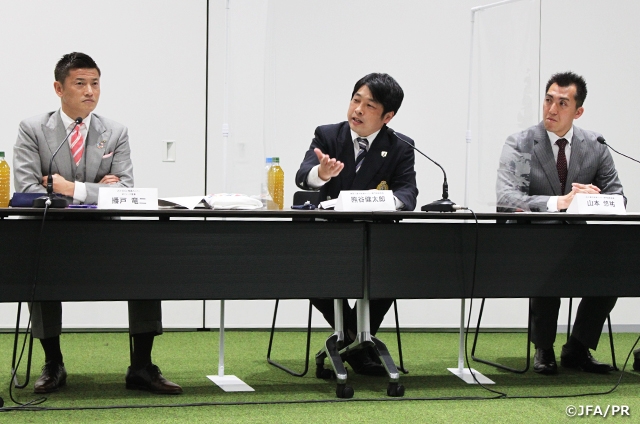 Comments of the Participants
KAGEYAMA Masanaga, Youth Development Director of JFA Technical Committee
I believe that Japan can become a country where all people can enjoy football to the fullest, which is the path to winning the FIFA World Cup™ as set out in "The JFA Declaration 2005," and will bring us closer to realising a country where football brings happiness to everyone.
BANDO Ryuji, Member of JFA SDGs Promotion Committee/WE League Executive Committee
Listening to Mr. Kumagai and Mr. Yamamoto, I now have high hopes that the number of women's football players will continue to increase. I would like to take part in the activities to increase the number of people who are involved in football, and I could certainly see a world in which the whole football family flourishes as a result of such an increase.
KUMAGAI Kentaro, Deputy Director of Kanagawa JPA Football Department
I think the beauty of club activities is that the children can grow together by gathering on the field after school for the same purpose and show a different side of their development from the classroom. It is important for teachers to join hands with other teachers to assist the children in achieving their dreams. We want teachers to take part in their growth, and we want all players to feel comfortable joining their school clubs.
YAMAMOTO Yusuke, Chairperson of Ishikawa JPA Football Department
I hope we will have more opportunities to disseminate information, so that we can lower the hurdles for the players regarding things they didn't know before or thought were difficult to do. If teachers and coaches can communicate what they want to do, the dots will become a line and eventually a circle, so I hope that there will be more opportunities for them to communicate their thoughts to a larger audience.