NEWS
JFA Academy Imabari to be opened in school year 2015, hold selection test for admissions
06 August 2014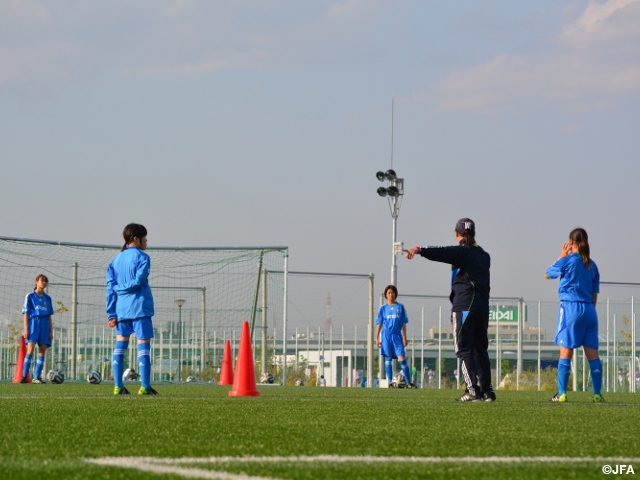 The Japan Football Association (JFA) is planning to open "JFA Academy Imabari" in Imabari city Ehime in April 2015, fourth Academy in Japan. (Approved by JFA Directors Meeting and announced on 24 July 2014.)
This note offers you outline of admission selection test for JFA Academy Imabari school year 2015.
Introduction of JFA Academy Imabari
The academy is offered only to junior high school girls for three years. It is planned to accept around 12 persons. As with JFA Academy Sakai, students take a football training and general education programs living in the dormitory on the weekdays. They go back to their home on the weekends and belong to the team respectively for participating in the game. JFA Academy Imabari will not be registered as a team. So the condition of entry is those who can go back to their home (go back to local town) without difficulty.
Grade and Number of Applicant
Girl who will be 1st grade of junior high school student on April 2015(currently 6th grade school girl), around 12 students
Date and Venue of Selection Test
1st Stage Selection Test:
Sat. 4 Oct or Sun. 5 Oct.
2nd Stage Selection Test (2 days and 1 night)
Sat. 8 Nov to Sun. 9 Nov. (2 days and 1 night)
Final Selection Test (3 days and 2 nights)
Fri. 5 Dec. to Sun 7 Dec. (3 days and 2 nights)
Venue
Sakurai Kaihin Fureai Hiroba Soccer Ground (Imabari City, Ehime)
Application Method, Submission Office, Deadline
Please fill in the "Submission Forms" listed in application overview and send them with attention to following address.
Submit to: Japan Football Association (JFA)
   JFA Academy Administration Office
   JFA HOUSE 3-10-15 Hongo,Bunkyo-ku Tokyo 113-0033 JAPAN
Deadline: It must reach no later than Thu. 18 September 2014
How to Get Application Handbook
1.Download PDF forms of Handbook, Application, Overview from the links below
Handbook & Application
Overview


2. Get it at reception (available on 22 Aug. or later)
(1) JFA House / Japan Football Museum
http://www.jfa.jp/about_jfa/organization/
  JFA House Football Ave. (3-10-15, Hongo) Bunkyo-ku, Tokyo 113-8311
  Opening Hours: Mon. to Fri. 9:00-18:00
  Weekends and Holidays: 10:00 to18:00
(2) Ehime Football Association
  Sancho Bldg. 105 3-12-13 Sancho Matsuyama City, 790-0914 Ehime
  Acceptance Hours: 9:00 to 18:00 on Weekdays
(3) Imabari City Taiiku Shinkcho-ka
http://www.city.imabari.ehime.jp/kanzai/access/index.html
  Dai 3 Bekkan 2F, 1-4-1 Betsumiya Cho Imabari City, 794-8511 Ehime
  Reception Hours: 8:30 to 17:15 on Weekdays
3.Request materials from JFA Academy official site
http://www.jfa-academy.jp/application/form
   (will be dispatched on 22 Aug. or later)
Briefing Session
The briefing sessions will be available on the dates and venues listed below. No need for application to attend the session. Please come to the venue before starting time. Any person including parents, team staff are welcome to join the session. Attendance of the session will not make any difference in qualification for taking test and the result of selection test.
(1) Mon. 18 Aug. 19:00
Imabari Chiiki Jiba Sangyou Shiko Center
2-3-5 Asahimachi Imabari City, 794-0042 Ehime
(2) Tue. 19 Aug. 14:00
Okayama Shimin Kaikan
2-1-1 Kitaku Okayama City, 700-0823 Okayama 
(3) Tue. 19 Aug. 19:00
RCC Bunka Center
5-11 Hashimotocho Nakaku Hiroshima city, 730-0015 Hiroshima.
(4) Wed. 20 Aug. 10:00
Hotel Senshukaku
3-55 Saiwaicho Tokushima City, 770-0847 Tokushima
(5) Fri. 22 Aug. 19:00
Matsuyamashi Sougou Community Center
7-5 Minatomachi Matsuyama City, 790-0012 Ehime
(6) Sat. 23 Aug. 14:00
Kochi Kyousai Kaikan Community Square
5-3-20 Honcho KochiCity, 780-0870 Ehime
(7) Sun. 24 Aug. 10:00
Takamatsu Center Bldg. TCB Meeting Room
2-4-20 Kotobukicho Takamatsu City, 760-0023 Kagawa
(8) Sun. 24 Aug. 18:00 Reference Riverside Rental Meeting Room
2F 3-15-16 Hakataeki Higashi Hakataku Fukuoka City, 812-0013 Fukuoka
Inquiry
Japan Football Association (JFA)
JFA Academy Administration Office
JFA HOUSE 3-10-15 Hongo,Bunkyo-ku Tokyo 113-0033 JAPAN
TEL: 03-3830-1890 (10:00 to 17:00 on Weekdays except national holidays)
FAX: 03-3830-1814