NEWS
Opening ceremony of JFA Academy IMABARI was held
10 April 2015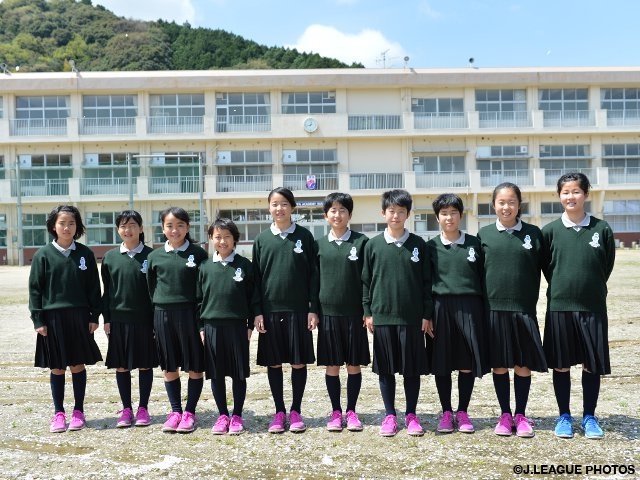 The opening ceremony of the JFA Academy IMABARI was held on Wednesday 8 April in Imabari, Ehime. Approximately 100 people, including guardians, current students, people related to the team and other guests attended the ceremony under a canopy of cherry blossoms.
JFA Academy IMABARI is the fourth JFA Academy after the ones in Fukushima, Kumamoto Uki and Sakai. The pupils stay in the school dormitory during the weekdays, and go home at the weekends or during the holiday in order to practice in their respective teams. Ten of the first intake of students started their new life there.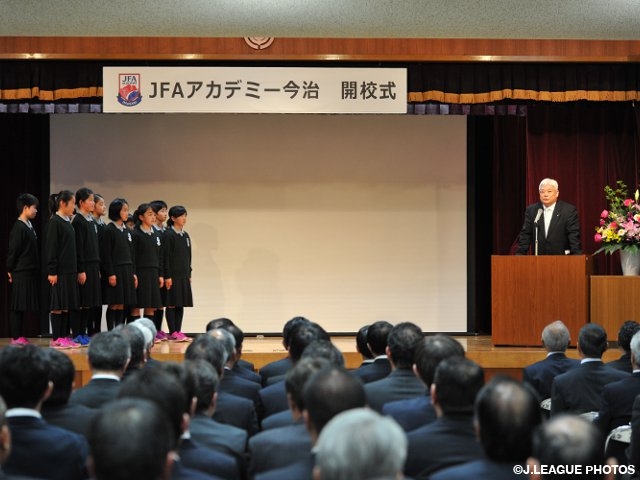 Chief Coach's Comment
KAGEYAMA Keiji, Chief Coach
Ten of the first intake of pupils finally started their three-year at the Academy with a pledge. It'll be a big challenge for me with responsibility as a chief coach. However, my heart swelled with pride and I look forward to the challenges.
I appreciate all the support from many staff, who helped us to open the Academy, and also the understanding from local people. I think three years will fly by for the pupils, when they look it back in the future. We will not forget about today, and all of us, including the players and staff, would like to work hard every day.
Academy pupil's comments
KAYAMA Miku, Tokushima RAPAZ Junior Youth U-15
Many people came to the opening ceremony for the ten of us. At the ceremony, the thing I was looking forward to most and felt most nervous about was saying the pledge. I needed longer time to learn it by heart and I wasn't sure whether I remembered it perfectly or not until the day before. In my turn, I realised my voice was trembling. However, I did it without any mistakes and I expressed my commitment to many people. When I saw the guests off, some commented: 'your pledge was good', which pleased me a lot. Then I decided to be grateful for everyone who supports me, and become the kind of the player who impresses people. I'll try hard as a pupil of the Academy until my dream comes true.
FUJITA Miyuko, FC Imabari Ladies
We got so many comments at the ceremony from the staff, who are involved in the Academy. I really appreciated that. I felt very nervous when I made the pledge, but I think it was a very good challenge for me. I was surprised at the fact that there were so many people from the media. I'd like to practice hard for three years as a pupil of the Academy, carrying people's hopes.
OKAMOTO Nozomi, MOMOKO FC
The JFA Academy IMABARI finally opened today thanks to a lot of support. I felt nervous while greeting the guests and practicing making our pledge before the ceremony opened. In terms of stating the pledge, I did perfectly at the rehearsal, but it was a bit difficult on a real stage because of nerves. Having said that, I'm glad I could express how I felt. I'll try my best for three years from now, bearing my pledge in mind.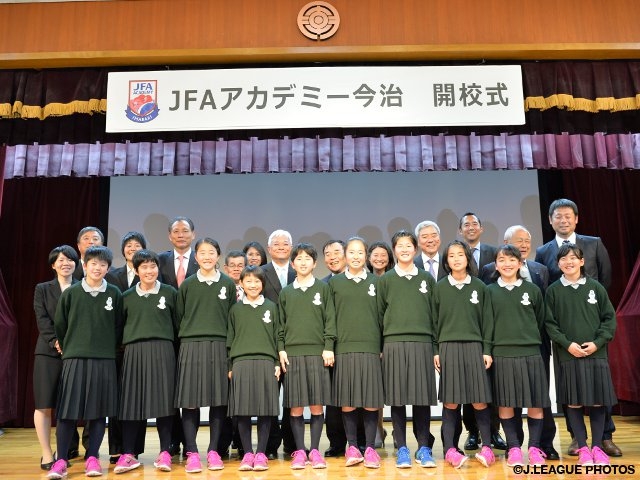 JFA Academy Imabari 1st Term
(Name/Place of Birth/Ex Team/Current Team)《Girls/10》
YOSHIOKA Ako/ Okayama / Kasaoka Football Club / Hajaxs Football Club
OKAMOTO Nozomi/ Kagawa / Utazu Soccer Club / MOMOKO F.C
NAKAGAWA Koko / Kagawa / Tokiwa SC / FC Imabari Ladies
NAKANO Yui/ Kagawa / Kozai S.S.S / MOMOKO F.C
MATSUMOTO Yumi/ Kagawa / SFC Sakaide / MOMOKO F.C
YAMASAKI Mako/ Kagawa / Mure FC / MOMOKO F.C
KAYAMA Miku/ Tokushima / Minamiinoue Football Club / Tokushima RAPAZ Junior Youth U-15
FUJITA Miyuko/ Ehime / Kanbai Football Club / FC Imabari Ladies
TAKEUCHI Ayaka/ Kochi / Kochi Minami FC / FC Imabari Ladies
HAMAUZU Yuuka/ Kochi / FC Azul Claro Kochi / FC Azul Claro Kochi
* As a general rule, each player practices in their local team over weekends and the holiday.
Reference:
* The number of the candidates and the passers in the Selection Test (for the first batch of students) held in 2014
- The First (October): Candidates 38/Passers 29
- The Second (November): Candidates 26/Passers 21
- The Last (December): Candidates 19/Passers 12 (10 of them started the school)