NEWS
JFA Academy Fukushima English Conversation Programme
15 September 2022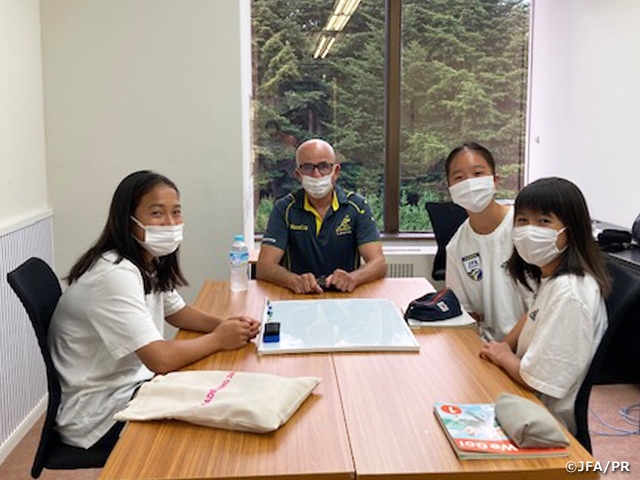 JFA Academy Fukushima has been conducting an English conversation programme as part of its efforts to develop players who can thrive on the world stage. Classes are held in small groups of students per grade, where students enjoy conversing with native English-speaking teachers and learning a variety of English expressions. In spite the lively atmosphere of the classes, which sometimes involves music and dancing, the students are seen working hard and showing their enthusiasm to one day play for clubs abroad.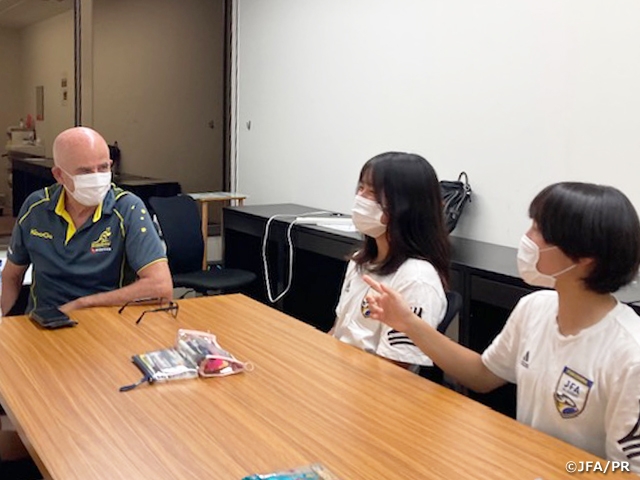 Comments
TORIO Mei (15th Class)
Every two weeks, our teacher comes to the academy to hold an English conversation session. Unlike what I learn in school, the main focus is on listening and speaking. I think it is important for footballers to be able to speak English. For example, if I play abroad in the future, I will not be able to live if I do not speak English. I also wouldn't be able to respond to interviews if I cannot understand what they are saying. English is a very important communication tool. The Academy provides an environment where students can engage with native teachers from junior high school onwards. Because the classes are held in small groups, each student has the opportunity to talk with the teacher, play games in English, and have fun while learning English. I will try to make the most of this wonderful environment I am given and strive to be a well-rounded person both on and off the pitch.
FURUKAWA Mihiro (16th Class)
The sessions are short, but we have fun every time. I don't have very good grades overall, but English is the one subject I would like to do best. Technique, physical strengths, and diet are all essential in becoming a good footballer, but communication skills are also very important, especially if I wanted to play abroad in the future. We are working to make our "can't" into "can" through each session. I tend to procrastinate when facing difficulties, but I think there is no harm in being able to speak English, so I will push myself to study English for my future.
NISHI Himari (17th Class)
Mr. Ken comes to the academy once every two weeks for an English conversation class. He speaks almost entirely in English, so I was a bit intimidated at first, but I have been able to communicate with him using gestures and English that I know. I take English seriously because it is something I will need in my football career. The lessons are very enjoyable and allow me to learn things that I would not be able to learn from my English class at school. I would like to make the most of this opportunity for my future career.