NEWS
Halilhodzic on Brazil match: 'We are not a team only to defend.'
10 November 2017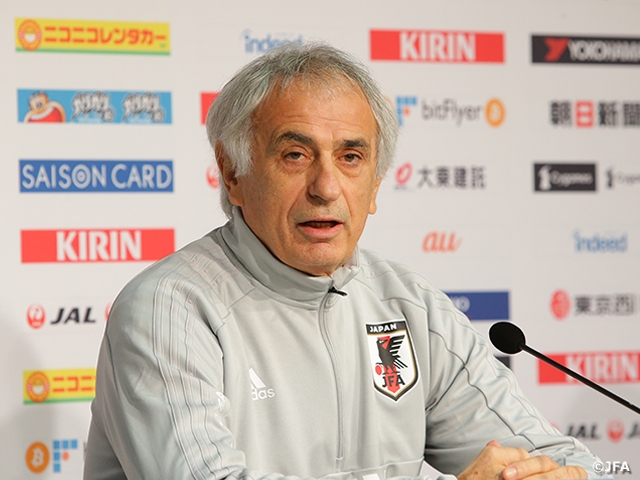 Ahead of the international friendly match against Brazil on the following day, SAMURAI BLUE (Japan National Team) practised on Thursday 9 November at Stade Pierre-Mauroy, the stadium to be used for the match as well. Coach Vahid HALILHODZIC spoke at the press conference held a day before the contest, "We are not a team only to defend."
As both Brazil and Japan are in preparation for the FIFA World Cup next year, the former, who clinched the spot in the Cup earlier than any other countries, are currently at the second place in the FIFA ranking. Halilhodzic, whose team are at the 44th, is well aware of the situation, saying "They are the best team in the world and strongest favourite for the World Cup title.
In particular, Japan's bench boss points out, as well as the opponents' traditional attacking prowess, the change Brazil have made under Coach TITE into a more collectively-hardworking team with disciplined defence. "It's a good test for us to see where Japan stand right now," added Halilhodzic.
Japan have never enjoyed a victory against Brazil in the past with their all-time record of nine losses and two draws. Halilhodzic, who has a home near the match site, jokingly shared his message to the players which was "We must win because it's my home town. Otherwise I will no longer be able to live here." At the same time, the coach surely looks for a chance to surprise one of the powerhouses in the world, saying "We are not a team only to defend at a high level. While we play perfect defence, it's important for us to be realists and not to miss the opportunity.
Meanwhile, Brazil's coach TITE announced his starting eleven at the press conference. Except for injured midfielder COUTINHO, he gave out the names such as forwards NEYMAR and GABRIEL JESUS, midfielder CASEMIRO, and defender THIAGO SILVA and answered other questions from reporters with relaxed smile. "Our ultimate goal is to win the World Cup. Tomorrow is a part of our preparation for that."
Both squads on this day had a practice session with closed doors except for the first 15 minutes, where the players made sure the feel of the pitch.
Japan's forward OSAKO Yuya (1.FC Koeln) says "I am looking to score a goal. There is no chance for us to win if we just stay back. We need to remember that. There should be a chance for us to score." He is excited to stop the three-match streak of Brazil holding Japan scoreless that started in October 2012.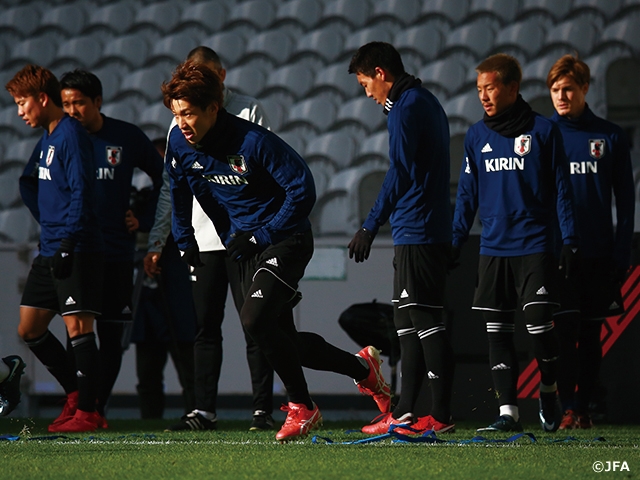 Defender NAGATOMO Yuto (FC Internazionale Milano) is to play the 100th match as a Japanese international, if he gets onto the pitch. "A small and not-so-talented player like me has been made better by my teammates, trusted and played by my coaches," said thankful Nagatomo.
As a side note, the Video Assistant Referee (VAR) will be used in this match as FIFA is currently trying out the system.
The match between Japan and Brazil is scheduled to kick off at 1 p.m. local time (9 p.m. Japan time) on Friday 10 November.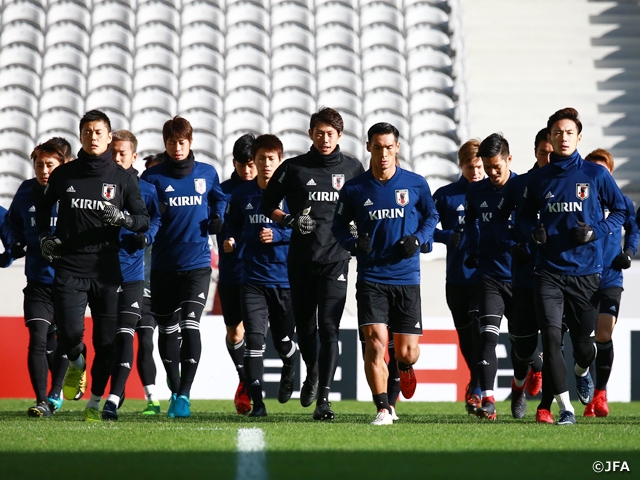 Coach's and Players' Comments
Vahid HALILHODZIC, Coach of SAMURAI BLUE (Japan National Team)
It's a very big test for us to play against the best team in the world with very talented players individually and collectively. We have been able to do wonderful preparation for the last two days. Brazil are better than us, but I think we can win. We want to go out with courage, aggressiveness and ambition. We are getting ready for the World Cup and the standard is very high in terms of physicality, tactics and mental toughness. We need to get better in all aspects and we need to be ambitious to achieve the big goal. We have tried to instil the winners' mentality into this team and what we have done is not so bad. I know we will find more things that we need to adjust after the matches against Brazil and Belgium. Then we will be able to see what our players need to do with their own club and what improvements we have to make.
GK #12 HIGASHIGUCHI Masaaki (Gamba Osaka)
Our game plan is all set. It's important to maintain certain distance in duels not to let the opponent play freely. Brazilian players have speed that we don't normally experience in Japanese opponents, so we want to be careful. They are vertically quick and what matters is accuracy. It will come down to which team can get what they want. I personally believe what I can achieve will diminish unless I make challenges in practice. So, I want to start the challenging process all over again.
DF #5 NAGATOMO Yuto (FC Internazionale Milano)
Being able to play against Brazil makes me happier than the fact that it's my 100th match. The most important thing is to keep the distance that I feel comfortable with. I want to see how we can defend against Brazil as a team and how much we can deal with their speed. We want to come out of the match with the satisfaction that this one match will help us move forward to the World Cup.
MF #6 ENDO Wataru (Urawa Red Diamonds)
Against the top team in the world, we can't even execute a single counter-attack unless we possess courage, speed and strength at a higher level than usual in the transition from defence to offence. They have many players who are strong on the ball and capable of robbing the ball as well as they can connect great through balls and short passes. We have to keep them from facing forward and we should take care of them rushing up with effective communication with centre-backs. The key is how much our midfield can help our defenders.
FW #13 KOROKI Shinzo (Urawa Red Diamonds)
I remember we couldn't do anything against Brazil when we played them before the Olympics. This time I expect that we will be so busy defending that we can get one or two chances only. We need to take advantage of the limited opportunities and our counter-attacks will be the key. We have to be aggressive to get the ball upfront, otherwise there will be nothing I can do. So, if there is a chance, we will go to get it aggressively and collectively.
FW #15 OSAKO Yuya (1.FC Koeln)
We are the challengers, so we need to keep challenging them. I expect that we will have to defend more than attack, but I want to aggressively go at the ball, not just staying back. Everyone understands that we have to attack efficiently to score. I will try not to stay back too much.
ADENOR LEONARDO BACCHI (TITE), Coach of Brazil National Team
The friendly is tomorrow, but it's a part of our preparation for the tournament. I already told my players that we need to play every match we play in next several months just as if they are the real World Cup matches. Asian players have a kind of quickness that South American players don't have. Our players go back to their club and work out there after getting some kind of feedback in this match, but they always work hard both at the national team and at their club.
JFA-TV (Japanese version only)
NAGATOMO Yuto (FC Internazionale Milano) Interview

KOROKI Shinzo (Urawa Red Diamonds) Interview

OSAKO Yuya (1.FC Koeln) Interview
Schedule
Sun. 5 November
PM
Training (In France)
Mon. 6 November
PM
Training (In France)
Tue. 7 November
PM
Training (In France)
Wed. 8 November
PM
Training (In France)
Thu. 9 November
PM
Official Conference,Official Training
Fri. 10 November
13:00
International Friendly Match
vs Brazil (Stade Pierre-Mauroy)
Sat. 11 November
AM
Training (In France)
Sun. 12 November
PM
Training (In Belgium)
Mon. 13 November
PM
Official Conference,Official Training
Tue. 14 November
20:45
International Friendly Match
vs Belgium (Jan Breydelstadion)
*Local Time
*The schedule is subject to change due to the team condition, the weather, etc.
International Friendly Match
Friday, 10 November 2017 Kickoff at 13:00 (local time)
SAMURAI BLUE (Japan National Team) vs Brazil National Team
France/Stade Pierre-Mauroy
More information
Tuesday, 14 November 2017 Kickoff at 20:45 (local time)
SAMURAI BLUE (Japan National Team) vs Belgium National Team
Belgium / Jan Breydelstadion
More information