NEWS
【Match Report】SAMURAI BLUE remain in second place with win over China PR National Team - AFC Asian Qualifiers (Road to Qatar)
28 January 2022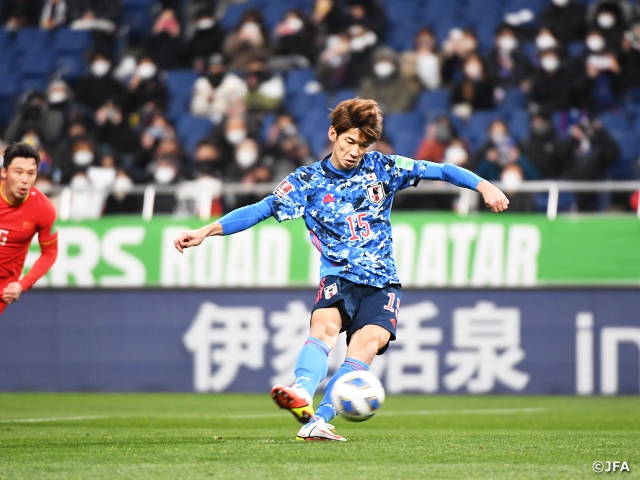 On Thursday 27 January, the SAMURAI BLUE (Japan National Team) faced the China PR National Team at Saitama Stadium 2002 in their seventh match of the FIFA World Cup Qatar 2022™ AFC Asian Qualifiers (Road to Qatar), where the goals scored by OSAKO Yuya (Vissel Kobe) and ITO Junya (KRC Genk) propelled them to a 2-0 victory. With four wins in a row, Japan have extended their tally to 15 points and remain in second place, which puts them in a position to qualify for the World Cup without going through the play-offs. Japan will now face the group leader, Saudi Arabia, at the same venue on Tuesday 1 February.
After nearly a two-month break, Japan was without their two centre-halves, YOSHIDA Maya (UC Sampdoria) and TOMIYASU Takehiro (Arsenal), due to injury, but showcased a dominating performance from start to finish to secure another three points.
The startling line-up mainly consisted of players who started in the match against Oman last November. With GONDA Shuichi (Shimizu S-Pulse) starting in goal, TANIGUCHI Shogo (Kawasaki Frontale) and ITAKURA Kou (FC Schalke 04) were named as the two centre-halves. SAKAI Hiroki (Urawa Red Diamonds) made his return as the right fullback, with NAGATOMO Yuto (FC Tokyo) starting in the left. ENDO Wataru (VfB Stuttgart), who was named as captain, anchored the midfield with TANAKA Ao (Fortuna Dusseldorf) and MORITA Hidemasa (CD Santa Clara) in front of him, while Ito and MINAMINO Takumi (Liverpool FC) were placed beneath Osako, who was named as the lone striker.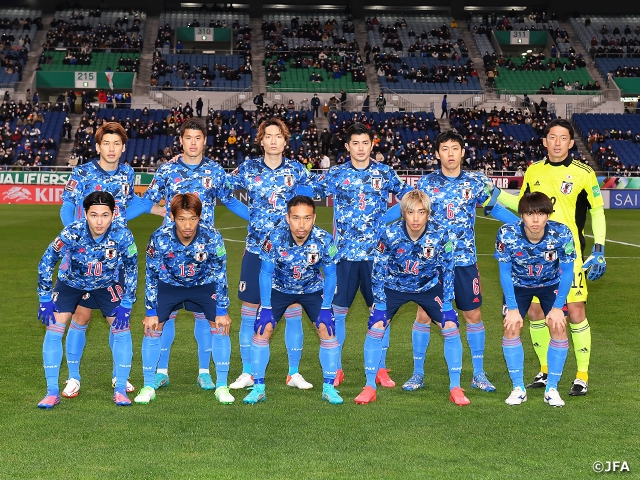 It was Japan who took the initiative from the early minutes, starting with the attempt made by Ito in the sixth minute, followed by Osako, Sakai, and Morita, who all took shots to threaten the opposing goal.
In the 11th minute, Ito penetrated the right side of the penalty area before sending a cross towards the middle. The cross deflected off a hand of the opposing defender to give Japan a PK. With Osako stepping up and converting the spot kick, Japan took the lead in the 13th minute.
With momentum on their side, Japan continued to dominate the ball possession, as Minamino and Endo made attempts to score from set-pieces, while Osako also made efforts to find the back of the net.
China PR, who needed a win in order to keep their hopes alive to finish within the top two places, this was their first match under the leadership of coach LI Xiaopeng, who took over the helm last December. Although Japan had very few information about their opponent under the new regime, the home side showed quick transitions to dominate the game in both offence and defence, keeping the likes of WU Lei, who has scored five goals in four matches for China PR in the qualifiers, at bay.
After finishing the first half with a one goal lead, coach MORIYASU Hajime brought in NAKAYAMA Yuta (PEC Zwolle) and MAEDA Daizen (Celtic FC) to replace Nagatomo and Osako in the 58th minute.
Just three minutes after the substitution, Nakayama delivered a superb cross that connected with Ito, who score Japan's second goal with a header. With Ito scoring in three consecutive matches at the AFC Asian Qualifiers, Japan have now recorded multiple goals in a single match for the first time since their match against Australia last October.
Japan changed their formation to 4-2-3-1 soon afterward the second goal, applying more pressure from the frontline to control the match.
With the intention of adding more layers to their offence, coach Moriyasu introduced KUBO Takefusa (RCD Mallorca) in the 73rd minute, followed by HARAGUCHI Genki (1.FC Union Berlin) and DOAN Ritsu (PSV Eindhoven) in the 85th minute. Although the team fell short from scoring more goals, Japan fired 14 shots throughout the match while keeping the opponent to just two shots, in their 2-0 shutout victory.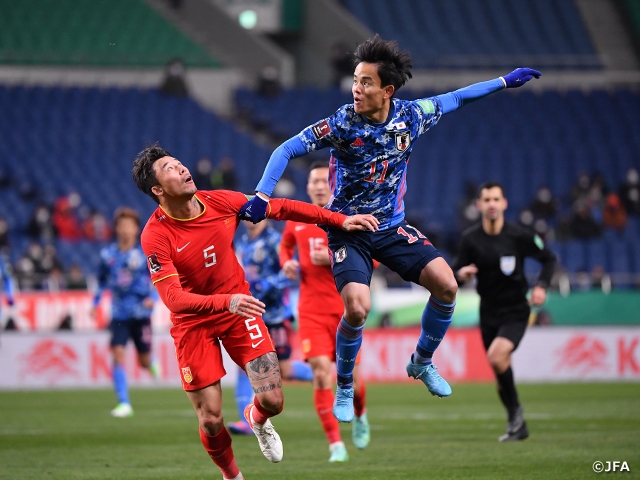 As a result, Japan has improved their record to five wins and two losses, extending their tally to 15 points to remain in second place of the group. China PR on the other hand, have now lost their fourth match and now 10 points behind Japan with three matches to go, which means that their chances of finishing in the top two places have been lost. They are now nine points behind Australia who are in third place.
In the other fixtures played in Group B, Australia won their home match against sixth place Vietnam 4-0 to remain in third place. Group leader Saudi Arabia also won their home match against fourth place Oman 1-0, extending their tally to 19 points.
In Group A, group leader Iran clinched their World Cup berth with a 1-0 victory over fifth place Iraq at home. Iran have now extended their tally to 19 points to secure a 10 point lead over third place UAE, becoming the first team from AFC to claim their ticket to Qatar. For Iran, this will be their third consecutive and sixth overall appearance in the World Cup.
Second place Korea Republic defeated Lebanon 1-0 in an away match to increase their tally to 17 points. UAE won their home match against sixth place Syria 2-0. Korea Republic may now clinch their spot into the World Cup depending on the results of the next fixture.
Coaches and Players' Comments
MORIYASU Hajime, Coach of SAMURAI BLUE (Japan National Team)
Despite the short preparation time and the difference in condition between the domestic and international players, the fact that the players were able to share the same vision for the game allowed us to earn this victory. We knew our opponent was going to penetrate the sides, but our players managed to maintain an aggressive approach and fought hard to win the ball. The opponent had players who are capable of delivering quality crosses from the sides, so we entered the match with the intention of keeping a close eye on them. The players did a great job of identifying the opponent's strong points and reflecting them in their plays from the early minutes.
Taniguchi and Itakura, who were both making their first appearance in the AFC Asian Qualifiers, showed great composure from the start, controlling the team in the build-ups and in defence, while also showing great individual skills and strengths to outperform the opponents. They have been doing great with their respective clubs, so it looked like they were able to play with a lot of confidence. It also felt like they were on the same page, which allowed them to showcase a strong performance together.
As a team, we were able to control the match by keeping a high defence line, while the attacking players also dropped back to apply pressure when necessary. The fact that the players were able to consciously correct their positions in order to increase the power of the team, while also putting themselves in positions to take advantage of their individual strengths, really helped us win this match. We really managed to share the concept of keeping a good distance with each other in both offence and defence, and demonstrated the play style by actively communicating as a team.
The team has struggled in the first match of the two-game series in this AFC Asian Qualifiers so far. The players were in different conditions, the domestic players were coming from their off-season, and the international players had to make the transition from their clubs to the national team, but we still managed to fight as a team by communicating with each other. It was great that we were able to share a good image and work together as a team ahead of our next match against Saudi Arabia. However, I think we must be prepared to play at a higher level when we face Saudi Arabia.
DF #3 TANIGUCHI Shogo (Kawasaki Frontale)
We were expecting our opponents to basically park the bus, which meant that Itakura and I would have more time on the ball, so we thought that if we could pass the ball into positions where our opponents felt uncomfortable, or pass it to Minamino or Osako, we would be able to create more chances for the team. In fact, there were relatively many situations like that, so I was always anticipating passing the ball. I still need to do a better job on getting on the same page as my teammates, and I think we can get better. I really wanted to play in the AFC Asian Qualifiers, so now that I am given the opportunity, I have entered the competition thinking that this will be my last chance unless I play well. I don't have a lot of international experience, but I have experienced a lot in the domestic league and in the ACL, and today's opponent, China PR, was similar to an opponent I faced in the ACL, so I was able to use that experience to my advantage. I'm still very keen to develop as a player and become more involved with the national team.
DF #4 ITAKURA Kou (FC Schalke 04/Germany)
I entered the match thinking that winning three points is all that matters in this match. Our opponent was anticipating to create chances with their long balls, so I focused on communicating with Taniguchi and giving directions to provide coverage for the long balls. The fact that we conceded very few shots and kept a clean sheet is encouraging, but personally I feel like I could have done better both in defence and offence. It has been a while since I played with the national team and because it was the AFC Asian Qualifiers, I was a bit nervous. I can be more aggressive in defence and improve my involvement in offence if I can be more relaxed, but I think that will only come with more match experience. The next match will definitely be different from today. We hope to prepare ourselves by collecting information about our opponent.
MF/FW #6 ENDO Wataru (VfB Stuttgart/Germany)
This was a match where we had to win three points, so I told the team before the match, "Let's try to win three points with the team we have." In terms of my performance on the pitch, I tried to play my best and not get too carried away. I am not totally satisfied with our overall performance, but winning was our top priority, so I feel relieved to have won the match. We tried scoring the second goal in the first half, but with our opponent dropping deep in their territory, it was difficult to create a positive rhythm. We could have moved the ball with a bit more tempo and played more vertical passes. It was great that we managed to score the second goal while keeping a clean sheet, but we must keep in mind that the next match is what matters the most. We have lost in the first leg, so we will try to repay the debt at home and claim three points.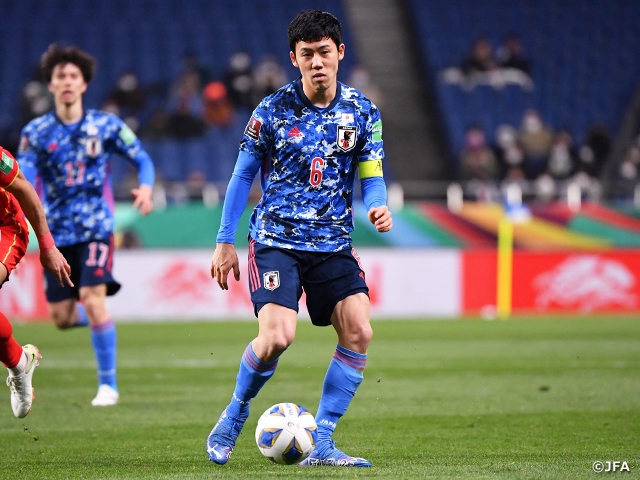 MF/FW #14 ITO Junya (KRC Genk/Belgium)
In the scene where I won the PK, I ran into the space when Sakai had the ball and as I was trying to chip the ball towards the centre, the cross deflected off the opponent's arm. It was a fortunate play, but it meant a lot for us to score an early goal. When I score the goal, Nakayama delivered a great cross, so I just focused on keeping my shot on target. Our opponent defended well, but we had plenty of chances, and I think we could have made this an easier match if we had scored more in the first half. (Regarding his goals in three consecutive matches) I'm surprised at myself, but I'm trying to score goals in every match, and I think it's paying off. We haven't played too many matches with this formation, but I think we are gradually starting to mesh together and create more chances. I would like to score goals against Saudi Arabia, but my priority is for the team to win. I hope to get myself involved in goals and provide assists as often as possible.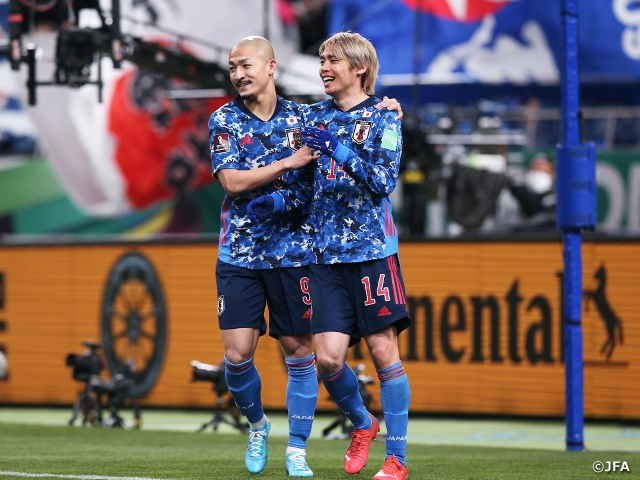 LI Xiaopeng, Coach of China PR National Team
Our players did their best, but we couldn't adapt to our opponent's rhythm and lost our rhythm after conceding two goals. We brought on a few attacking players in the second half, but the second goal we conceded was very costly. We tried creating chances by attacking the flanks, but the intense pressure applied by the Japanese players made it very difficult to do so. I feel responsible for this defeat. (Although the team can no longer finish within second place in the group) We will give our all to every match with 200% effort and preparation.

Asian Qualifiers - Road to Qatar [1/27]
SAMURAI BLUE (Japan National Team) vs China PR National Team
Date: Thu. 27 January, 19:00
Venue: Saitama Stadium 2002 (Saitama)