NEWS
SAMURAI BLUE's Coach MORIYASU shares aspiration to "grab victory with the combined strength of Japan" against China PR National Team in the AFC Asian Qualifiers (Road to Qatar)
27 January 2022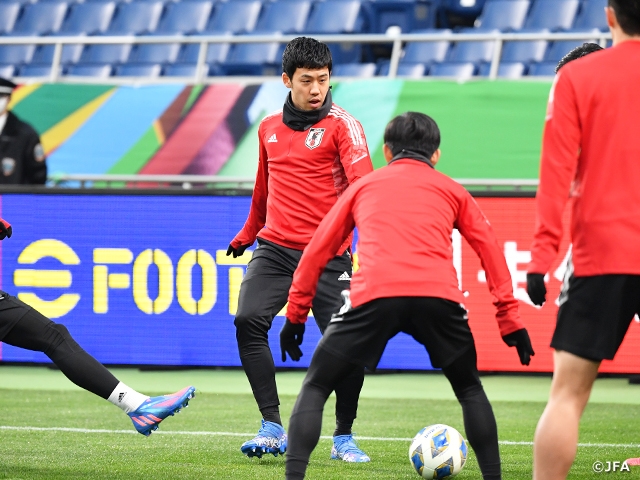 On 26 January, one day ahead of their seventh match of the FIFA World Cup Qatar 2022™ AFC Asian Qualifiers (Road to Qatar) against the China PR National Team, coach MORIYASU Hajime of the SAMURAI BLUE (Japan National Team) appeared in the official press conference held at Saitama Stadium 2002 to share his aspiration to "grab victory with the combined strength of Japan."
In Group B of the AFC Asian Qualifiers, Japan are in second place with 12 points, just ahead of Australia, who are in third place with 11 points. In order to finish within the top two places of the group and avoid the play-offs, this home fixture against China PR is a crucial match for Japan, who has four matches remaining.
The team will be without their captain, YOSHIDA Maya (UC Sampdoria), and TOMIYASU Takehiro (Arsenal), who have been anchoring the centre of the final line, coach Moriyasu expressed his confidence and expectations in his players to secure three points, as he mentioned, "The players who will be playing are not 'replacements,' but players who have made their presence felt at their respective clubs. We want them to play with confidence and win the match as a team.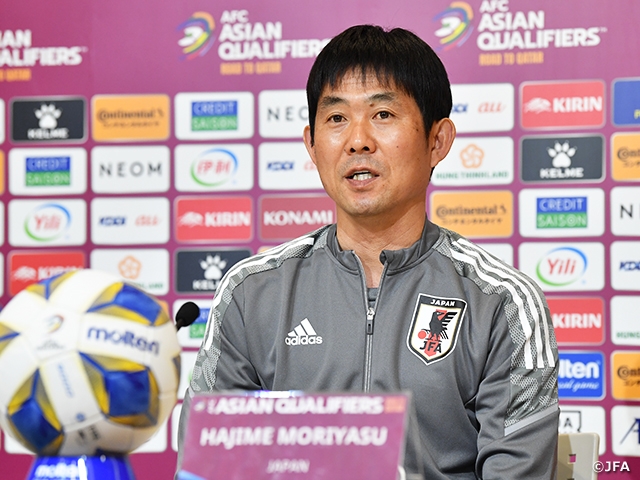 Japan's overall record against China PR is 14 wins, seven draws, and seven losses. In the first leg played on 7 September of last year, Japan won the match 1-0 thanks to the goal scored by OSAKO Yuya (Vissel Kobe) with ITO Junya (KRC Genk) setting up the goal.
Including that match, China PR are fifth out of six teams in the AFC Asian Qualifiers with five points, but they showcased a strong performance against Saudi Arabia, who are leading the table with 16 points, and drew 1-1 against Australia in an away match.
In December, coach LI Xiaopeng, who had previously led Shandong Taishan and Wuhan FC in the Chinese Super League, took over the helm, and this match against Japan will be the first match under his new regime. When asked about their chances of qualifying for the World Cup, new coach Li said, "We will fight as hard as we can without giving up hope."
Although naturalised Brazilian midfielder ALOISIO (Chinese name LUO Guofu) is suspended due to accumulation of yellow cards, fellow naturalised Brazilian midfielder ALAN (Chinese name A Lan) and WU Lei, who plays for RCD Espanyol in Spain and has scored five goals in the last four matches in the qualifiers, are still in the squad.
Coach Moriyasu said he did not have any information on the opponents and was unsure how they would play but predicted that "they will be highly motivated and aggressive in their first match after welcoming a new coach." He also mentioned that "We will prepare ourselves to be as dominant as possible, both mentally and tactically."
"It's an advantage to have two matches played at home. We know it's going to be tough, but we need to win both matches so we must be ready for anything," said ENDO Wataru (VfB Stuttgart), who was named team captain in place for Yoshida. The 28 year old midfielder who currently plays in the Bundesliga continued to mention, "We need to focus on taking the initiative," without being too conscious of their opponent.
The team spent the evening at the match venue to hold a training session which was held behind closed doors except for the first 15 minutes. During the part in which the session was open to the media, the players were seen going through their warmup routine, core training, and passing drills in a relaxed atmosphere, while the goalkeepers worked on their response to cross-balls.
The attackers were keen to score the decisive goal.
"If we can perform well, I think we can create a lot of chances no matter how our opponent comes out to play. It's important that we capitalise on our chances," said Ito, who scored back-to-back goals in the set of away matches played last November. MINAMINO Takumi (Liverpool FC) also commented, "Winning the match is our top priority, so I will do what I can to help the team win. It's important that we convert the few opportunities we get."
MAEDA Daizen (Celtic FC), who scored in his debut match with his new club in Scottland, also shared his aspiration, "I think everyone is aware of how I play, so I will try to showcase what I am capable of. I want to produce results."
The match between the SAMURAI BLUE and the China PR National Team will be played at Saitama Stadium 2002 on Thursday 27 January with a kick-off time of 19:00. Strict measures will be taken to prevent the spread of Covid-19, as the match will be played with spectators in attendance, with proof of negative test results being required.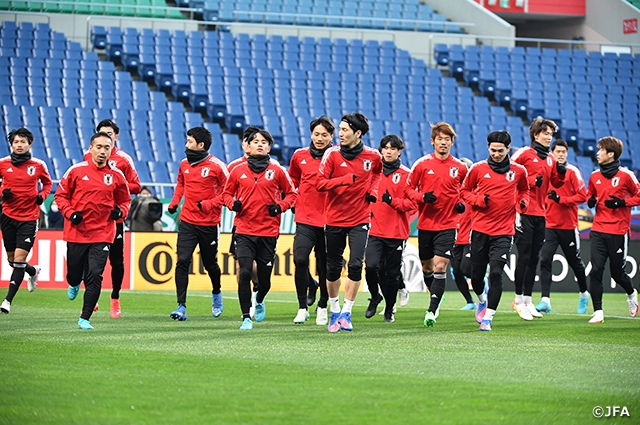 Asian Qualifiers - Road to Qatar [1/27]
SAMURAI BLUE (Japan National Team) vs China PR National Team
Date: Thu. 27 January, 19:00
Venue: Saitama Stadium 2002 (Saitama)