NEWS
SAMURAI BLUE pay courtesy call on Prime Minister Kishida Fumio
12 December 2022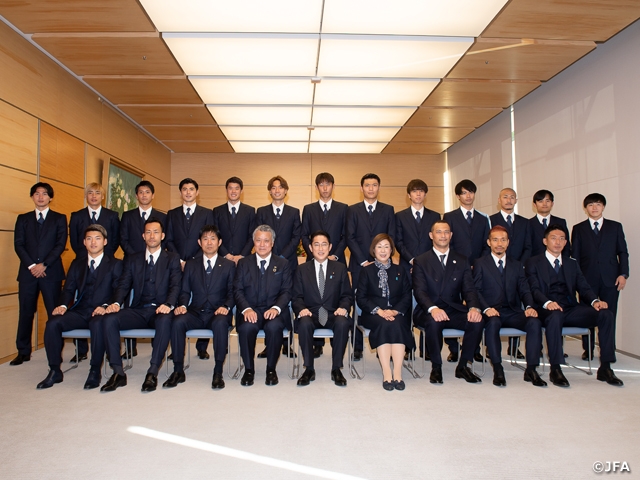 The SAMURAI BLUE (Japan National Team) returned from Doha, where the FIFA World Cup Qatar 2022™ was held, on 7 December. On the following day, 8 December, Head Coach MORIYASU Hajime and the 17 players who had returned to Japan paid a courtesy visit to the Prime Minister's Office to report on the tournament and thank Prime Minister KISHIDA Fumio for his support.
It was the first time for the men's football team to visit the Prime Minister's Office as a team, and the players all looked nervous as they stepped into the Prime Minister's Office.
Prime Minister Kishida told the players that the people of Japan had been greatly inspired by their performance in the matches, while also expressing his hope that they would build on what they are feeling now to achieve even greater successes in the future. The courtesy visit ended with an exchange of notes between Prime Minister Kishida and coach Moriyasu, both of whom have a routine of taking notes in their own handwriting.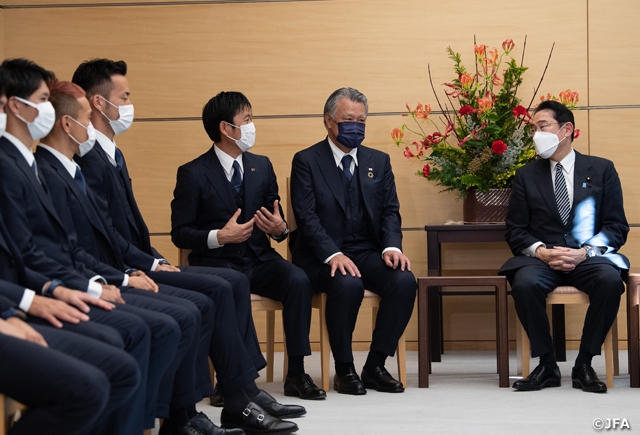 Comments
KISHIDA Fumio, Prime Minister of Japan
This team defeated Spain and Germany, two previous World Cup champions, and battled for 120 minutes against Croatia in this World Cup. I believe they shocked the entire world and undoubtedly inspired the numerous fans in Japan. I'm filled with gratitude. I also had the opportunity to watch their matches, which really gave me courage and energy, and for that I thank them from the bottom of my heart. I am sure that each and every one of the players has various feelings about the results of this World Cup, and I sincerely hope that they will continue to build on these feelings to achieve even greater successes in the future. It has been 30 years since the J.League started, and I first met coach Moriyasu through a connection in Hiroshima when he was the manager of Sanfrecce Hiroshima. The J.League has a history of 30 years, and each of you has worked hard to succeed on the international stage. I think that all of these efforts have added up to this fantastic accomplishment, which gives us a lot of hope for the future. I sincerely hope that each of you has a wonderful future.
TASHIMA Kohzo, JFA President
We, the Japan Football Association, and the Japan National Team, have fought with the desire to revitalise our country. We would have liked to win one more, but I am sure the players were the most disappointed about that. We will continue to do our best, so please continue to support us in the future.
MORIYASU Hajime, Head Coach of SAMURAI BLUE (Japan National Team)
We were able to fight courageously thanks to the many people who came to support us on-site and to those who sent their support from Japan. The players also did a great job working as a team to fight hard and tenaciously until the end. We will continue to fight for our country with the Japanese spirit and pride. And we will carry out our activities with the hope of pleasing the people of Japan through football. We will make every effort to spread the power of sport and athletes to everyone.
YOSHIDA Maya (FC Schalke 04/Germany)
Thank you for your passionate support. All of you who support Japan, not just in Japan but around the world, have given us energy. Although we didn't quite reach our goal, the fact that we got this far is still very noteworthy and meaningful. The important thing is that the young players, who represent the next generation, do not stop their progress here. They must instead start over from scratch and work toward the following four years. We hope that this team can contribute to revitalising Japan. Thank you very much.