NEWS
SAMURAI BLUE's Coach Moriyasu shares aspiration to "Fight with a strong spirit to break through the barrier" against Croatia in the Round of 16
05 December 2022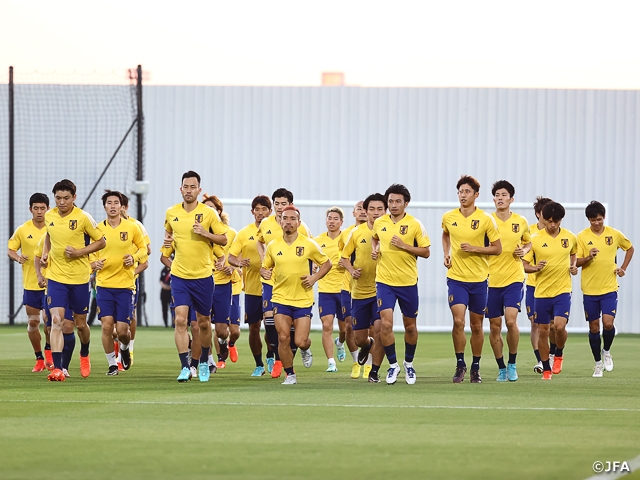 On Sunday 4 December, one day before their round of 16 match against the Croatia National Team at the FIFA World Cup Qatar 2022™, Head Coach MORIYASU Hajime of the SAMURAI BLUE (Japan National Team) appeared in the official press conference where he shared his aspirations, saying "I want the players to play as they normally do, to give it their all, and to fight with a strong spirit to break through the barrier of Round of 16."
Japan are just one win away from achieving their goal of reaching the quarterfinals. They will face Croatia, the runners-up from the previous World Cup, in the round of 16 on Monday 5.
In the past, Japan reached the round of 16 in three occasions. They lost to Turkey at the 2002 FIFA World Cup Korea/Japan™, followed by a loss in penalties against Paraguay at the 2010 FIFA World Cup South Africa™, and at the 2018 FIFA World Cup Russia™, the team lost to Belgium despite taking a 2-0 lead. This time, however, they have defeated Germany and Spain, two countries that have won the tournament before, to finish first in Group E. With momentum on their side, they are looking to break through to reach a new stage.
With the competition entering the knockout stage, extra time and penalty shoot-outs will come into play, but coach Moriyasu insisted, "We don't want to play defensively from the start. I want our players to fight courageously."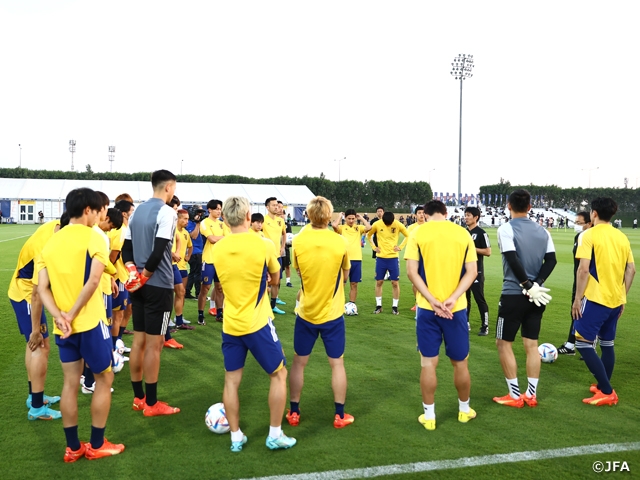 Croatia won several matches that went into overtime and penalty shootouts to advance to the 2018 FIFA World Cup Russia™ final. Their tenacity is still evident as they battled through scoreless draws against Belgium and Morocco in Group F, where they placed second to advance to the round of 16. The team's mainstay, Luka MODRIC, who helped Croatia finish as runners-up in the last World Cup, continues to make an impact on the dynamic Croatian midfield. Croatia is ranked 12th in the FIFA rankings, compared to Japan's 24th. This will be the first meeting between the two sides since they met in the group stage of the 2006 FIFA World Cup Germany™, which ended in a 1-1 draw.
Head Coach Zlatko DALIC, who has led Croatia since October 2017, including their run at the 2018 FIFA World Cup Russia™, is no stranger to Asian football, having previously led Middle Eastern clubs and guiding Al Ain FC to a second place finish in the AFC Champions League 2016. Ahead of the match, the Croatian coach commented, "Japan is a very dangerous team who can make quick transitions. We must stay focused and fight hard until the very end."
When asked about their opponents, coach Moriyasu mentioned, "They have world class players who are able to adapt to different situations of the game. They have great discipline and manage their matches very cleverly," and pointed out that "It will undoubtedly be a difficult match for us."
However, the Japanese coach also showed his confidence towards his side, "Our players battled hard and tenaciously against Spain and Germany, showing that if we play to our strengths, results will follow. I want the players to play as they normally do and give it their all."
NAGATOMO Yuto (FC Tokyo) was also present at the press conference, as the veteran defender shared his enthusiasm, "I strongly believe that we can do it. We will showcase our best performance to earn the best result. We will enter the match with the determination to rewrite the history of Japanese football."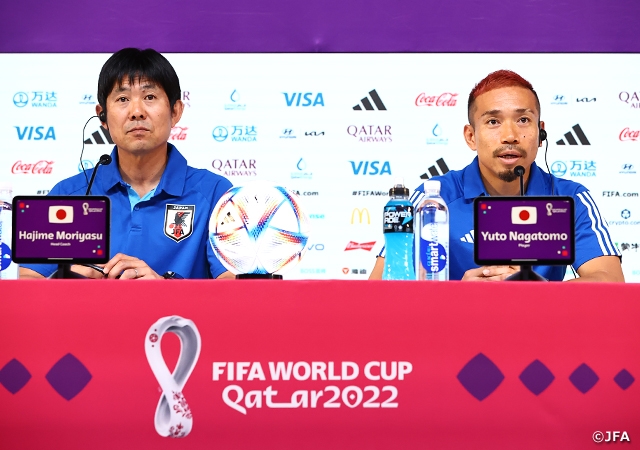 On this day, the team held an official training session in the evening, where the majority of the session was held behind closed doors.
During the portion of the session that was open to the media, all the players, with the exception of KUBO Takefusa (Real Sociedad), who was feeling under the weather, were seen working through their warmup routines in a relaxed atmosphere.
The three goalkeepers worked out on their own to go through their catching and saving routines, as they took shots from close ranges. ITAKURA Kou (Borussia MG) will not be available for the next match after picking up two yellow cards in the group stage.
Regarding their opponents in the round of 16, SAKAI Hiroki (Urawa Red Diamonds) said, "We are expecting a tough match, but I believe we will win at the end. We still have long ways in this tournament."
Team captain YOSHIDA Maya (FC Schalke 04) also shared his take on the match, "In order for Japan to reach the next tier, the team must consistently advance past the group stage. This is the first time we have reached the round of 16 in back-to-back World Cups, but we must not be content with this result, and strive to mark a new page in our history. This opportunity only arises once every four years. We cannot let this one slip away."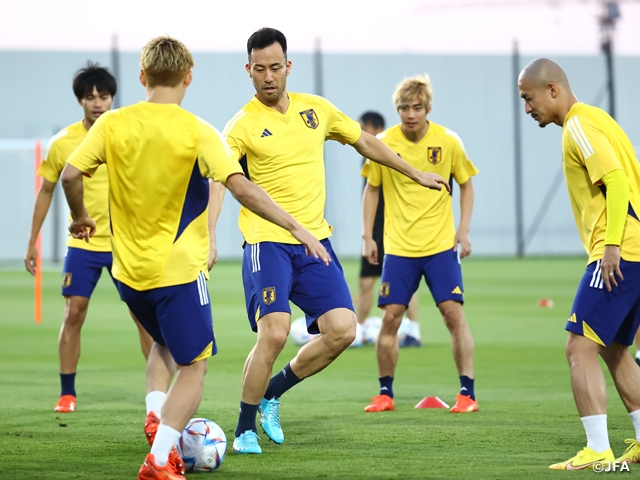 The round of 16 match between the SAMURAI BLUE and the Croatia National Team will kick off at 18:00 local time (24:00 Japan time) on Monday 5 December at Al Janoub Stadium.
Coaches and Players' Comments
MORIYASU Hajime, Head Coach of SAMURAI BLUE (Japan National Team)
We are very much looking forward to facing Croatia. Since our last match of the group stage, the players have shown great composure to prepare themselves. Tomorrow will be another very tough, intense, and difficult match, but I hope the players will give their all and show what they have built up over the years. If we play 120 minutes, we will be allowed to make six substitutions. We want to showcase a total team effort to win the match at the end. Croatia is a great team, who were the finalist of the previous tournament, and we have a lot of respect for them. They have world class players who are able to adapt to different situations of the game. They have great discipline and manage their matches very cleverly. Last time, they reached the final by playing through three matches that went into overtime, and this year they have drawn 0-0 twice and won a match to reach the knockout stage. They are a tough team that can play with great patience, so it will undoubtedly be a difficult match for us.
We were eliminated from the 2018 FIFA World Cup Russia™ in the round of 16, even though we had enough talent to make it to the quarterfinals. I still remember the bitter feeling I had as a member of the coaching staff at the time, and I have some regrets about what I could have done differently. We tried to make the most of that experience to build this team, but we are not here just because of the disappointment we felt in that match against Belgium. We are here because we were able to build on all of Japanese football's past accomplishments, particularly those we have gathered and developed over the course of the previous six World Cups. Tomorrow, we will try make the most of everything we have built up leading to this point. I feel that the players have improved dramatically over the past four years. Even with Japan's organisational strength, we cannot win matches without the skills of individual players. Including the players who did not play in the previous tournament, we will compete to win tomorrow, and hope to build on our success going forward. I want the players to play as they normally do, to give it their all, and to fight with a strong spirit to break through the barrier of round of 16.
FP #5 NAGATOMO Yuto (FC Tokyo)
We got here by finishing first in a tough group with Spain, Costa Rica, and Germany. We are very confident in our abilities, and I strongly believe that we can do it. We have never broken the barrier of the round of 16 before, and this is my fourth challenge to break that barrier. We will showcase our best performance to earn the best result. We will enter the match with the determination to rewrite the history of Japanese football.
FP #6 ENDO Wataru (VfB Stuttgart/Germany)
I am looking forward to playing against them because they have really good players in their midfield. I want to show my strengths in one-on-one situations, but it is more important that we sort out how we want to fight as a team. I will prepare myself so that I can win the individual battles for the team. I have the impression that our opponents are also a defensive team, so I think our patience will be tested in this match. It will be very important that we stay on the same page in terms of when we are going to attack as a team. Fitness-wise, I am feeling really good. I have never forgotten the loss in Rostov four years ago and the disappointment I felt for not being able to play in that match. In that sense, my preparation started all the way back four years ago. As usual, we just need to show what this team has built up over the years, as we did against Germany.
FP #9 MITOMA Kaoru (Brighton & Hove Albion FC/England)
I feel like I am well prepared for this match. We went over our opponents' data and the key points to look out for in both offence and defence. In this tournament, I have been used as a substitute in all of our matches so far, and I feel like my role is to revitalise the team and change the dynamics of the match by creating chances through my ability to win one-on-ones. My condition is getting better as I play more minutes. As we advance in this tournament, our opponents will become more challenging, so we must be mentally prepared and make wise decisions when playing on the pitch. We have gained a lot of confidence from our matches against Germany and Spain, but we still have to put forth our best effort in each of the upcoming matches.
FP #10 MINAMINO Takumi (AS Monaco/France)
I feel very excited for tomorrow's match, as it will be a match that goes down in Japanese football history. Now that we have made it this far, I want to win and strive to go beyond the quarterfinals. Despite the magnitude of the match, our approach remains the same, so we hope to prepare ourselves in the best way possible. Changing the momentum of the match using our substitutions is one of our fortes, so everybody is preparing themselves to be the next hero.
FP #13 MORITA Hidemasa (Sporting CP/Portugal)
Containing Croatia's defensive midfielders will be challenging because they actively participate in their offense. Although Modric is a star player who can win the ball, make chances, and score goals, we should try to avoid getting drawn into his plays too much. We also need to focus on possessing the ball in order to take the initiative of the match. It would be ideal if we can win the match within 90 minutes.
FP #14 ITO Junya (Stade de Reims/France)
We were not able to possess the ball at all in the first half against Spain, so we need to try to possess the ball longer in order to create more chances in this match. We will be up against a trio of very solid midfielders, so we must focus on good defence first and anticipate for our chance to attack when the opportunity presents itself. All of the matches had been vital for us, so our approach to this match will be no different than the ones in the group stage. If we can play with the kind of mentality we had against Spain and Germany, I am sure we can showcase a strong performance that will lead to good results.
FP #19 SAKAI Hiroki (Urawa Red Diamonds)
From here, the pressure will be different from the group stage, and whether we play 90 or 120 minutes, we will need to be clever. All 26 players must be on the same page. The players entering the match as substitutes are going to play an important role of passing on information to the players on the pitch, and it is vital that everyone fulfils their job, regardless of whether we start on the pitch or on the bench. I didn't think I would be able to come back so quickly, so I want to thank the medical staff and all the people who were involved in my treatment.
FP #22 YOSHIDA Maya (FC Schalke 04/Germany)
When I was informed that we were going to play Croatia, I honestly thought we had a tough match ahead of us. There is a lot of work to be done in a short period of time, but I think we have been able to communicate well to brush up our game. Watching the Argentina-Australia match, I was reminded that from this point on, tactics and analysis are important, but the smallest details can make the difference between victory and defeat. Getting our body prepared is one thing, but we also need to prepare our minds to fight through 90 or even 120 minutes, so I will try to get my mind sorted out before the match. We need to brace ourselves for another tough match, because there are no such thing as an easy match at this level. The opponents have three midfielders who are very fluid and capable of creating chances from any position, so we need to stay on our toes and be flexible to make the necessary adjustments against them.
FP #25 MAEDA Daizen (Celtic FC/Scotland)
We've been going over the tactical and mental aspects of the game in the team meetings, and the veterans have always shared their World Cup experience with us, so I think we can go about this match as naturally as we can, even though my nerves are running high. My coach at Celtic has always told me that if I continue to work for the team, chances will come my way, and I want to believe in that and run for the team. I think it's not only the players who want to reach new heights, but also the supporters, so I want to help Japan reach a stage we have never reached before and share that experience with everyone.
Zlatko DALIC, Head Coach of Croatia National Team
Japan does not necessarily possess the ball that much, but we know that they are one of the best teams in terms of pressing and transition. They simply do not give up, but neither will we. We went to the 2018 final because we believed in ourselves and never gave up. The two teams share the same mentality and have similar approach to the game. I believe we stand on equal ground.
FIFA World Cup Qatar 2022™
Tournament Dates: Sun. 20 November - Sun. 18 December 2022
[Group Stage]
1st Match: Wed. 23 November 16:00 [Local Time] vs Germany National Team
2nd Match: Sun. 27 November 13:00 [Local Time] vs Costa Rica National Team
3rd Match: Thu. 1 December 22:00 [Local Time] vs Spain National Team
[Knockout Stage]
Round 16: Mon. 5 December 18:00 [Local Time] vs Croatia National Team