NEWS
SAMURAI BLUE's Coach Moriyasu shares aspiration to "Give our all" in match against Spain
01 December 2022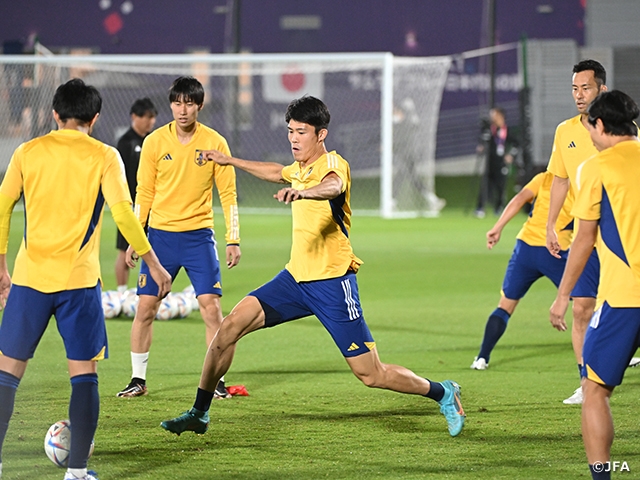 On Wednesday 30 November, one day before their third group stage match against the Spain National Team at the FIFA World Cup Qatar 2022™, Head Coach MORIYASU Hajime of the SAMURAI BLUE (Japan National Team) appeared in an official press conference where he shared his aspiration, "If we give 100% of our usual effort, good results will follow. I want the players to give it their all."
Spain, winners of the 2010 FIFA World Cup South Africa™, are currently ranked seventh in the FIFA rankings (Japan is ranked 24th). They qualified for their 15th World Cup by finishing first in Group B at the European qualifiers where they recorded six wins one draw and one loss against Sweden, Greece, Georgia, and Kosovo. In this tournament they have beaten Costa Rica 7-0 and drew with Germany 1-1.
Spain's Head Coach Luis ENRIQUE indicated at the press conference that the team will be going all out against Japan in their bid for their second World Cup title. When asked about the possible scenarios at the round of 16 and quarterfinals, the Spanish coach admitted that he has entertained the idea of finishing runners-up in the group to avoid a tough bracket in the knockout stage but clarified that he was not going to take that chance, saying, "To win a World Cup you have to beat everyone that comes your way."
Regarding Japan, the former Barcelona boss commented, "They are very dynamic, so quick. They put you under so much pressure and don't give you time to think. We won't have time to implement our style."
"Spain have everything, including dynamism, technique, and tactics," said coach Moriyasu, who is aiming to lead Japan into their first-ever World Cup quarterfinals and beyond.
Referring to their 0-1 loss to Spain in the semi-finals of the Tokyo Olympics, in which he led the Olympics team, the Japanese coach said, "We promised to make the most of that experience. This time we will aim to obtain a result that we can celebrate."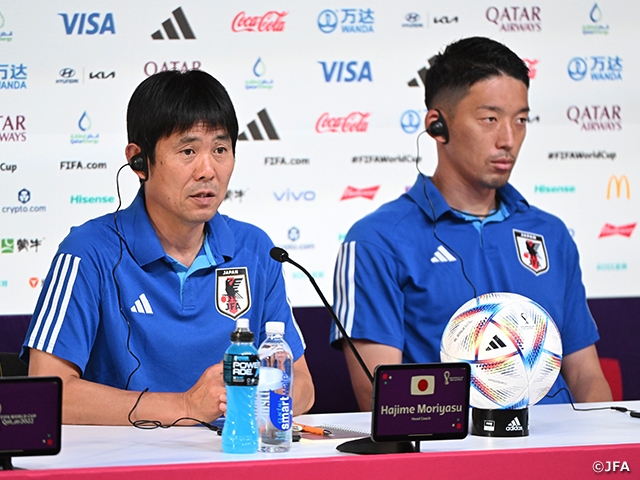 On this day, the team held an official training session at their base camp in Doha, in which the majority of the session was closed to the media.
During the portion where the session was opened to the media, the players were seen going through their warmup routine before engaging in a passing drill where TOMIYASU Takehiro (Arsenal), KUBO Takefusa (Real Sociedad), and MITOMA Kaoru (Brighton & Hove Albion FC) were spotted making lively runs as the team gradually increased their intensity level.
However, ENDO Wataru (VfB Stuttgart), who suffered a knee injury against Costa Rica, and SAKAI Hiroki (Urawa Red Diamonds), who felt discomfort in his leg against Germany, were on separate menus for the day.
Regarding the team's condition, coach Moriyasu said, "We are not feeling any pressure. We have prepared well in the last three days. I think everyone is prepared except for Sakai."
After the training session, Tomiyasu, who is recovering from an injury, commented on his status, "I don't have any problems with my injury. We just have to approach the match as if it were the first round of a tournament. The situation is straight forward, so we want to give it everything we've got."
Spain and Japan have met once before, in an international friendly held in Cordoba in April 2001, which Japan lost 0-1 at the time. Japan will advance to the knockout stage unconditionally if they beat Spain. In the event of a draw against Spain, Japan will be eliminated if Costa Rica win, and if both countries draw, Japan will go through in second place, surpassing Costa Rica on goal difference. If Japan draw and Germany win, the situation changes according to the number of goals scored, as the two sides will be level on four points. If Germany wins by two or more goals, Japan will be eliminated. Total goals scored will come into play if Germany wins by one goal, and if everything is tied, Japan will have the advantage having won the head-to-head match.
The match will kick-off at 22:00 local time (28:00 Japan time) at Khalifa International Stadium on Thursday 1 December.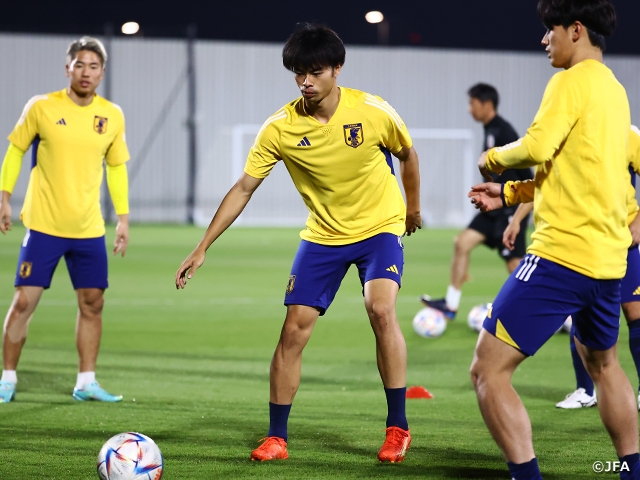 Coaches and Players' Comments
MORIYASU Hajime, Head Coach of SAMURAI BLUE (Japan National Team)
Over the last three days we have prepared well as a team for the match against Spain. Considering the magnitude of this match, I am sure the players will be under a lot of pressure, but I want them to have faith in themselves and each other. If we can give 100% of our usual effort, good results should follow, so I want the players to give it their all, as I will do my part to provide that environment. We want to improve our conditions to increase our chances of winning, prepare the best we can for the battle in front of us, and fight for victory.
Under coach Luis ENRIQUE, Spain has a great team that has everything - dynamism, technique, and tactics - and shares a consistent football philosophy as a country, from the development age to the senior national team. Many of the players on their team have also competed in the Olympics. Losing to Spain in the semi-finals of the Tokyo Olympics was a very frustrating and disappointing memory, but the players and I are here with the promise to make the most of that experience. This time we will aim to obtain a result that we can celebrate. We are not feeling any pressure. If there is, it is over whether we can play to our strengths without regret, but we are fully focused on fighting our way through the group stage. We must savour the occasion and the thrill of going head-to-head with the World Cup champions.
We will fight to the end as a team so that we can deliver results that will please all our supporters, so we ask for your support and cooperation. We are in the world of competition, so it is only natural that we are praised when we win and criticised when we lose, and I am glad that we are able to provoke interest in and discussion about football. As representatives of Japan, we will fight for Japan on the world stage with the spirit and pride of the Japanese people.
GK #12 GONDA Shuichi (Shimizu S-Pulse)
I know many of you were disappointed that the second match was not the result we wanted, but the fact that we are now in a position where we can advance to the knockout stage with a win in this third match is a result of our victory against Germany. Spain are one of the best teams in the world, but we want to give them everything we've got. They are a well organised team that can do anything from anywhere at a high level, so we must stay alerted at all times. We just want to focus on demonstrating what we have worked on, and what our predecessors have built for us.
FP #9 MITOMA Kaoru (Brighton & Hove Albion FC/England)
Similar to the match against Germany, it will be another tough match where our patience will be tested. Although we are up against a very strong opponent, I am confident that I can create chances if I play to my strengths, so I will try to work closely with my teammates in order to create plays that can lead to our team's goals. Spain are quicker than Germany, in terms of how they apply pressure to the ball, so I need to find ways to evade their pressure. Because we are expecting our opponents to dominate the ball possession, there will be situations where I have to carry the ball on the counter when there is no support around me, but I hope to possess the ball long enough to win free kicks and corner kicks. I will be making conscious efforts not to lose the ball, regardless of the situation. After winning against Germany and losing to Costa Rica, this match against Spain should give us a good idea on where we currently stand in the world, and I am looking forward to the challenge.
FP #11 KUBO Takefusa (Real Sociedad/Spain)
I am in good physical and mental condition. I intend to make good use of my time to get ready for our upcoming match. Because we also have a lot of talented players with great quality, we need to come up with strategies to deal with our opponents' quality. We do not become accustomed to the World Cup, so I will approach each match with a sense of urgency. Players who can't concentrate on winning three points shouldn't participate in tomorrow's match, in my opinion. It is simple as that.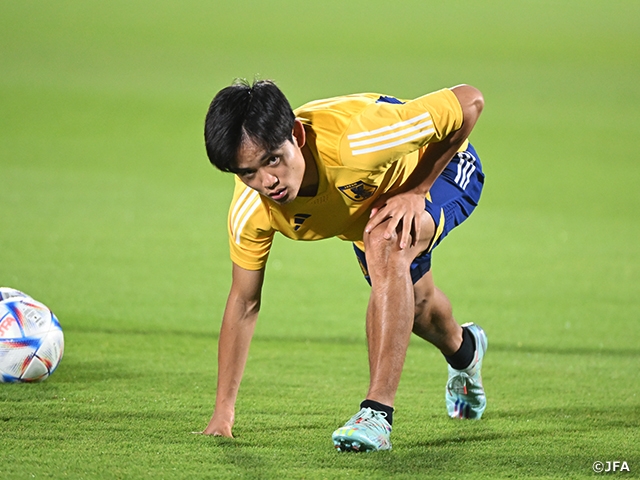 FP #16 TOMIYASU Takehiro (Arsenal/England)
Spain are one of the most difficult opponents to play against in the world. They have many quality players, and I personally get the feeling that they really understand how to play football. They probably learn about the structure of football from a young age. I was very disappointed that I was suspended when we faced Spain in the Olympics. It was a bitter experience for the team as well, so we hope to return the favour this time. We must communicate with each other and get ourselves on the same page in terms of when and when not to go for the ball.
FP #18 ASANO Takuma (VfL Bochum/Germany)
I am sure our opponents are going to dominate the ball possession, but that is within our expectation, so we won't let it demoralise us. As long as we can stay on the same page as a team, we should be able to play without losing our composure. The goal I scored against Germany will certainly help me play with more confidence. We are going to have to face strong opponents sooner or later, so we just need to focus on giving our all in the matches ahead of us. We are delighted to be able to play against countries we would otherwise not be able to play against. I feel more focused and excited as the stakes get higher.
FP #19 SAKAI Hiroki (Urawa Red Diamonds)
I am grateful to the medical team and doctors as I did not expect such a fast recovery. I am preparing myself with the intention of playing in the match. We don't know what will happen tomorrow, but we will have faith in ourselves and fight to win the match as a team. It's a completely different team from the Tokyo Olympics, and a different competition. I'm thrilled to have the opportunity to play against Spain, and I'm highly motivated to beat them.
FP #22 YOSHIDA Maya (FC Schalke 04/Germany)
To enter the match in top form, preparation is crucial, so we put a lot of effort into it today. At the Olympics, Spain completely outplayed us, but the stronger the competition, the more crucial it is for us to take advantage of our opportunities. Spain excels at controlling the ball, and they have a distinct football style that they have developed over many years. We need to carefully examine their roster to look for any information that we could use, even though we have no idea how they will begin the match. Many things have changed for both sides since the Olympics, so it's critical that we strike the right balance between bravery and modesty.
FP #26 ITO Hiroki (VfB Stuttgart/Germany)
I am sensing a similar vibe from our match against Germany, where we worked as a team to accomplish a mutual goal. We need to exchange our opinions and share our thoughts in order to get ourselves on the same page. Personally, I am aware that my performance has not been great, so I feel like I need to redeem myself. We hope to work together as a team and put forth our best effort in the upcoming match against Spain because the team needs to win. We need to demonstrate that our victory over Germany was not a fluke. We must first concentrate on keeping a clean sheet because conceding the first goal is the last thing we want to do when playing against a team that excels at ball possession. I'm excited to play Spain at the World Cup, and I want to give it everything I've got.
Luis ENRIQUE, Head Coach of Spain National Team
We are here to win seven matches and become champions, so we need to reach the round of 16. Regardless of who we face in the next round, we must first win against Japan. We are not thinking about finishing second. We want to finish first. To win a World Cup you have to beat everyone that comes your way. If there is anything I have to say about Japan it is that they are very dynamic, so quick. They put you under so much pressure and don't give you time to think. We won't have time to implement our style. They have so many good players like Kamada, Tanaka, Endo, Kubo, and Minamino. They have a lot of players at a high level.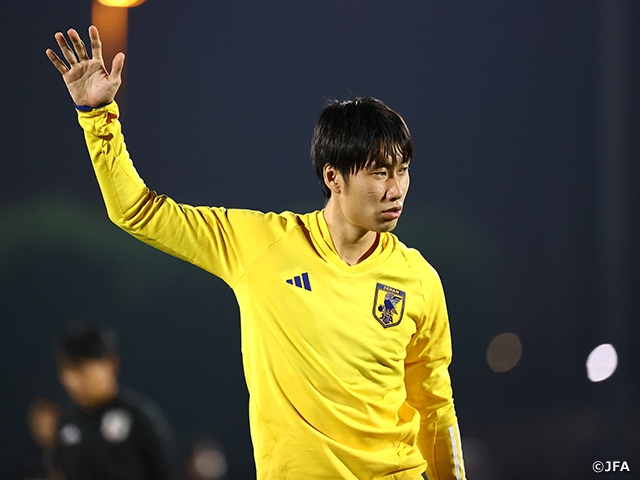 FIFA World Cup Qatar 2022™
Tournament Dates: Sun. 20 November - Sun. 18 December 2022
[Group Stage]
1st Match: Wed. 23 November 16:00 [Local Time] vs Germany National Team
2nd Match: Sun. 27 November 13:00 [Local Time] vs Costa Rica National Team
3rd Match: Thu. 1 December 22:00 [Local Time] vs Spain National Team