NEWS
Coach Moriyasu of SAMURAIBLUE striving for a clean sheet victory against Kyrgyz Republic
15 June 2021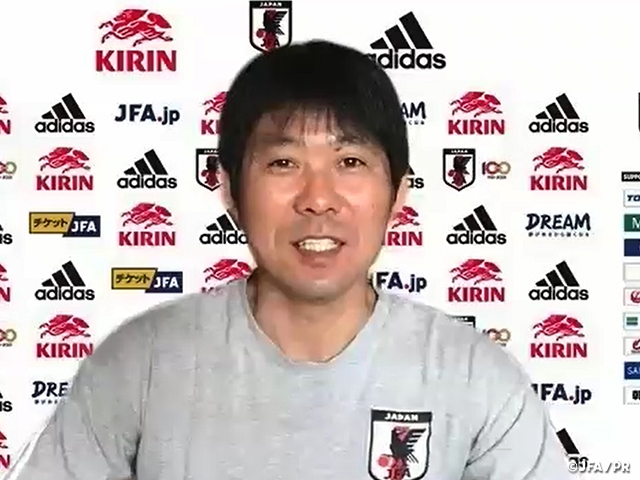 On Monday 14 June, one day ahead of their match against the Kyrgyz Republic National Team, coach MORIYASU Hajime of the SAMURAI BLUE (Japan National Team) appeared in an online press conference to share his aspiration to "win with a clean sheet" in the team's final group match at the second round of the FIFA World Cup Qatar 2022™ Asian qualifiers.
Japan has already clinched their spot into the final round, but the team will seek to win against Kyrgyz Republic to finish off the second round with a perfect 8-0 record. Coach Moriyasu has suggested that he will deploy a similar line-up from their match against Tajikistan and hopes to see his players "play aggressively to win the ball."
With 10 points, Kyrgyz Republic is currently sitting in second place at Group F, but the team has gone through major adversity during this final stretch of the second round qualifiers held in Osaka. Ahead of their match against Mongolia on 7 June, one of their players tested positive for COVID-19 with five players confirmed to being in close contact with the individual, forcing all three of their goalkeepers out of the roster for the match. Defender Aizar AKMATOV stepped up to fill in the vacancy in the goalkeeper position in their 0-1 loss, but the team showcased their resilience to win their following match against Myanmar 8-1, despite not having a real goalkeeper. The team has called-up GK Pavel MATIASH ahead of their match against Japan.
In their first leg played at Bishkek in November 2019, Japan walked away with a 2-0 victory, thanks to the goals scored by MINAMINO Takumi (Southampton FC) and HARAGUCHI Genki (1. FC Union Berlin), but Kyrgyz Republic created multiple chances by sending long balls into the attacking third throughout the match. The current roster includes Farkhat MUSABEKOV who started in the first leg, and Mirlan MURZAEV who scored a hat-trick in their most recent match against Myanmar. When asked about their opponent, coach Moriyasu mentioned, "They created many opportunities when we faced them in Bishkek. They are a solid team."
On this day, the team held an official training session at the match venue, as the session was closed to the media except for the first 15 minutes. The players were seen going through their warmup routines at the beginning, while the team thoroughly went through their tactics once the session went behind closed doors. HASHIMOTO Kento (FC Rostov) who started in the match against Serbia commented, "I wasn't able to showcase a satisfying performance last time. Once the Olympics is over, players will be returning from the U-24 squad, so I must do a better job in order to survive at this team."
NAGATOMO Yuto (Olympique de Marseille) who participated in the past three World Cups also shared his take, "The competition will continue to intensify, because every player is trying to make a case for themselves." The veteran fullback continued to share his aspiration, "I've been with this team for over a decade, but the level of competition is at its peak. I must play with a sense of urgency."
The 12 teams advancing to the final round will be determined following the match, as all second round fixtures are scheduled to be done on the same day.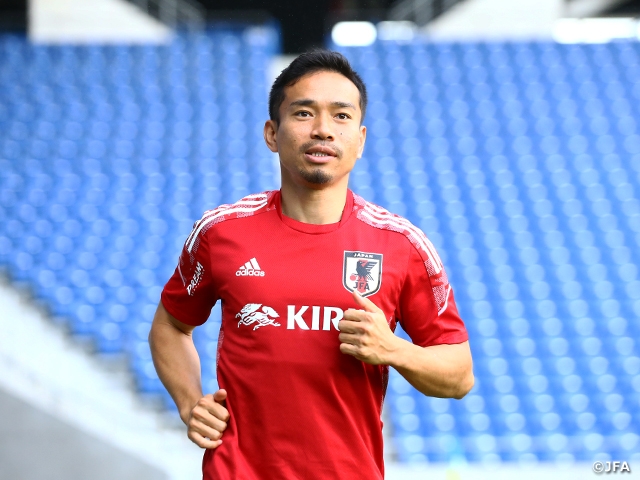 Coaches and Players' Comments
MORIYASU Hajime, Coach of SAMURAI BLUE (Japan National Team)
Kyrgyz Republic is a very hard working team, and they will challenge the ball with great intensity. Their players are fully aware of the team concept, and when we faced them in the first leg, I was getting the impression that they are the toughest opponent in our group. We conceded a goal to Tajikistan in our previous qualification match. We hope to learn from our mistakes and try to earn a shutout victory against Kyrgyz Republic.
In terms of defence, keeping a clean sheet is the most important thing, and we were able to do just that in our match against Serbia. However, I don't want our players to park the bus. I want them to play aggressively to win the ball. With the first player applying pressure, the second and third player can anticipate to win the ball, creating a collective effect. Although we struggled to create opportunities in the first half against Serbia, our players knew what to do. We played with great persistency to keep the score tied and managed to find our rhythm in the second half. It is also great to see our players holding discussions in search for the most optimal play. They are constantly striving for victory and seeking ways to raise the value of the team. In order to prevent the spread of COVID-19, the team is currently divided into groups of players playing in Japan and abroad, but the players are doing their best to stay connected and communicate with each other more than ever.
Playing under strict protocol to prevent the spread of COVID-19 is not an easy task. I am sure it is taking a toll on our players' mental wellbeing, but they are giving their absolute best. They are constantly thinking of ways to help out those who are in need. I will be selecting players for the final round based on their performances at their clubs, while also taking in consideration of their track records with the national team. We have always considered the U-24 squad as part of this team, and they have shown a strong performance against Jamaica, so we have a much deeper pool to select from.
GK KAWASHIMA Eiji (RC Strasbourg)
Regardless of how old you are, you must constantly strive for a higher level in terms of technique, physical, and mental strengths in order to play at the highest level. It is necessary that you keep your standards high. I don't think there is a definitive line between playing abroad or at the J.League, but I personally was able to learn about the culture of not only football, but the goalkeeper position as well. I am getting to experience in first-hand what it means to be a good goalkeeper. We are seeing more and more young goalkeepers starting in the J.League, which gives us hope for the future. With that being said, I would love to participate in another World Cup. After taking part in three World Cups, I know it is not an easy task, but I am working hard each day towards that goal. I strongly believe that the goalkeepers in Japan are at the world level, both in the men's and women's field. And I think it is just a matter of how they display themselves.
DF NAGATOMO Yuto (Olympique de Marseille)
I think the overall level of this team is getting higher. The U-24 squad has showcased a strong performance as well, so the competition will only get higher. I've been with the national team for over a decade, but the level of competition is at its peak, especially in the midfield. I need to play with a sense of urgency and strive to win through this competition. We have not played against stronger opponents, so it is hard to tell, but the players are well aware of what they need to do. We have been playing the same way regardless of who we face, and I can tell that this is a very strong team, even compared to the recent Japan National Teams. In the past, we often saw our team get overwhelmed by the opponents, which was a sign of our mental weakness. Now we are playing to win the match at all times. The players are on the same page, and they are all seeking for their opportunity to make a statement for themselves. With that being said, this match against Kyrgyz Republic is going to be an extremely important match. While everybody is giving their best effort to survive, the members of the U-24 squad will soon join the mix. I can say with confidence that the best version of the Japan National Team is yet to come.
MF HASHIMOTO Kento (FC Rostov)
I wasn't able to showcase a satisfying performance against Serbia, so I hope to do a better job in our next match. After making a few early mistakes in the match, I was trying to make up for my mistakes and started to make unusual decisions, which led to my poor performance. I have been playing as a defensive midfielder with players like Morita and Kawabe, who are both very skilful players, so I was more focused about keeping a balance. I feel that I was playing a bit too passively and that I need to get myself more involved in our offence. Rather than focusing on the compatibility with the other midfielders, I will try to focus on my individual performance in our last match.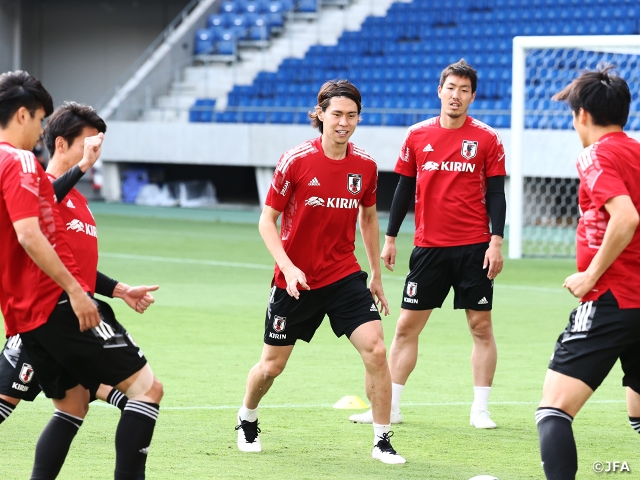 MF KAMADA Daichi (Eintracht Frankfurt)
One of the things we are working as a team is to play the ball upfront as quickly as possible once forcing a turnover. It is something coach Moriyasu has been telling us to do in our meetings and it can initiate fast breaks in our offence. In our last match, we saw Taniguchi deliver the ball to Minamino and I, which allowed us to create some close opportunities. Compared to the first half, we managed to create more chances in the second half, and it also created more space in the midfield. It doesn't mean that we need to rush every play. It is important to have balance and that we choose our spots to initiate the counterattacks. Considering the final round and the competitions beyond the qualifiers, I think there will be times when we can't keep possession of the ball. That is why it is so important to have the option to sit back and anticipate for our opportunities to counterattack, which can be a valuable weapon against stronger opponents.
Alexander KRESTININ, Coach of Kyrgyz Republic National Team
The corona pandemic is certainly a very difficult issue, but no one has tested positive in our most recent tests. We will give our best efforts to earn a good result against Japan. We have lots of reports about Japan, so we hope to use the information to our advantage. We have prepared ourselves based on the scouting reports, so we hope to showcase an exciting match tomorrow.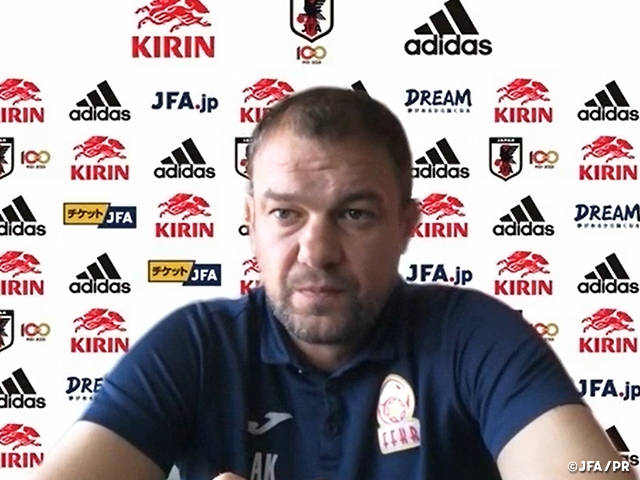 FIFA World Cup Qatar 2022™ - Preliminary Competition/AFC Asian Cup China 2023 Qualifiers/Preliminary Joint Qualification Round 2
Tue. 15 June 2021 [19:25] (Subject to change)
SAMURAI BLUE vs Kyrgyz Republic National Team
Venue: Panasonic Stadium Suita (Osaka)