NEWS
SAMURAI BLUE resumes training ahead of match against Kyrgyz Republic National Team
13 June 2021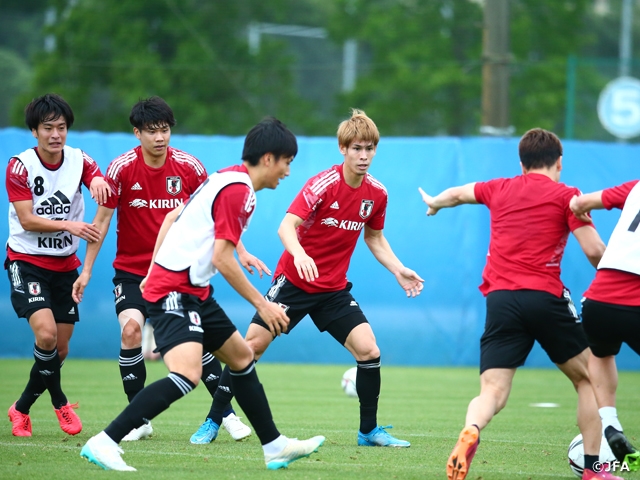 Following their match against the Serbia National Team on Friday 11 June, where the team won 1-0 thanks to the goal scored by ITO Junya (KRC Genk), the SAMURAI BLUE (Japan National Team) resumed its training ahead of their match against the Kyrgyz Republic National Team.
The players who featured the match against Serbia were seen taking light jogs and going through stretching routines to rest their body, while the remaining players went through regular drills to raise their conditions ahead of the match.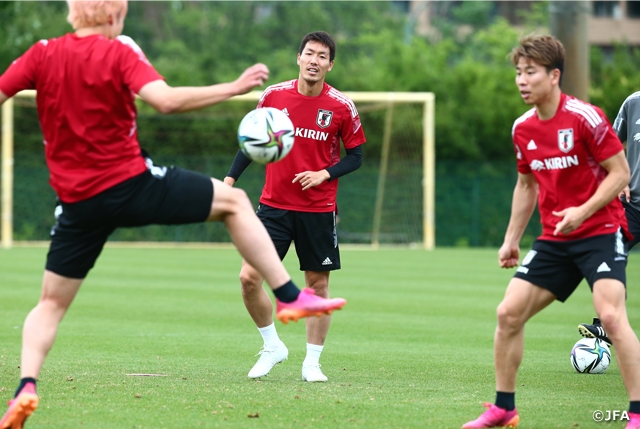 On this day, MINAMINO Takumi (Liverpool FC) left the team due to schedule conflict with his club, leaving 23 players for their final match in the second round of the Aian qualifiers.
Players' Comments
DF SHOJI Gen (Gamba Osaka)
We used to be able to take walks and communicate with other players off the pitch, but now we are required to stay at our rooms by ourselves. Even in a situation like this, I still feel fortunate to be able to take part in the activities carried out by the national team. It reminds me that we are allowed to play football because of the support of so many people. The staffs of this hotel have welcomed us in the same way they did before the pandemic started. We were given opportunities to play at Hokkaido, Osaka, and Hyogo, while the state of emergency was announced at each prefecture. We need to give back by sending energy and courage to the people, and always play with a sense of gratitude. I am always looking forward to the competition at the national team, which gives me great inspiration. Without the competition, we cannot improve ourselves. Although we are a team, everyone is competing against each other to win a spot on the roster, so we must always be ready to showcase a strong performance.
DF YAMANE Miki (Kawasaki Frontale)
It was my first time facing a team with that many players with strong physiques, but in order to compete at the world stage, we need to be able to overwhelm teams like that. In terms of making a challenge, I tried to play as aggressive as I can yesterday. However, I still need to take more risks and make runs into the final third. I am told to make more overlaps at my club, but that is even more so at the national team. I need to be able to showcase my skills under pressure and create chances single-handedly. Speed and techniques are useless unless you can use them at a high intensity level.
MF KAWABE Hayao (Sanfrecce Hiroshima)
I was used as a second half substitute in our match against Serbia, so I organised all the things I needed to do in my head before entering the match. The opponent showed great intensity and power, but I gave my best to keep up with them. I feel that I was able to receive the ball in between the Serbian players and control the tempo of our offence. I tried to keep my head up and stay flexible when I had the ball. However, I still need to improve my ability to win duels and make quicker transitions when I lose the ball. These are some of the aspects I can improve by changing my mind-set. In order to earn my spot on the national team, I need to first understand what my strengths and weaknesses are and strive to become a player that is needed by the team.
FW ONAIWU Ado (Yokohama F.Marinos)
After the first half ended 0-0, I was given the chance to play in the second half, so entered the match with the intention to play well, keep in mind of the team's concept, and showcase my strengths. I was able to possess the ball and initiate our team's attacks. I was not able to score goals, but I will feed off of this experience and prepare myself for the next match. All the things that I have been working at my club has helped me get here and I felt that I can contribute to the national team. As a forward, the best way to contribute for the team is to score goals, so I will do my best to score goals for the team.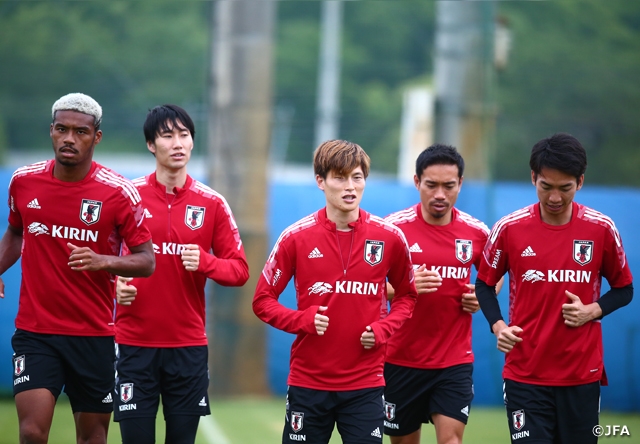 FIFA World Cup Qatar 2022™ - Preliminary Competition/AFC Asian Cup China 2023 Qualifiers/Preliminary Joint Qualification Round 2
Tue. 15 June 2021 [19:25] (Subject to change)
SAMURAI BLUE vs Kyrgyz Republic National Team
Venue: Panasonic Stadium Suita (Osaka)