NEWS
SAMURAI BLUE finish Europe trip with loss to Belgium
15 November 2017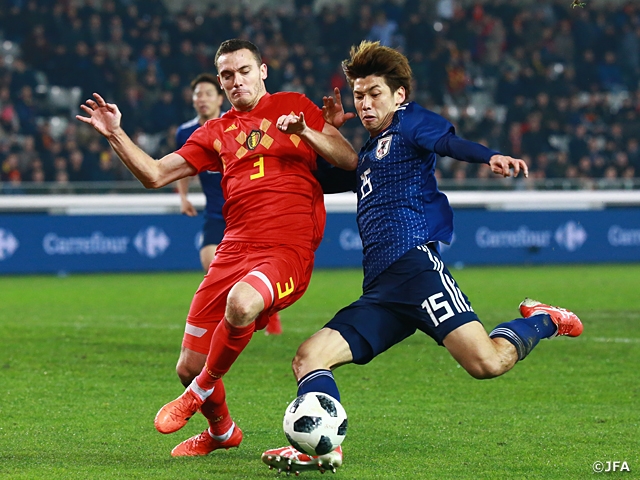 On Tuesday 14 November, SAMURAI BLUE (Japan National Team) played an international friendly match against Belgium at Jay Breydelstadion in Bruges, Belgium and took a 1-0 loss after conceding a goal in the second half.
Japan replaced two starters from the previous match against Brazil on Friday 10 and brought on forward ASANO Takuma (VfB Stuttgart) and midfielder and national-team debutant NAGASAWA Kazuki (Urawa Reds) to start the game.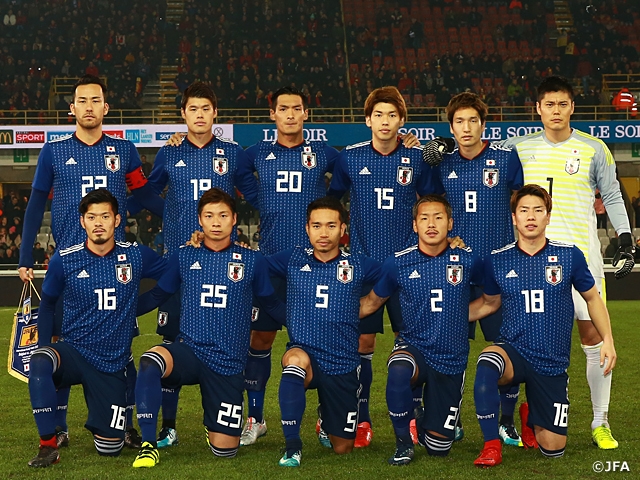 Belgium, on the other hand, changed three players from their starting line-ups in their last match against Mexico where they drew 3-3. While forward Romelu LUKAKU, who scored two against Mexico, midfielder Kevin DE BRUYNE and forward Dries MERTENS were given the starting positions, midfielder Eden HAZARD, who scored the opening goal in the previous match, was not even part of the reserve squad against Japan.
From the beginning of the match, ASANO Takuma initiated Japan's several attacks from the right flank and earned a first corner for his team. IDEGUCHI Yosuke (Gamba Osaka) took the corner and OSAKO Yuya (1.FC Koeln) responded with a header to threaten the opponents' goal, but was not able to give his side an early lead.
In the 13th minute, a pass from midfielder YAMAGUCHI Hotaru (Cerezo Osaka) was intercepted, which allowed Belgium to hit on the counter, but Japanese goalkeeper KAWASHIMA Eiji (FC Metz) saved the team from conceding an opener.
Belgium were very quick in transitions after reclaiming possession and created several promising chances. In the 18th minute, Lukaku attempted a header off a left cross from Mertens, while De Bruyne surged up the pitch and fired at goal three minutes later, but a pair of shots were denied surperbly by Kawashima's outstanding response to those menacing efforts. Japan's keeper further excelled in the 29th and 35th minutes to keep the opponents from scoring.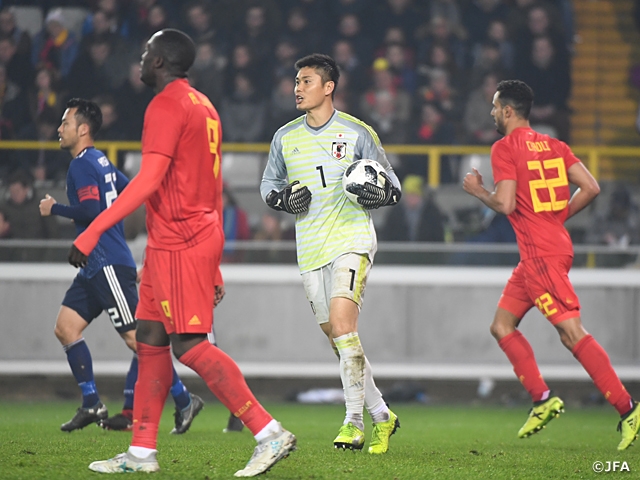 Defender SAKAI Hiroki (Olympique de Marseille), in the 26th minute, fed a cross to Osako, but his second attempt at goal with a header was off target. In the 31st minute, Asano took advantage of a long feed from defender MAKINO Tomoaki (Urawa Reds) behind an opposing defender and volleyed the ball with his right foot, but lacked the precision to net one for his team.
In the 40th minute, Asano gained a free-kick chance on the right and Ideguchi delivered the ball into the box. Defender YOSHIDA Maya (Southampton FC) aimed at goal with a header, but it went over the cross bar. In the second half, Japan had another chance after 54 minutes when Osako penetrated from the left and cut inside for a right-footed strike, but once again failed to score a goal.
Japan's defence improved significantly from the Brazil match and performed well to deny Belgium until when they conceded a goal to Lukaku in the second half. Makino defended superbly against a shot inside the penalty area in the 66th minute, but Japan lost the ball in midfield six minutes later and allowed Belgian midfielder Nacer CHADLI to break through the left flank guarded by three Japanese defenders. West Brom midfielder went on and took the ball nside the box, where he sent a cross to the opposite side for Lukaku to fire his header into the back of the net.
Thereafter, Japan created few chances and made a couple of attempts to equalise the match, but all their efforts were denied by the fine saves made from the opposing goalkeeper. Substitute midfielder MORIOKA Ryota (Wasuranto-Beferen) fired one in the 70th minute, followed by forward SUGIMOTO Kenyu (Cerezo Osaka)'s strike on 77 minutes. Subsequently, forward INUI Takashi (SD Eibar), who just came on to the pitch, tried one from the right side a minute later, but none of them yielded the desired end product.
Moments before regulation time, defender SAKAI Gotoku (Hamburger SV) dribbled into the box and fed a pass to substitute KUBO Yuya (KAA Gent) who came up with Japan's one last attempt at goal. However, his effort was also stopped by the opponents before Japan ended the game with a 1-0 defeat to Belgium.
The loss changed the overall match record between Belgium and Japan to Japan's two wins, one loss and two draws. The Japanese squad ended their Europe trip with two losses.
Coaches' and Players Comments
Vahid HALILHODZIC, Coach of SAMURAI BLUE (Japan National Team)
It was very disappointing that we played to win, but could not attain the desired results. We let one player beat four of us and allowed the goal. Speaking of the match control, it was much better than the Brazil match. We were mentally prepared and started off the match better. It was regrettable that we had we several scoring chances, but failed to convert any of them as well. With a little more experience and composure, we could have capitalised on those chances. Our defence also kept a good high and low block and was well organised throughout the match as well. What worried me was that our passes were often intercepted too easily on several occasions.
Good teams can deliver a quality pass and finish with the end product. Some players' lacked the experience and the team still have plenty of room for improvement. I concluded from competing in the past two matches that there is a huge potential in our team. I learned once again that we need to go through a different set of training, including keeping composure after we reclaim possession. I am optimistic now that we can make a better preparation for the World Cup. After the match, I praised my players, saying we just fell short of beating a big lion. We will have a better chance next time.
GK #1 KAWASHIMA Eiji (FC Metz)
We were looking to attain a good result and I am disappointed with a loss. However, going through the last two matches, we now have a better idea of how to compete against those quality teams. I believe that it was a valuable learning experience as well. What separates the top players from the good players is that they can make a difference from capitalising on a single chance when they play against the world-class players. It is up to us now to understand that difference and make the most of out of it. We really need to improve a lot.
DF #22 YOSHIDA Maya (Southampton FC)
The way we defended today was not bad at all. The difference was the ability to take advantage of the limited chances and that clearly showed in the match. When we allowed the goal, I think everyone of us just let our guard down for that moment. Higher the level that we play, winning or losing will depend more on whether we can take advantage or waste a scoring chance or an opponents' error. This is the exactly lesson that we learned in today's match.
MF #2 IDEGUCHI Yosuke (Gamba Osaka)
I thought I was putting pressure on them, but I let them control the ball and fire shots at us. I felt that I didn't do enough to hold them from playing freely. However, I believe I made a clearer decision of when to make or refrain from making a challenge than the Brazil match, but still felt that I was lacking in every aspect of the game. I will be aiming to play at a much higher level from my daily practices.
FW #18 ASANO Takuma (VfB Stuttgart)
I am gutted with the loss today. We defended collectively as a team and played slightly better compared to the Brazil match. What we need to do now is to improve the accuracy of our finishes and cross balls. Personally speaking, I still lacked the quality of the final plays after reclaiming the ball. I also felt that I need to work on delivering better cross balls as well.
Roberto MARTINEZ, Coach of Belgium National Team
It was a difficult match considering that we had injured players, but our team performed well under these circumstances. Even in a friendly match, we displayed a strong mentality towards winning and entered the match with a different approach. Japanese squad were different from European teams. They were dynamic as well as intense when they put pressure, and had excellent positioning and off-the-ball movements. Defending against them inside the penalty area was quite difficult. In the last two matches, we made significant improvements by trying out new ideas as well.
Schedule
Sun. 5 November
PM
Training (In France)
Mon. 6 November
PM
Training (In France)
Tue. 7 November
PM
Training (In France)
Wed. 8 November
PM
Training (In France)
Thu. 9 November
PM
Official Conference,Official Training
Fri. 10 November
1-3
International Friendly Match
vs Brazil (Stade Pierre-Mauroy)
Sat. 11 November
AM
Training (In France)
Sun. 12 November
PM
Training (In Belgium)
Mon. 13 November
PM
Official Conference,Official Training
Tue. 14 November
0-1
International Friendly Match
vs Belgium (Jan Breydelstadion)
*Local Time
*The schedule is subject to change due to the team condition, the weather, etc.
International Friendly Matches
Tuesday, 14 November 2017 Kickoff at 20:45 (local time)
SAMURAI BLUE (Japan National Team) vs Belgium National Team
Belgium / Jan Breydelstadion
More information