NEWS
Determination and commitment of a referee - Always have respect Vol.110
26 July 2022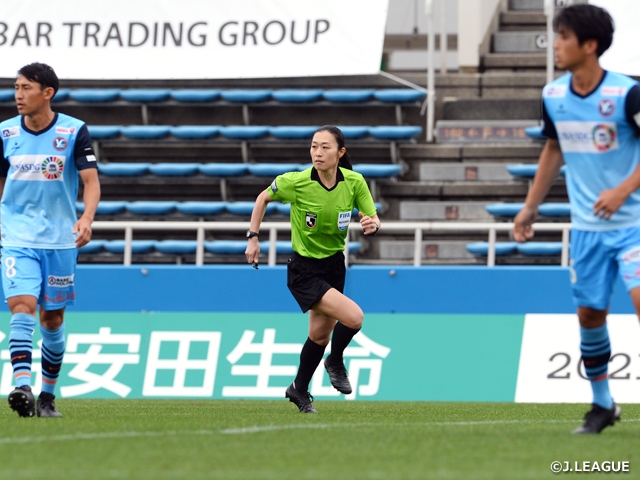 The game of football offers many surprises. But the news on 19 May that female referee YAMASHITA Yoshimi had been named to officiate at the FIFA World Cup Qatar 2022™ (21 November - 18 December) was perhaps a "once in a decade" class surprise.
In Europe, many female referees are appointed to ooficiate top-class men's competitions, such as French referee Stephanie FRAPPART (also named for this World Cup), who showed impressive officiating in the UEFA Champions League and the World Cup qualifiers.
At the FIFA Club World Cup Qatar 2020™ held in February last year, a trio of South American female referees, Edina ALVES BATISTA (Brazil), Neuza BACK (Brazil), and Mariana de ALMEIDA (Argentina), took charge of the fifth-place play-off match, where they demonstrated that female referees are fully capable of officiating top-class men's competitions organised by FIFA, which led to speculations that female referees might be included in the list of referees in charge of this upcoming World Cup. Nevertheless, the appointment of Yamashita came as a big surprise.
Yamashita was introduced to the world of refereeing by an upperclass student during her time in university and she became a "Women Class 1" referee in 2012 and a FIFA referee in 2015. "Women Class 1" is a category unique to Japan, which recognises the ability of female referees to officiate at the national level of women's competitions. From there she passed an even tougher physical exam to be certified as "Class-1" referee in 2019.
The first female referee to reach "Class-1" in Japan was OIWA Mayumi in 2004, followed by YAMAGISHI Sachiko in 2009, and KAJIYAMA Fusako in 2011. They took active roles officiating in the JFL - men's national league (amateur). Yamashita became the fourth female referee to reach this level.
Yamashita has officiated in several international women's competitions, including the FIFA U-17 Women's World Cup™ (2018), the FIFA Women's World Cup™ (2019), and the Tokyo 2020 Olympic Games (2021). In the meantime, she has also gained experience at the men's top professional level, officiating at the "AFC Cup" - one of Asia's club competitions - in 2019, the J. League (J3) in 2021, and the "AFC Champions League (ACL)" in 2022. She was particularly praised for her officiating in the crucial ACL match between Melbourne City (Australia) and Jeonnam Dragons (Korea Republic) in April this year.
On the other hand, it is also true that the J3 is the highest level of men's competition she has been responsible for in Japan. Everyone is watching to see how she will officiate at higher levels, such as the J2, J1 and Emperor's Cup, in the future.
Perhaps the biggest challenge for Yamashita is that she is the only Japanese referee appointed for this World Cup. This must pose a lot of pressure on her.
However, I felt truly reassured when I heard her words in the online press conference held on 20 May, the day after FIFA's announcement. While expressing her genuine excitement over the appointment, she also understood the entire situation and showed strong determination and commitment towards the great responsibility she had been entrusted with.
"I was surprised at first, but now I am just overwhelmed by a feeling of gratitude and appreciation."
"Female referees are taking charge of lots of different men's and women's games and that has built up trust," she said. "If it hadn't been for my colleagues building up that trust, I wouldn't be going to the World Cup. I can't destroy that trust — it's a big responsibility, but it's one I'm happy to have."
"All I can do is try to do my best. That's my obligation."
She is grateful to her seniors and others who brought her into the world of refereeing and taught her from scratch, as well as to her fellow referees in Japan and around the world. These words were spoken from the spirit of "respect."
Yamashita has other jobs besides being a referee*. But her attitude and effort towards officiating, and her awareness and ability as a referee, make her a true "professional." 
*In July, she became the first female professional referee.
Written by OSUMI Yoshiyuki (Football Journalist)
*This article was originally posted on the Japan Football Association Newsletter, "JFAnews," June 2022 edition.
Japan Football Association Newsletter "JFAnews"
The Japan Football Association Newsletter "JFAnews" contains all the information on the Japan National Team, and all the events hosted by the JFA. Tournament results and team information throughout the nation are also available. The official monthly magazine is a must read for coaches, referees, and all members of the football family.
For information on the newest edition (Japanese website)