NEWS
【Female Referee Special】Interview with Coach TAKAKURA Asako of Nadeshiko Japan and Chair YAMAGISHI Sachiko of JFA Referees Committee Women's subcommittee Vol. 1
23 December 2020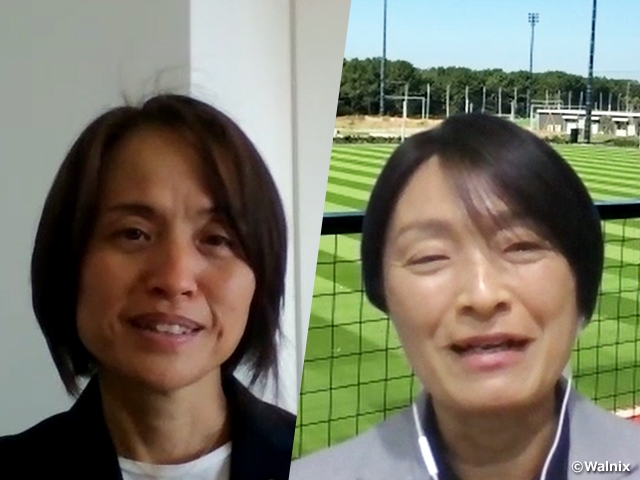 In 2021, women's football in Japan will enter a time of change with the Tokyo Olympics and the start of the WE League. To shed the spotlight on the referees who also support the game of football along with the teams and players, here we have conducted an interview between Coach TAKAKURA Asako of the Nadeshiko Japan (Japan Women's National Team) and former Class-1 Referee and current Chair of the JFA Referees Committee Women's subcommittee YAMAGISHI Sachiko.
Interview conducted online: Tue. 1 December 2020
――First of all, please tell us the reason why you chose to work as a football coach and a football referee, respectively.
TAKAKURA Two years following my retirement as a player, Mr. UEDA Eiji, who was the Chairman of JFA Women's Committee at the time, asked me, "The development of women's junior high school category is still work in progress, could you help us?" I was still fit at the time, so I thought maybe I can provide help by kicking the ball with the players and giving them advices.
YAMAGISHI I acquired my Class-4 licence when I entered the football club at a junior college, but that licence has expired once. After graduating, we needed a referee at the local football club I was playing at the time, so I re-applied for the Class-4 licence, and that is when it all started for me. There were always people who supported and understood me, and those people have guided me to where I am today.
――What difficulties have you faced and overcome while working as a referee or coach?
YAMAGISHI The fact that there were no goals, was an intriguing aspect for me. I was given many opportunities to referee in men's matches, where I went through many hardships and unreasonable experiences. Even when things went without a problem, there were always room for improvements and it made me think, "I want to try this again next week," which was my motivation at the time. It might not have been as fun if everything went well.
TAKAKURA You can really tell Ms. Yamagishi's quality as a referee by listening her say, "It wouldn't have been fun if everything went well." If it were me, I would always hope everything went well. (while laughing) But all jokes aside, when facing adversities, I feel like I am thinking more deeply now than I used to as a player, and that is why I get so much pleasure when I see my players play lively and win matches.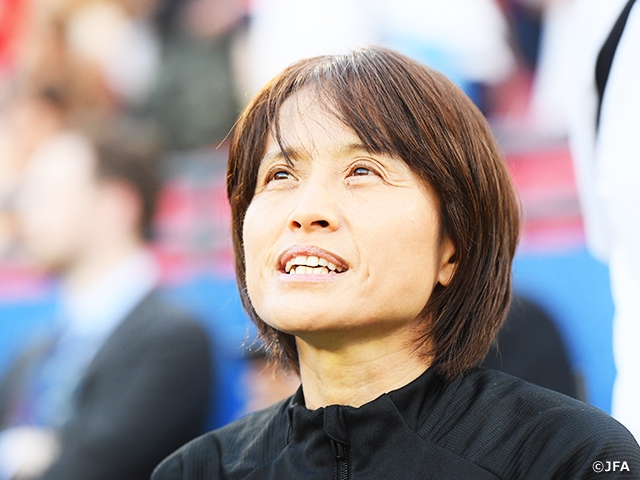 ――There must be various difficulties when it comes to becoming the coach of the national team.
TAKAKURA It was hard after losing to the Netherlands in the round of 16 at the FIFA Women's World Cup 2019™. We were getting better as we played more matches and even if we entered overtime, we were confident that we would definitely win the match, so when we lost in that dramatic fashion, it felt like my own logic had just collapsed. At the end of the day, I just didn't have what it takes to help the team win, but it got me thinking about many things and allowed me to rethink about how we need to approach the Tokyo Olympics.
――How do you raise and maintain your motivation for work?
TAKAKURA It is not something you can control or force, so it just comes down to the fact that I love and enjoy football. The more we learn, the more we realise how much we don't know. Our entire perspective changes depending on how we look at things, so our interest never runs out.
YAMAGISHI When I was an active referee, there were times where I enjoyed myself on the pitch, but I have always considered ourselves as the stagehand that brought out the best in the players and allowed them to play comfortably on the pitch. However, now that I am in position to instruct other referees, I feel obligated to improve the environment so that the next generation will not experience the same hardships I went through. I think the football world, especially the world of referees, is still a male dominant society, so my motivation is to realise things that I believe that would allow people to enjoy themselves more freely.
――Please tell us how you refresh your mind.
TAKAKURA I am interested in a lot of things, so I am doing quite a lot of things. Above all, I like to go to the library. At one point, I was addicted to the Edo period after reading Mr. IKENAMI Shotaro's novel, then I was addicted to the end of Edo period after reading "Ryoma ga Yuku." More recently I started to study the Jomon and Yayoi period, read about the dinosaur period, and my interest eventually spread to the beginning of the universe. My interest doesn't seem to have an ending. I also like going out to eat delicious food and strolling around the shrines. I enjoy a lot of things.
YAMAGISHI I love taking my dog to a walk. I sometimes embarrass myself by getting caught talking to my dog while taking a walk. (while laughing) Also, I used to learn a little bit of electronic organ, so I pulled out my old keyboard during this quarantine period and played with it.
TAKAKURA That sounds good. I want a piano, too.
YAMAGISHI Music is good, isn't it? When I play, my fingers don't move as they used to, but I can still play for hours. Time seems to fly when I play the organ and I really enjoy that time.