NEWS
【Female Referee Special】Interview with Coach TAKAKURA Asako of Nadeshiko Japan and Chair YAMAGISHI Sachiko of JFA Referees Committee Women's subcommittee Vol. 2
24 December 2020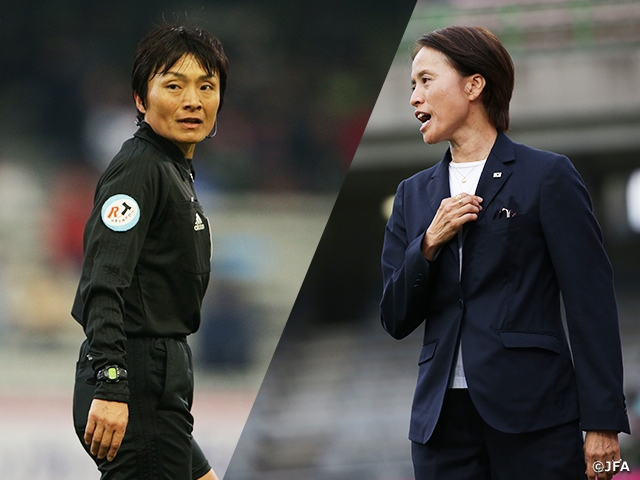 In 2021, women's football in Japan will enter a time of change with the Tokyo Olympics and the start of the WE League. To shed the spotlight on the referees who also support the game of football along with the teams and players, here we have conducted an interview between Coach TAKAKURA Asako of the Nadeshiko Japan (Japan Women's National Team) and former Class-1 Referee and current Chair of the JFA Referees Committee Women's subcommittee YAMAGISHI Sachiko.
Interview conducted online: Tue. 1 December 2020
――Referees and coaches, please tell us your impressions of each other.
TAKAKURA I can't find any words other than respect for the referees. Because we are all human, we make mistakes, and there will be good days and bad days, just like how the players do. It just amazes me to watch them manage matches despite having ups and downs. They spend lots of time discussing their judgements, and because there are strict standards for their physical fitness, they are constantly working with tremendous restraints. I want them to be proud of what they are doing, and I hope more female referees will play an active role without feeling discouraged by the fear of failure.
YAMAGISHI Thank you so much. I think many female referees across the nation were motivated by your comment. We also have nothing but respect for the coaches. Coaches get praised when the team is doing well but receive hurtful comments when the team slumps. Despite the ups and downs, their commitment towards their job is astonishing. I always think that they have something like a stone that doesn't move in their heart, and as a woman, I am always encouraged by them.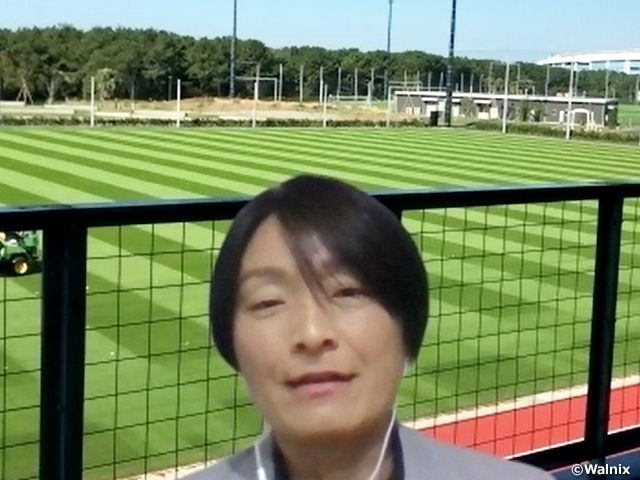 ――Do you feel any difference from a male referee or coach?
YAMAGISHI Where I grew up, whoever was capable of taking the job took the job regardless of their gender. It is not a healthy environment if people with abilities were excluded just because they were women, and I think it is important to give choices to those who can and want to take the job. From the top league to grassroots, we are seeing an increasing number of female referees who are maintaining a healthy life-work balance. Many of those people are highly motivated, and I can really tell that they love football.
TAKAKURA Many of the coaches and those involved around me, really recognise football regardless of gender, and show their understanding towards Nadeshiko Japan, but there are moments where I feel that there is a clear difference. Recently, "Women empowerment" has become a commonly used phrase, but if no action is taken, I do not want the phrase to be used lightly. Football has started as a men's sport, so there are some unavoidable aspects, but big clubs in Europe are now starting to have women's teams, and I think we are in the process of the sport's development.
――Please tell us what you would like us to pay attention to as a female referee and coach.
YAMAGISHI I don't want to make a difference between men and women, but I think women are good at taking care of others and noticing small details, so I hope to see more female referees taking advantage of those traits to provide comfortable playing environments for the players.
TAKAKURA There are plenty of female players who can understand the quality and depth of football, and there is no difference between men and women in terms of the coaching ability to identify the strengths and weaknesses of the player and to bring out the best in the player. However, when coaching a female player, I think there are many things only a female coach can understand.
――The WE League will start next fall. Please tell us what you expect from women's football following the launch of a professional league.
TAKAKURA I am hoping for the league to become the "#1 League in the World." By establishing a professional league, we hope to revitalise every aspect surrounding women's football and raise the ground level, but it cannot be done without the efforts of the players. I hope the clubs will also support the cause by signing many top class players from all over the world and strive to create a league rich in culture. Such league will subsequently help the Nadeshiko Japan get closer to the world title. With the support of everyone involved, not just the players and management, but with coaches and referees holding hands, we can make it a reality.
YAMAGISHI The referees are the ones who support the players, but I think that our job is to support the referees, so we will give our best efforts from behind the scenes to provide the best playing environment as possible for the players. I think the viewers are hoping to watch a match where the referees are inconspicuous in a good way, while the players are playing the leading role. Female referees are doing their best while holding various issues. In that sense, I would like you to pay attention to their efforts, but I think it would be better if the referees are not standing out during a match.
――Lastly, can you send a message to all the women working in our society?
YAMAGISHI I think that everyone is engaged in something because they like what they are doing, regardless of the surrounding environment. I think we are fortunate to be in position to do what we like, as it is a privilege not given to everybody, so I want you to feel the happiness of doing what you like.
TAKAKURA In our society, many women go through unpleasant experiences because of their gender, and I think that applies more for those working on the front lines. As I often tell my players, the evaluation received from others can be significant, but I hope you can focus on the joy and satisfaction you get from working and spending time with reliable companions and continue to express yourself.