NEWS
Kids Traveling Guidance Report (June)
20 July 2021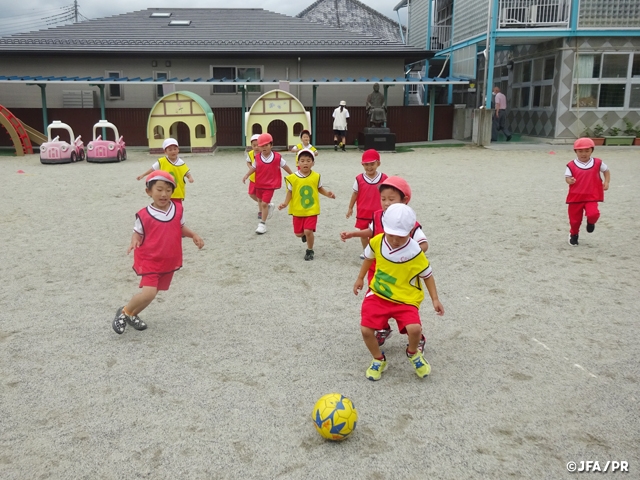 With the support of the Kids committees of each prefectural football association (FA), JFA has been holding "Traveling guidance" courses throughout the nation. The courses are held by the "Traveling guidance staffs" of each prefectural FA, where the staffs attend kindergartens, nurseries, and primary schools to provide various programmes for children to enjoy football. Joined by guidance staffs who specialise in coaching football, teachers who may not have the experience or knowledge to instruct football, are enabled to hold sessions to allow the children to exercise using the ball. Here we will introduce the traveling guidance activities that were recently conducted.
Wed. 30 June, Ogasahara Kindergarten (Minami-Alps, Yamanashi)
A football class was held for 39 five-year old kids. The class was held under a fortunate weather where the kids experienced playing football with the aim to have fun, think, and experience success. Even when kids make mistakes, they are guided by the coaches to overcome their mistakes to gain a successful experience. The class held at Ogasahara Kindergarten was led by two female staffs, allowing the girls to engage in the activities more actively and the female teachers to be more involved.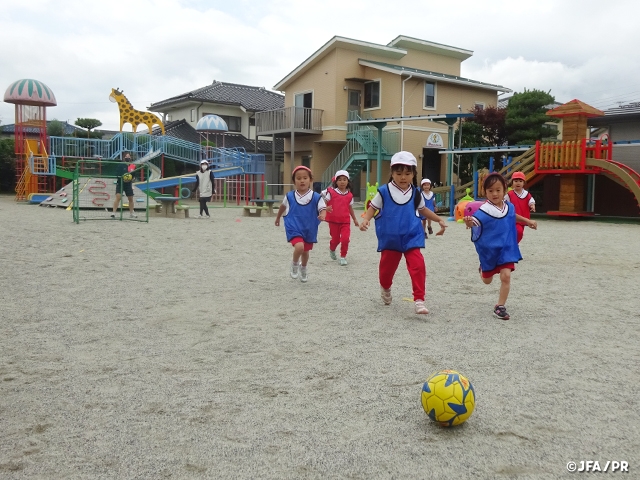 Coaches and Teacher's Comments
KAJINO Yuta (FA Traveling Guidance Staff)
When we first arrived at the kindergarten, the kids seemed a bit nervous, but once we started the activities, the kids were running around having fun. We concluded the class with a scrimmage game played between the boys and the girls, which was very fun to watch. The kids were so radiant when they celebrated scoring a goal, and it was just a priceless time for us as well.
SUGIURA Kaho (FA Traveling Guidance Staff)
The kids listened to us very closely and were very enthusiastic. Some of the kids struggled to complete the ball-feeling drills, but once we gave them hints, they were able to think on their own and make challenges to complete the drills. The joy and excitement showcased by the kids were so impressive.
TAKEI Honami (FA Traveling Guidance Staff)
Everybody was behaving very well and played with great energy. I was impressed with how the kids were able dribble with the ball so fast. The final scrimmage was so intense that some kids were crying after they lost the match. I hope they will use that feeling as motivation to become better at playing football.
Ms. NOMOTO Azumi, Teacher
The coaches were so polite and guided the kids with great enthusiasm. The kids had lots of fun in that final scrimmage game, we are seeing more kids playing football during recess. Thank you for giving the kids lots of fun memories.