NEWS
SAMURAI BLUE start training ahead of their match against Venezuela - KIRIN CHALLENGE CUP 2019 (11/19@Suita)
17 November 2019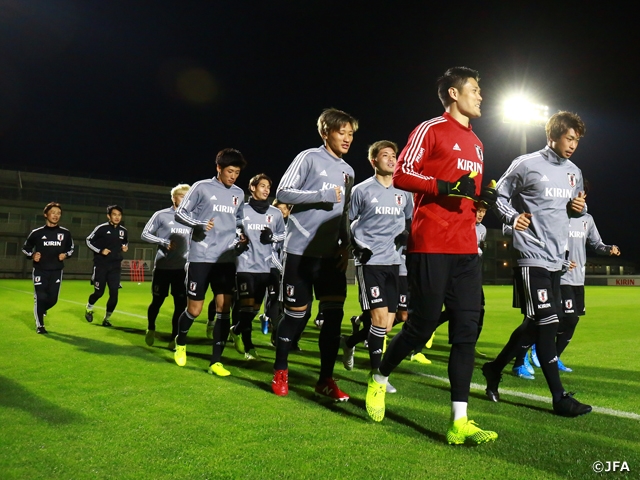 Following their away match against the Kyrgyz Republic National Team at the second round of the Asian qualifiers for the 2022 FIFA World Cup Qatar, the SAMURAI BLUE (Japan National Team) resumed their trainings on Saturday 16 November, three days ahead of the KIRIN CHALLENGE CUP 2019 match against Venezuela National Team.
While nine players including YOSHIDA Maya (Southampton FC) and MINAMINO Takumi (FC Red Bull Salzburg) returned to their clubs in Europe, eight players newly joined the team, including IDEGUCHI Yosuke (Gamba Osaka) and FURUHASHI Kyogo (Vissel Kobe).
With coach MORIYASU Hajime watching over the U-22 Japan National Team for their match against the U-22 Colombia National Team on Sunday 17, the training session was led by assistant coach SAITO Toshihide. At the session, players who travelled from Kyrgyz Republic went through a light conditioning menu, while the newly added players went through possession and shooting drills to work up a sweat in a session that lasted about an hour and a half.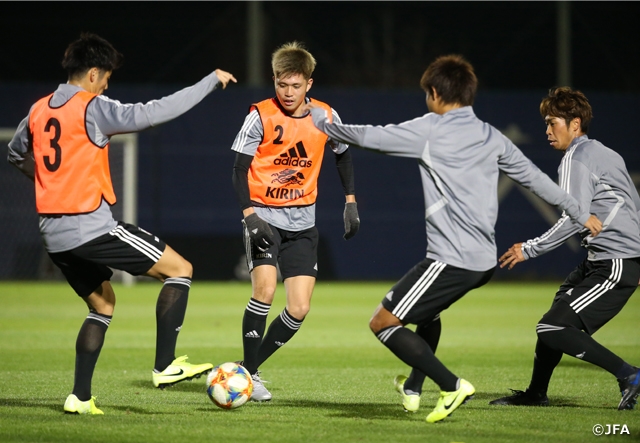 In consideration of their fitness, players who played in the match against Kyrgyz Republic stayed at the hotel, as NAGAI Kensuke (F.C. Tokyo), SHIBASAKI Gaku (Deportivo de La Coruna), HARAGUCHI Genki (Hannover 96), and UEDA Naomichi (Cercle Brugge K.S.V.) were not present at the training ground. Also, NAKAMURA Kosuke (Kashiwa Reysol) is scheduled to join the team on Sunday 17, due to his club's schedule.
On this day, Bureau Director MIYAMAE Makoto from the Culture and Tourist Bureau of Sakai city, paid a visit to the training ground and gave words of encouragement for the team. Nearly 60 children from Sakai city also visited the team, as they took pictures with the players ahead of the training session.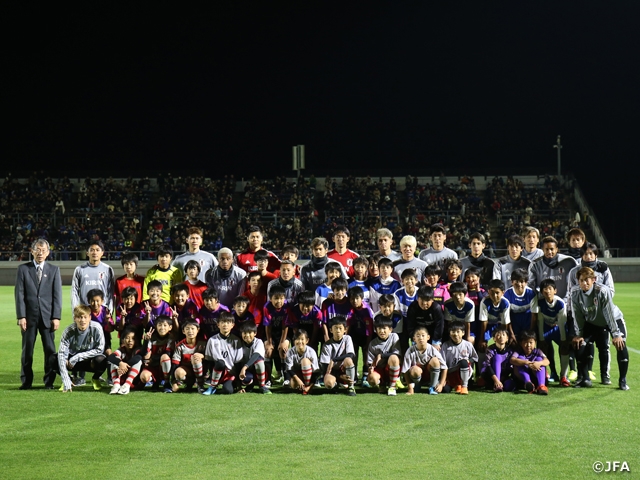 Coach Moriyasu will make his return to the team on Sunday 17, where the team will hold a training session behind closed doors. The SAMURAI BLUE will face the Venezuela National Team on Tuesday 19 November at 19:25.
Players' Comments
GK #1 KAWASHIMA Eiji (RC Strasbourg)
The match against Kyrgyz Republic was a very difficult match, as our opponent effectively utilised their strengths to create opportunities. Despite facing a tough away match, it was great to see our team walk away with three points. However, the match made us realise that we need to heighten the quality of our plays in many aspects. The competition in Asia has changed dramatically over the recent years, and every team is capable of showcasing high quality football. In our next match, each player must focus on their given opportunity and strive to display their best performance on the pitch.
DF #4 HATANAKA Shinnosuke (Yokohama F・Marinos)
I am a little fatigued from the long travel, but I am starting to get used to these travels. I am both physically and mentally prepared to play at any given situation. We have shown tenacious defence to keep a clean sheet in both our matches against Tajikistan and Kyrgyz Republic. Although we will be playing without Yoshida, we hope to continue with that trend and keep the opponent scoreless. If I am given the opportunity to play, I will showcase what I have learned from our matches against Tajikistan and Kyrgyz Republic.
DF #16 MUROYA Sei (F.C. Tokyo)
I am feeling a bit tired from the long travel, but I am sure I can bring my condition up before the game. I am always eager to play and when I am given the opportunity to play, I am committed to showcase my best performance. Our next game is a friendly match, so I need to take more risks and get myself more involved in our offence.
MF #14 IDEGUCHI Yosuke (Gamba Osaka)
Many people have come to watch our training session, and it reminded me just how much attention this team is drawing. It makes me feel responsible to showcase a good performance. This is my first call-up since coach Moriyasu took over the national team, and I must give my best efforts from the training sessions to make a case for myself. Including the injury I sustained, I am trying to make the most of everything I went through. I hope I can earn a result where I can say, "I am glad I went through all of those experiences." This is a beginning of a new start for me.
MF #20 YAMAGUCHI Hotaru (Vissel Kobe)
In our match against Kyrgyz Republic, I was given the role to close out the match in the final minutes of the second half. When I entered the match, we were not able to keep our defence compact, and saw our opponents breaking through our defence line. We knew where they initiated their attacks, so we could have done a better job stopping them from the source. With the limited time we have before our next match, we must focus on getting our conditions up ahead of the match.
FW #21 SUZUKI Musashi (Hokkaido Consadole Sapporo)
With new faces joining the team, there will be more competition added to this team, and I will continue to give my best efforts within the limited time frame. I entered the match against Kyrgyz Republic in the final minutes of the match, and my main priority was to help the team, but I was also anticipating for my opportunity to score a goal. It is important to sniff out the opponent's defensive flaws and exploit those holes in the early minutes of the match. As long as I stay eager to score goals while keeping in mind of the team strategy, I am sure the results will follow. I will do my best to showcase my usual performance.
Schedule
Sat. 16 November
18:00
Training
Sun. 17 November
PM
Training
Mon. 18 November
PM
Official Press-conference/Training Session
Tue. 19 November
19:25
KIRIN CHALLENGE CUP 2019
vs Venezuela National Team (Panasonic Stadium Suita)
*The schedule is subject to change due to the team condition, the weather, etc.

SAMURAI BLUE (Japan National Team) vs Venezuela National Team
Match Date: Tue. 19 November 2019 19:25
Match Venue: Panasonic Stadium Suita, Osaka