NEWS
Nadeshiko Japan crowned as champions with win over Korea Republic - EAFF E-1 Football Championship 2019
18 December 2019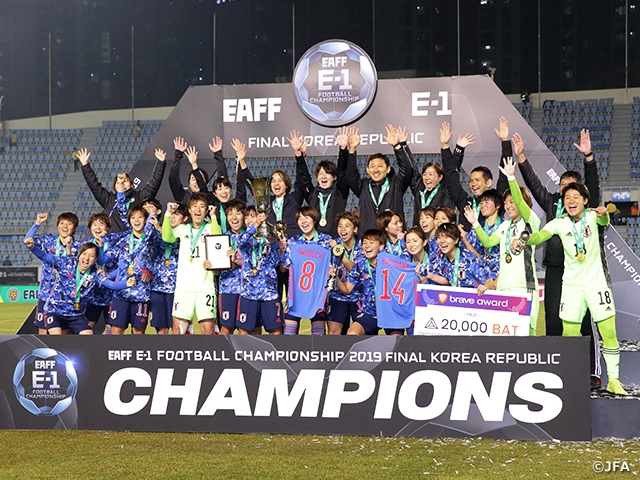 On Tuesday 17 December, Nadeshiko Japan (Japan Women's National Team) played their third match of the EAFF E-1 Football Championship 2019 against Korea Republic Women's National Team at Busan Gudeok Stadium.
With the team needing a draw or better to claim the title, coach TAKAKURA Asako made four changes to their starting line-up from their second match against China PR. MINAMI Moeka featured the line-up for the third straight match, while TANAKA Mina and IKEJIRI Mayu were the two forwards named upfront. With the team missing IWABUCHI Mana due to injury, NAKAJIMA Emi wore the armband for this match.
The match started with Nadeshiko Japan keeping possession of the ball, as they sought for opportunities through crosses of ENDO Jun and overlapping runs of MIYAGAWA Asato to threaten the opposing goal. With Korea Republic needing a win to take the title, the home side anticipated to create their chances through counterattacks. While both sides struggled to break the deadlock, Nadeshiko Japan shifted MOMIKI Yuka to a more advanced position, while sending Ikejiri to the flank. A chance was created soon after in the 42nd minute, when the ball was connected through Momiki to Tanaka, before finding Nakajima at the left side, but Nakajima's shot sailed over the crossbar.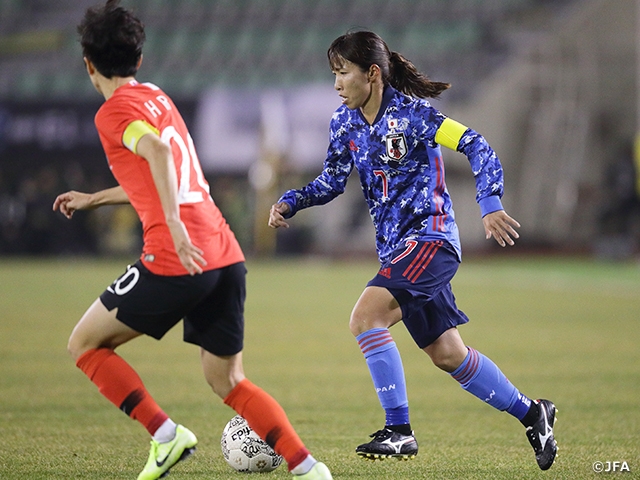 Nadeshiko Japan brought in KOBAYASHI Rikako in the second half to add layers to their offence, but Korea Republic showcased a solid performance to keep the clean sheet intact. Korea Republic also utilised their substitutions to bring in offensive players into the game but led by MIYAKE Shiori's quick coverage and the superb saves made by goalkeeper YAMASHITA Ayaka, Nadeshiko Japan kept the home side from scoring goals.
The deadlock was finally broken in the 88th minute, when the shot taken by Momiki struck Korean defender SHIM Seoyeon's left hand, giving Japan a penalty kick. It was Momiki who converted the spot kick to give Japan the long-awaited lead.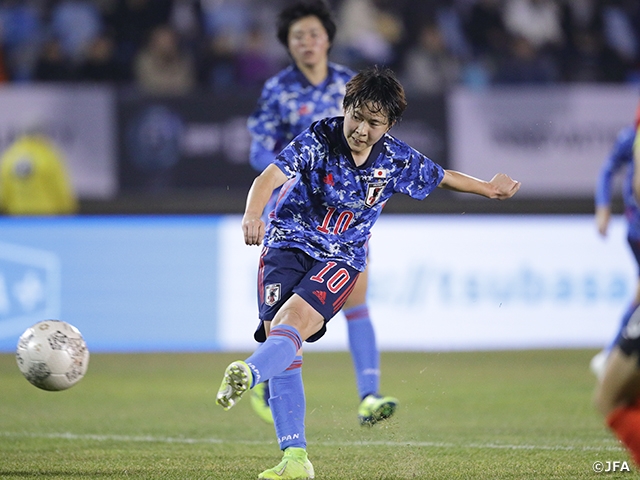 Nadeshiko Japan managed to hold onto their lead for the four minute additional time, as they won the match 1-0 to claim the E-1 Football Championship title with three consecutive shutout victories.
At the closing ceremony, Momiki was named as the "Most Brave Player," Yamashita was named as the best Goalkeeper, Iwabuchi won the top scorer award with her five goals, and Minami was named as the tournament MVP with her contribution to help the team earn three consecutive clean sheet victories. For Japan, this was their third E-1 title, first since 2010.
With the conclusion of this tournament, Nadeshiko Japan have now finished all of their activities for 2019. Their achievement at this tournament will certainly give them a huge boost towards next year's Tokyo Olympics.
Coach and Players' Comments
TAKAKURA Asako, Coach of Nadeshiko Japan (Japan Women's National Team)
I am very happy that we were able to win this tournament. It would have been better if we managed to show more dominance, but Korea Republic showcased some great attacks against us to keep us unbalanced and our ball movements were constantly getting stopped by our opponents. Despite facing a tough match, the team still managed to earn a win and they really showed that they have improved as a team. I would like to congratulate the players and tell them that we still have plenty of potential to develop as a team ahead of next year's Olympics.
DF #5 MINAMI Moeka (Urawa Red Diamonds Ladies)
I am truly happy that we were able to win the title. There were so many people watching our game today, and this was the toughest match of the tournament. I am not sure if I am a worthy player to be named as the MVP, but I feel like this is an award won with the support of my teammates. I entered this tournament with the intention to control the defence line and I was able to help the team keep clean sheets in all three matches, so maybe my contribution in our defence helped me earn the award.
MF #7 NAKAJIMA Emi (INAC Kobe Leonessa)
It's great that we were able to win our first E-1 title since 2010. Although we were in position to take the title with a draw or better, we entered the match with the intention to win the match. After being eliminated at the quarterfinals of the FIFA Women's World Cup France, we felt that we had to do much more to reach the level of the top tier teams of the world. Although we were able to win this title, we still have plenty of room for improvements, so we will work hard towards our next goal.
MF #10 MOMIKI Yuka (Nippon TV Beleza)
When I took the penalty kick, I just focused on striking the ball where I wanted. Although we managed to win the match, we are not satisfied with our overall performance. The competition in Asia can be tricky at times, as teams are fighting with their pride on the line. Despite struggling to showcase our best performance, we still managed to win matches at this tournament, and it should nurture a winner's mentality for the team. The team was able to gain great confidence from this result.
Schedule
12月9日(月)
PM
Official Press-conference
TBC
Training
Tue. 10 December
TBC
Training
Wed. 11 December
9-0
1st Match vs Chinese Taipei Women's National Team
(Busan Asiad Main Stadium)
Thu. 12 December
TBC
Training
Fri. 13 December
TBC
Training
Sat. 14 December
3-0
2nd Match vs China PR Women's National Team
(Busan Gudeok Stadium)
Sun. 15 December
TBC
Training
Mon. 16 December
TBC
Training
Tue. 17 December
1-0
3rd Match vs Korea Republic Women's National Team
(Busan Gudeok Stadium)
*The schedule is subject to change due to the team condition, the weather, etc.
EAFF E-1 Football Championship 2019 Final Korea Republic
Tournament Dates: Tue. 10 - Wed. 18 December 2019
Tournament Venue: Busan Gudeok Stadium/Busan Asiad Main Stadium (Korea Republic)
Participating Countries: Chinese Taipei, China PR, Japan, Korea Republic