NEWS
U-24 Japan National Team hold training session ahead of final prep match against Spain at the KIRIN CHALLENGE CUP 2021
17 July 2021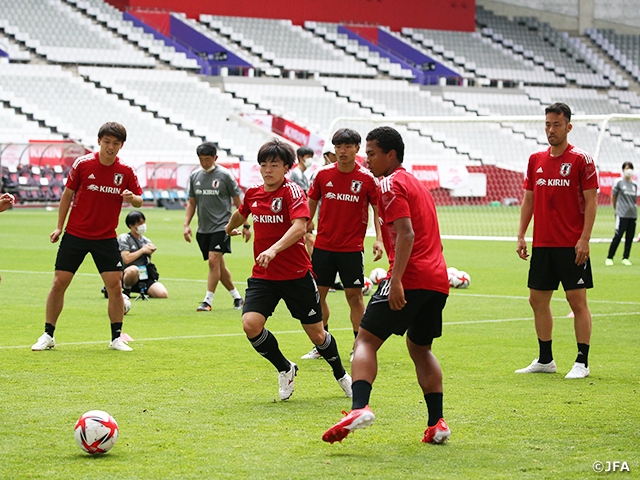 On Friday 16 July, one day before their final prep match ahead of the Olympics, coach MORIYASU Hajime of the U-24 Japan National Team appeared in an online press conference to share his take on the match against the U-24 Spain National Team in the KIRIN CHALLENGE CUP 2021, "We hope to get inspiration through this match against one of the best teams in the world and showcase a match where we can gain confidence ahead of the Tokyo Olympics."
Following their match against the U-24 Honduras National Team on Monday 12, the U-24 Japan National Team made their ways to Kobe on the next day and held an official training session at the match venue, Noevir Stadium Kobe, on Friday 16. During the first 15 minutes, in which the session was open for the media, the team was seen going through their warmup drills before conducting drills in game format to go over the team tactics.
The U-24 Spain National Team are the reigning European champions, after claiming the title at the 2019 UEFA European Under-21 Championship. The squad for the Olympics consists of the players who competed at the Under-21 Euro, such as Dani CEBALLOS, and those who were involved in the recent UEFA EURO 2020, making them one of the tournament favourites at the Olympics.
When asked about the Spanish squad, coach Moriyasu mentioned, "A team that can play extremely aggressive in both offence and defence." The Japanese coach continued by sharing how his players need to play, "Our players must showcase their full potential while also staying organised as a team."
Coach Luis DE LA FUENTE on the other hand, commented on the match, "With two spectacular teams clashing ahead of the Olympics, this will be a historic event. Very important match for both countries." The Spanish coach continued to mention, "It will be a difficult match, but we should be able to enter in good condition, so we will give our best efforts to win the match."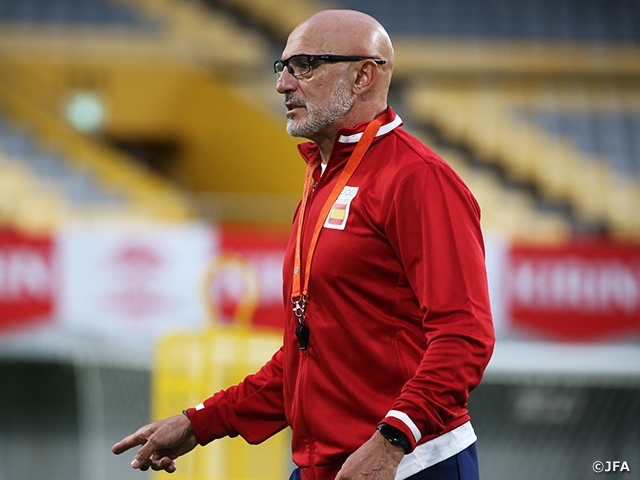 The KIRIN CHALLENGE CUP 2021 match between the U-24 Japan National Team and U-24 Spain National Team will kick-off at 19:20 on Saturday 17 July at Noevir Stadium Kobe.
Coach and Players' Comments
MORIYASU Hajime, Coach of U-24 Japan National Team
I told the players that as long as we are striving for the Olympic gold medal, we need to play with the same eye level as our opponent. We have proved over the years that Japanese players can compete at the world level, so I want our players to play with confidence. We are given an opportunity to face a wonderful opponent in a prep match for the Tokyo Olympics. I want our players to get inspiration from the speed and techniques of our opponent, who are one of the best teams in the world and showcase a match where we can gain confidence ahead of the Tokyo Olympics.
DF #2 SAKAI Hiroki (Urawa Red Diamonds)
We don't need to spend extra time on our scouting for this match, as we just need to focus on getting our conditions right. We don't know if any of us will play 90 minutes, including the Spanish side, so we hope to make this a match where we can raise our conditions. With the Olympics being held at our country, this is certainly going to be a special moment for us. However, it is still one of the many tournaments we play, so we must focus on each match as we always do and try to give our best effort regardless of the circumstance.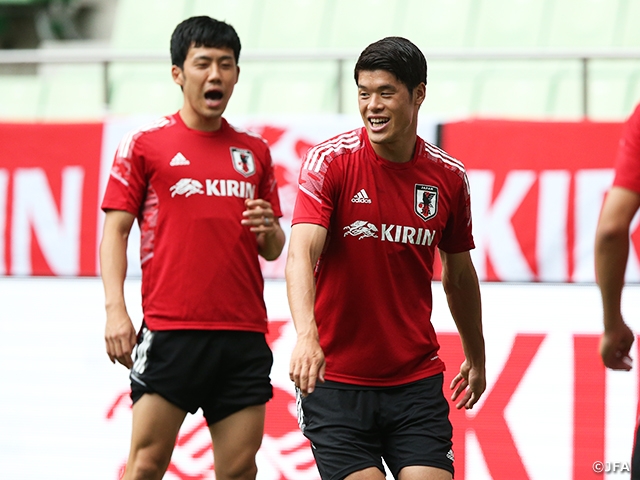 DF #5 YOSHIDA Maya (U.C. Sampdoria/Italy)
Spain is the European champions, and they are the tournament favourite for the Olympics as. They may have uncertainty in terms of conditions, as they have just travelled long ways, but there is no doubt that they are a strong team, so this will be a great test match for us to find out where we stand at the current moment. Regardless of the result, this will be our final prep match ahead of the Olympics, so we will give our best effort to prepare ourselves for this match. This will be a great opportunity to find out where we are and what we need to do at the Olympics.
DF #13 HATATE Reo (Kawasaki Frontale)
I am in great condition right now, so I am looking forward for this match against Spain. Regardless of who I face, I am always excited for a match. We will be facing the tournament favourite, who consists of world class players, so I am excited more than ever. This will be a great test match for us ahead of the Olympics. Considering the impact the Olympics can have on our career, this will be a massive match, so I will do my best to showcase a stong performance out there.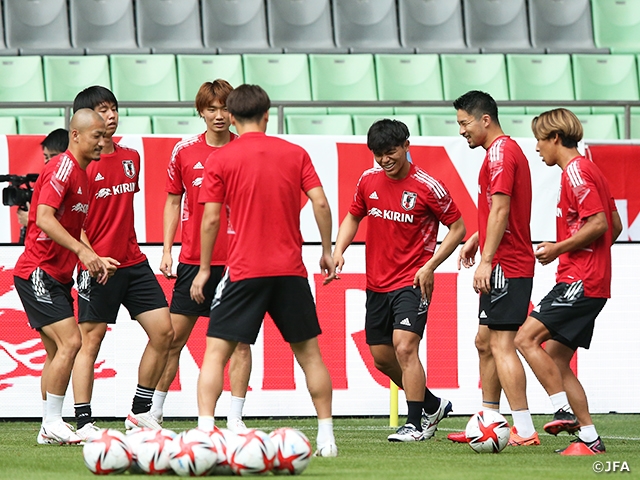 Games of the XXXII Olympiad (Tokyo 2020)
Football competition: Wed. 21 July - Sat. 7 August 2021

Sat. 17 July 2021 [19:20]
U-24 Japan National Team vs U-24 Spain National Team
Venue: Noevir Stadium Kobe (Hyogo)