NEWS
Prep workout for Iraq clash on 26 Jan goes flawlessly for U-23 Japan National Team
25 January 2016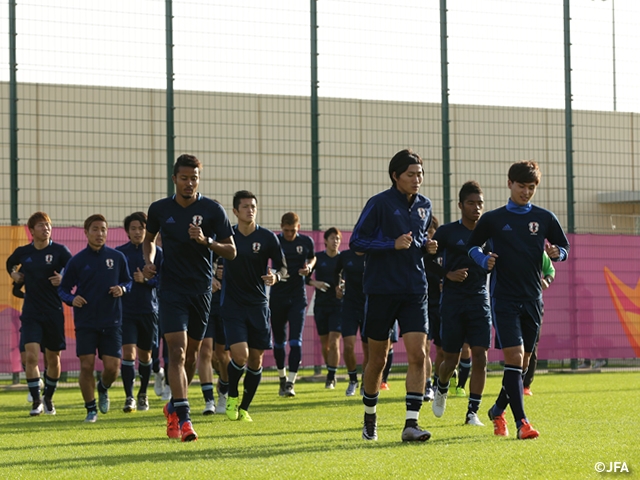 During their AFC U-23 Championship Qatar 2016 (Rio de Janeiro Olympics Asian Qualifiers Final Round) campaign, U-23 Japan National Team had a prep workout starting at 3:00 p.m. (9:00 p.m. Japan time) on 24 January.
The conditioning management of players by coach TEGURAMORI Makoto and his staff continued to be very thorough. After breaking up a huddle ahead of their training session, ENDO Wataru and KAMEKAWA Masashi, who were feeling discomfort in their legs, and TOYOKAWA Yuta, whose back was not fully ready, tuned up separately. Nevertheless, the three players spoke after the session to the press, saying "We are preparing for the semi-finals."
Being absent from the team with a fever, IDEGUCHI Yosuke is making a progress. But on the safe side, he did not join the practice session on the day.
There was a player who returned to the squad. It was SUZUKI Musashi. After tuning up separately since the next day of the Thailand match, he re-joined the team for practical training with the ball and worked on sprint training under conditioning coach HAYAKAWA Naoki, who instructed him, "Run with 70 to 80 percent of your energy."
The team training started with warm-up and moved onto passing drills before holding formation training. The players went through a play to get behind the defensive line from collective moves by multiple players. Cross balls from sides brought brilliant shots, and they also showed good penetrations from the centre after smooth combinations.
The starting squad for the Iran match finished their training with the ball, leaving the field after stretching. The rest of the players worked on a 3-on-3 game with goalkeepers and a neutral player. With quick transition between offence and defence in tight space, the players showed acute moves.
The objectives of the practice never erodes even though different types of drills were simultaneously held at the same time on the same field. Everything was smooth and rational, which was exact quality the team aimed for the semi-final match on Tuesday 26. As the young Japanese players have bitter experiences in the past matchups against Iraq, the will to beat them this time helped the squad execute the flawless training.
They will hold training in the afternoon on Monday 25 local time.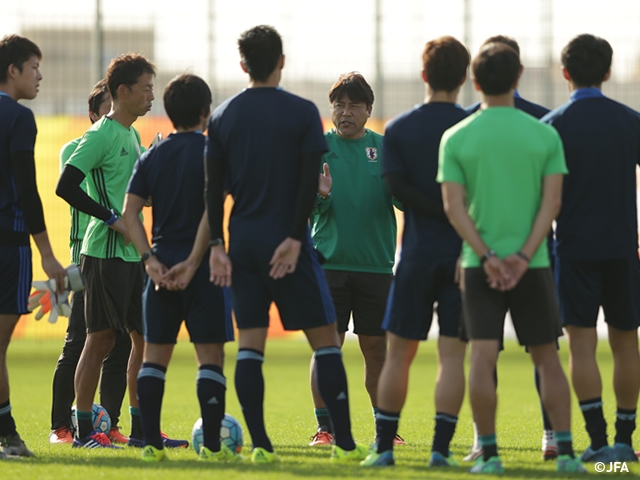 Players' Comments
MF #3 ENDO Wataru (Urawa Reds)
We haven't been able to win against Iraq so far. So I really want to get revenge against them at the semi-final and then go to the Rio de Janeiro Olympics. There is some pressure on us, but we have to play with a mindset that we can never go to the Olympics unless we win this semi-final. The practice on 24th finished lightly, but we will make sure to do necessary preparation for the Iraq match.
FW #9 SUZUKI Musashi (Albirex Niigata)
It's been a while since I did cardio workout last time. But I didn't feel any pain regarding my injury and I felt I was in good shape. I lost to Iraq twice with this team. So I really want to beat them at this semi-final. As far as I know, they tend to start slowing down in the second half, so if we can survive through the first half just like we did in the Iran match, we will have a good chance. I want to score myself, but our team's win is the most important. If coach Teguramori tells me to go, of course I will be ready.
FW #11 ASANO Takuma (Sanfrecce Hiroshima)
During the workout, coach Teguramori asked me how my conditioning was. So I said it had no problem. Then he asked me if me not scoring any goals also had no problem, and I said it did have a problem. While I am happy with the team's win, it's really a shame that I haven't recorded any good results and haven't been able to help the team. I will put out all the bitter feelings that I have inside me onto the next match.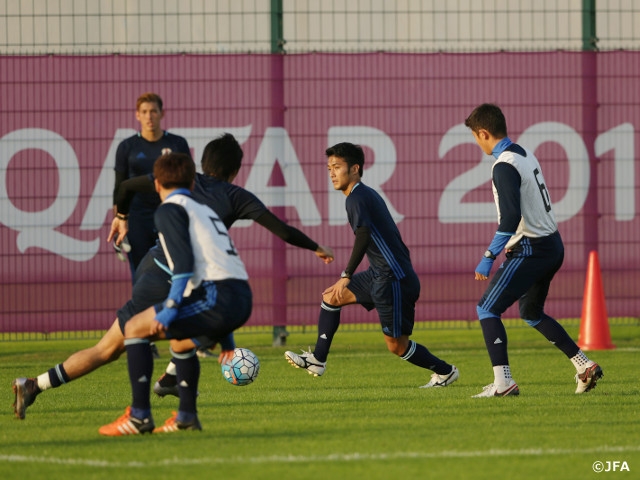 JFA-TV (Japanese version only)
Interview - TOYOKAWA Yuta (Fagiano Okayama)

Interview - UEDA Naomichi (Kashima Antlers)

Interview - MUROYA Sei (Meiji University)
Interview - NAKAJIMA Shoya (F.C. Tokyo)
Schedule
AFC U-23 Championship Qatar 2016
Wed. 13 January
1-0
Group Stage 1st Match vs U-23 DPR Korea
(@Grand Hamad Stadium)
Thu. 14 January

AM

Training

Fri. 15 January

PM

Training

Sat. 16 January
4-0
Group Stage 2nd Match vs U-23 Thailand
(@Grand Hamad Stadium)
Sun. 17 January

AM

Training

Mon. 18 January

17:45

Official training (@Suhaim Bin Hamad Stadium)

Tue. 19 January
2-1
Group Stage 3rd Match vs U-23 Saudi Arabia
(@Suhaim Bin Hamad Stadium)
Wed. 20 January

AM

Training

Thu. 21 January

TBC

Official training (@tbd)

Fri. 22 January
3-0

Knock-out stage Quarter-Finals vs U-23 Iran
(@Abdullah Bin Khalifa Stadium)

Sat. 23 January

AM

Training

Sun. 24 January

PM

Training

Mon. 25 January

PM

Training

Tue. 26 January
16:30

Knock-out stage Semi-Finals vs U-23 Iraq
(@Abdullah Bin Khalifa Stadium)

Wed. 27 January

AM

Training

Thu. 28 January

PM

Training

Fri. 29 January

17:45

Knock-out stage 3rd/4th-Place Playoff
(@Jassim Bin Hamad Stadium)
Sat. 30 January

17:45

Knock-out stage Final
(@Abdullah Bin Khalifa Stadium)
*Local Time
AFC U-23 Championship Qatar 2016 (Rio de Janeiro Olympics Asian Qualifiers Final)
Semi-Finals
Tue. 26 January - 22:30 (Japan Time)
Qatar/Abdullah Bin Khalifa Stadium
U-23 Japan National Team vs U-23 Iraq National Team
More information