NEWS
U-23 Japan National Team prepare for Iran game in natural posture
22 January 2016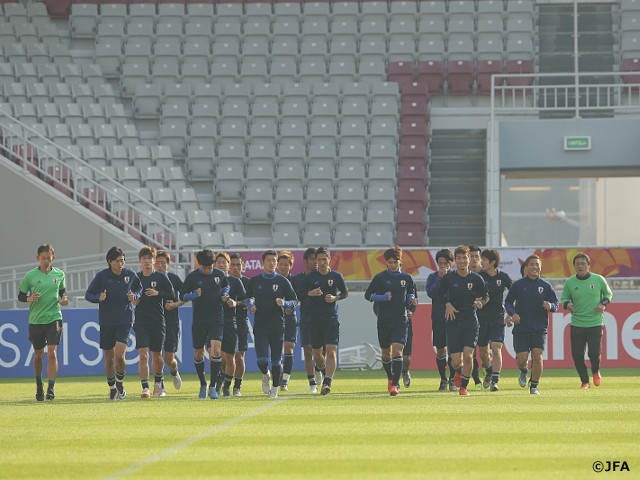 U-23 Japan National team's a game that they cannot afford to lose is drawing near.
The team, who are currently competing in the AFC U-23 Championship Qatar 2016 (Rio de Janeiro Olympics Asian Qualifiers Final Round), had an official training from 3 p.m. (9 a.m. in Japan time) on 21 January.
Prior to the official training, Japan coach TEGURAMORI attended a Press conference at 11:30 a.m. (5:30 p.m. in Japan time), along with Iran coach Mohammad KHAKPOUR. Both coaches spoke about their expectations for their own teams and hopes for their quarterfinal match while they occasionally showed smiles. The composure that both coaches displayed mirror their entire squads' status.
The Japanese players checked the grass at the field in relaxed mode and kicked ball with each other with smiles, but once Teguramori assembled them, they quickly made a circle and tightened their faces as they began warming up. They don't get too loose mentally, yet don't get too anxious.
The practice was closed afterward. As Teguramori said after the previous day's Press conference that he wanted to make sure about their set plays, they spent time for checking their offensive and defensive set plays. And then they made final confirmation on their strategies playing in practical game practices before they wrapped up the one-hour session.
After the practice, the players talked to the media and every one of them seemed to be in their natural posture. Their spirits must be boiling toward today's Iran game, but they probably understood that it was a little too early to turn on their switches.
The Japan team was eliminated in the quarterfinal round in the AFC U-19 Championship, and under Teguramori, they finished in the final eight both in the AFC U-22 Championship in Oman and the 17th Asian Games in 2014 in Incheon, Korea. So the player intend to channel those chagrins into power in today's Iran game, and of course they look to proceed further to achieve their goal to be on top of Asia in the end.
Today's big match will kick off at 4:30 p.m. (10:30 p.m. in Japan time).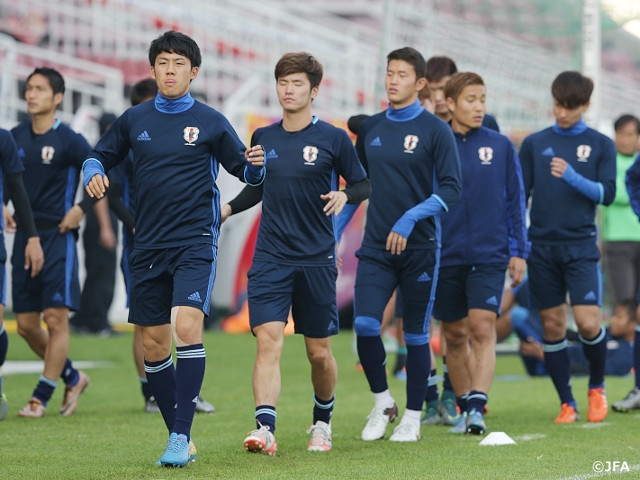 Coach and Players' Comments
TEGURAMORI Makoto, Coach
The quarterfinal game against Iran will certainly be a severe, tough game for us. We will be required to put up our collectiveness, tactics and skills at higher levels. I believe that whichever side make mistakes will be the losing side, so it will be important for us to play a mistake-free game, drawing errors from the opponents. In order to make it happen, it will be a big factor for us to aggressively attack.
Through the group stage, we have been able to save our speed and stamina. I believe that we will have an edge in the second half. We've been eliminated in the quarterfinals twice (in international tournaments) and I think that's because we were to beat Iran here. We will pour the frustrations we've piled up so far into the pitch.
DF #4 IWANAMI Takuya (Vissel Kobe)
It's a knockout game, so it won't be an easy game. If we get rattled and give up a first goal to them, because Middle East teams are good at the time management and it would makes us frustrated, we will play as if we don't mind going in halftime with a 0-0 score. We haven't allowed any goals from collective plays by the opponents, and when we can shut our opponents out, we are becoming a team who can scored a goal or two.
There were players who couldn't make the 23-man roster, and players who won't start in the Iran game, so if I have a chance to play in it, I'll surely display my 120 percent. I will put up a fight, displaying my hear to want to go to the world stage.
MF #3 ENDO Wataru (Urawa Reds)
Iran's offensive corps have individual abilities and counter attacks are one of their weapons. We had a situation like that in our game against Saudi Arabia in the third leg of the group stage, when we get a counter attack after our own set play, that's the most dangerous thing. So I think that it'll be important for us to make fast transitions, stopping the play, or finishing set plays in shots, things like that.
As we finished our group stage with three consecutive wins, we have good mood in our team right now, and we have had good preparation, but we are not overconfident. I'm trying not to be aware too much on the fact that we've been eliminated in the quarterfinals.
MF #14 TOYOKAWA Yuta (Fagiano Okayama)
You rarely play in a game under pressure that you cannot afford to lose. I'm sure I'll feel pressure, but hopefully I can play enjoying it. I would like to play as hard as I can both sides of ball and display plays that directly lead to goals. I heard that Iran put their defensive line at a higher spot, so if I can get behind them and push them back, that will be ideal.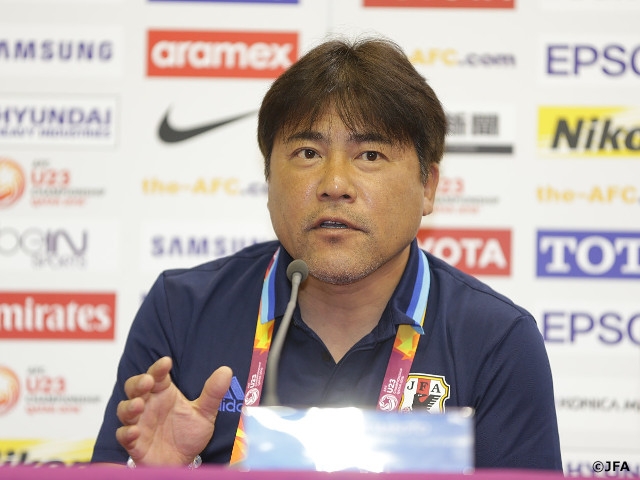 JFA-TV (Japanese version only)
Interview - ENDO Wataru (Urawa Reds)

Interview - SUZUKI Musashi (Albirex Niigata)

Interview - OHSHIMA Ryota (Kawasaki Frontale)
Schedule
AFC U-23 Championship Qatar 2016
Wed. 13 January
1-0
Group Stage 1st Match vs U-23 DPR Korea
(@Grand Hamad Stadium)
Thu. 14 January

AM

Training

Fri. 15 January

PM

Training

Sat. 16 January
4-0
Group Stage 2nd Match vs U-23 Thailand
(@Grand Hamad Stadium)
Sun. 17 January

AM

Training

Mon. 18 January

17:45

Official training (@Suhaim Bin Hamad Stadium)

Tue. 19 January
2-1
Group Stage 3rd Match vs U-23 Saudi Arabia
(@Suhaim Bin Hamad Stadium)
Wed. 20 January

AM

Training

Thu. 21 January

TBC

Official training (@tbd)

Fri. 22 January
16:30

Knock-out stage Quarter-Finals vs U-23 Iran
(@Abdullah Bin Khalifa Stadium)

Sat. 23 January

AM

Training

Sun. 24 January

PM

Training

Mon. 25 January

PM

Training

Tue. 26 January
16:30

Knock-out stage Semi-Finals
(@Abdullah Bin Khalifa Stadium)

Wed. 27 January

AM

Training

Thu. 28 January

PM

Training

Fri. 29 January

17:45

Knock-out stage 3rd/4th-Place Playoff
(@Jassim Bin Hamad Stadium)
Sat. 30 January

17:45

Knock-out stage Final
(@Abdullah Bin Khalifa Stadium)
*Local Time
AFC U-23 Championship Qatar 2016 (Rio de Janeiro Olympics Asian Qualifiers Final)
Quarter-Finals
Fri. 22 January - 22:30 (Japan Time)
Qatar/Abdullah Bin Khalifa Stadium
U-23 Japan National Team vs U-23 Iran National Team
Live broadcasting across Japan by tv asahi Group and NHK-BS1
More information