NEWS
U-23 Japan National Team getting ready for semi-final in small groups
24 January 2016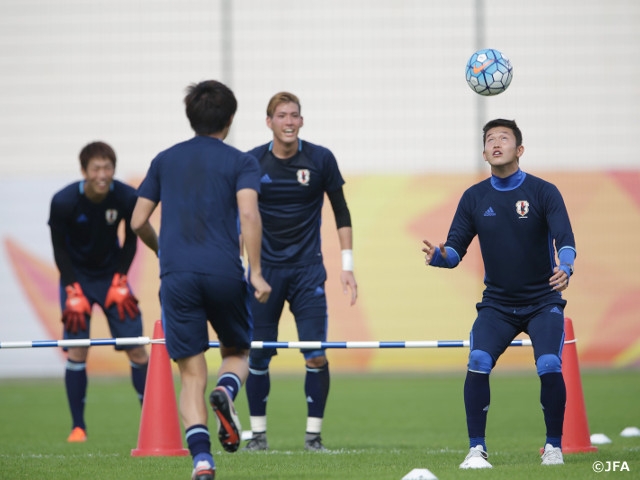 U-23 Japan National team in the midst of their battles of the AFC U-23 Championship Qatar 2016 (Rio de Janeiro Olympics Asian Qualifiers Final Round) had a workout on 23 January starting from 10:30 a.m. (4:30 p.m. Japan Time).
The starters in the quarter-final held on 22 as well as ASANO Takuma and TOYOKAWA Yuta, who were subbed on and played long enough, spent the day for recovery regimen at the swimming pool at their hotel.
Also SUZUKI Musashi had his right leg examined at a hospital in Doha for a precautious reason to get in the best shape for the semi-final. IDEGUCHI Yosuke still rested at the hotel due to the fever which forced him to miss the match against Iran.
That left the eight players for practice: goalkeepers SUGIMOTO Daichi and NIEKAWA Ayumi, defenders MATSUBARA Ken, YAMANAKA Ryosuke, NARA Tatsuki and MISAO Kento, and midfielders OHSHIMA Ryota and MINAMINO Takumi. The preparation for the semi-final is one day longer than that for the past matches which allowed only two days. During the course of intense contests along the way, those players themselves also overcame tough battles as well.
Considering all those aforementioned conditions, this day's practise was centred on getting the players in better shape, not on pushing them too much. Following warm-ups, what coach TEGURAMORI Makoto had for the players was "soccer tennis".
In a relaxed atmosphere, they in pairs enjoyed the different game of earning points and defending. Coach TEGURAMORI and AKIBA Tadahiro as referees had an enjoyable time with smiles as well.
After that, they went to the team's conditioning coach HAYAKAWA Naoki, who assigned repeated dashing and jogging based on the designated time to let players work up a good sweat. The birthday celebration was held for Ohshima and team chef NISHI Yoshiteru after dinner.
An afternoon practice session is scheduled on 24 January. On a side note, another quarter-final was held between UAE and Iraq on 23, where Iraq came out victorious with 3-1 additional period win. As a result, Japan's semi-final on 26 is now set against Iraq.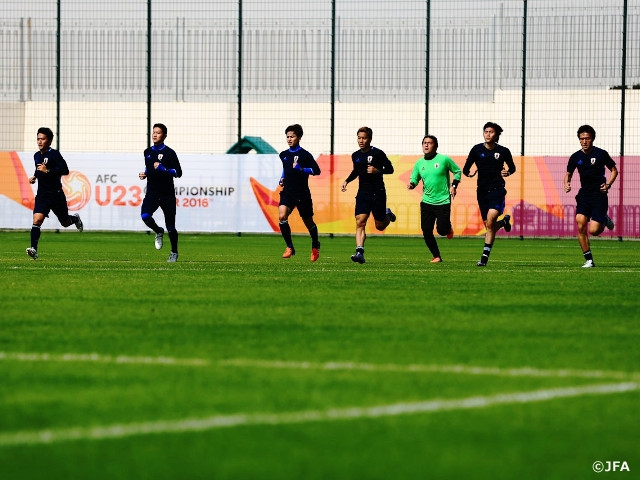 Coach and Players' Comments
TEGURAMORI Makoto, Coach
The quarter-final didn't end until after the extra period. It made us realise that reaching the semi-final isn't easy, and I think that was good for us. We still have three days before next match. It's one day more than what we had before, so we can rest a little mentally and physically. Some people say we have good momentum going in this tournament, and if that's true, we have to win the semi-final and get the spot in the Olympics. Otherwise they start saying our momentum was just a fake. I believe my players on the pitch will express the confidence that they have acquired so far.
DF #2 MATSUBARA Ken (Albirex Niigata)
Our generation kept losing in the quarter-finals, so getting through that makes me think we truly have a momentum going for us. Our chemistry is good, too. So in the next match we will clinch the Olympics spot and move on to this championship. It is important for us as a team to keep winning, so we make sure to have good preparation on 24th and 25th. There is no worry regarding the pain I had in my right knee in the Saudi Arabia match.
DF #6 YAMANAKA Ryosuke (Kashiwa Reysol)
During the quarter-final, I was watching the match, as I was praying and leaving our fate to my teammates. But at the same time, we all on the bench kept talking to our teammates on the pitch and I felt that we were really battling together as a team. Just because we all have been trying hard to get ready for every single match, our results have been this good. The guys who got the playing time won the semi-final berth. So I want to do my part, which is get my conditioning up to be 100% ready for next match.
DF #17 MISAO Kento (Kashima Antlers)
We had been able to fight together, so I didn't have doubt and believed that we would win the quarter-final. By reaching the semi-final, our togetherness got even better. I am not feeling much fatigue, so if I get to be on the pitch, I want to show all my good traits. Of course I want to play on the pitch, but no matter what my role is, I strongly want to contribute to my team's win.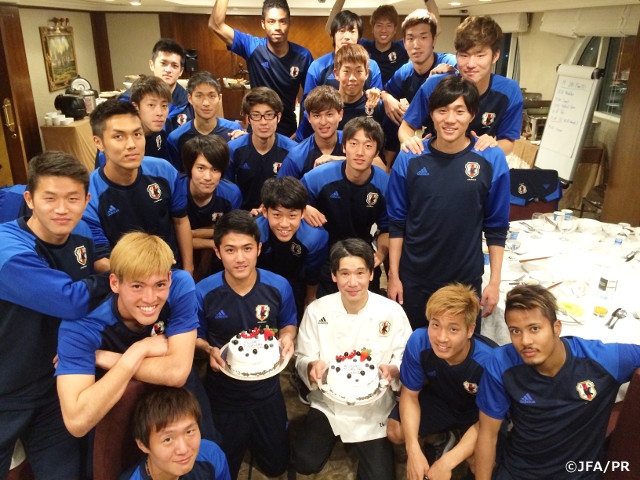 JFA-TV (Japanese version only)
Interview - YAMANAKA Ryosuke (Kashiwa Reysol)

Interview - OHSHIMA Ryota (Kawasaki Frontale)
Schedule
AFC U-23 Championship Qatar 2016
Wed. 13 January
1-0
Group Stage 1st Match vs U-23 DPR Korea
(@Grand Hamad Stadium)
Thu. 14 January

AM

Training

Fri. 15 January

PM

Training

Sat. 16 January
4-0
Group Stage 2nd Match vs U-23 Thailand
(@Grand Hamad Stadium)
Sun. 17 January

AM

Training

Mon. 18 January

17:45

Official training (@Suhaim Bin Hamad Stadium)

Tue. 19 January
2-1
Group Stage 3rd Match vs U-23 Saudi Arabia
(@Suhaim Bin Hamad Stadium)
Wed. 20 January

AM

Training

Thu. 21 January

TBC

Official training (@tbd)

Fri. 22 January
3-0

Knock-out stage Quarter-Finals vs U-23 Iran
(@Abdullah Bin Khalifa Stadium)

Sat. 23 January

AM

Training

Sun. 24 January

PM

Training

Mon. 25 January

PM

Training

Tue. 26 January
16:30

Knock-out stage Semi-Finals vs U-23 Iraq
(@Abdullah Bin Khalifa Stadium)

Wed. 27 January

AM

Training

Thu. 28 January

PM

Training

Fri. 29 January

17:45

Knock-out stage 3rd/4th-Place Playoff
(@Jassim Bin Hamad Stadium)
Sat. 30 January

17:45

Knock-out stage Final
(@Abdullah Bin Khalifa Stadium)
*Local Time
AFC U-23 Championship Qatar 2016 (Rio de Janeiro Olympics Asian Qualifiers Final)
Semi-Finals
Tue. 26 January - 22:30 (Japan Time)
Qatar/Abdullah Bin Khalifa Stadium
U-23 Japan National Team vs U-23 Iraq National Team
More information