NEWS
U-22 Japan National Team start training in Nagasaki ahead of their match against Jamaica - KIRIN CHALLENGE CUP 2019
25 December 2019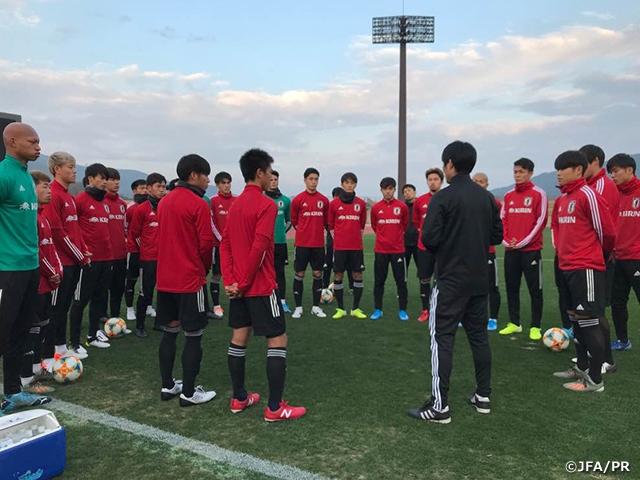 On Tuesday 24 December, the U-22 Japan National Team started their trainings ahead of their match against the U-22 Jamaica National Team at the KIRIN CHALLENGE CUP 2019.
In their final match of the year, the U-22 Japan National Team will seek to strengthen the team ahead of January's AFC U-23 Championship Thailand 2020 and the Tokyo Olympics in the summer. Four players were newly named into the squad, as KOKUBO Leobrian, FUKUDA Yuya, HIGASHI Shunki, and ICHIMI Kazunari received their first call-up at this age category. For the next five days, the team will conduct as many training sessions as possible, as coach MORIYASU Hajime mentioned, "I hope to take a look at each of the players and spend our time to get everyone on the same page."
Ahead of the training session, coach Moriyasu told his players, "I need you to showcase your full potential while understanding the team concept." The 23 players then followed the lead of physical coach MATSUMOTO Ryoichi to go through their warmup routine, before engaging in passing and ball control drills to work up a sweat.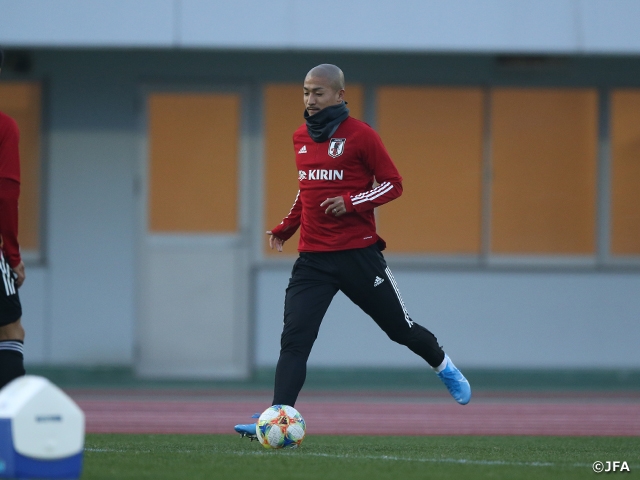 For the men's national team, this will be the first time in 28 years to conduct a match in Nagasaki, which is the hometown of coach Moriyasu. With many kids from the local football clubs visiting the training site to cheer on the players, coach Moriyasu shared his aspiration, "This is the city I grew up and I received so much support from so many people. I hope to pay back the favour by showcasing a spectacular football game and delivering a victory to this city."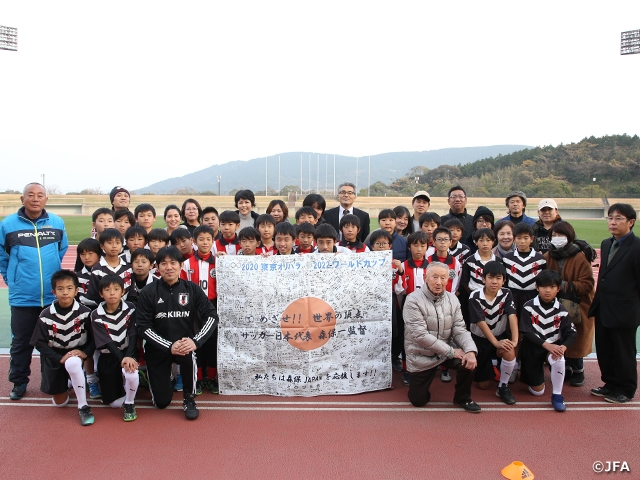 The U-22 Japan National Team will face the U-22 Jamaica National Team at Transcosmos Stadium Nagasaki on Saturday 28 December at 19:20.
Coach and Players' Comments
MORIYASU Hajime, Coach of U-22 Japan National Team
We have gathered a team to win this match against Jamaica at the KIRIN CHALLENGE CUP 2019. I want the players to showcase their full potential while understanding the team concept. I have told the players that we must strive towards victory as a team. These players are on the shortlist for this January's AFC U-23 Championship Thailand 2020, so I want each player to make a case for themselves. I feel very fortunate to be able to play a match at my hometown in Nagasaki. Following our match in Hiroshima, we are recognising the significance to hold our matches at the only two cities in the world affected by the atomic bomb. Through these matches, we hope to spread the message of world peace. We are grateful that we are able to play football, and we hope to share this joy with our fans and supporters.
MF SUGIOKA Daiki (Shonan Bellmare)
Nagasaki is a beautiful city surrounded by nature and the air is very clean. We saw many people watching our training session and we felt their passion towards football. Following our match against Colombia, we feel very fortunate that our matches are attracting great attention from the media and fans in Japan. With the match being highly anticipated by many people, it is our obligation to earn positive results, so we will give our best efforts to win the match. The Tokyo Olympics is a once in a lifetime event and it is a tournament worth staking my life for. I saw many players playing my position while I was injured, so I hope to showcase a good performance to make a case for myself for the starting position.
FW MAEDA Daizen (CS Maritimo/Portugal)
We suffered bitter experiences in our previous KIRIN CHALLENGE CUP match played in Hiroshima and the EAFF E-1 Football Championship, so we are all striving to earn a positive result in the next match. We only have one match to make it right, so we hope to showcase our best performance in this match. There are so many talented players in Portugal and playing in a high level environment gives me great confidence as a player. There are definitely competitions within the team, but for now, I will just focus on winning each of the matches ahead of us to prepare ourselves for the Olympics.
FW ICHIMI Kazunari (Kyoto Sanga FC)
I have been waiting for my opportunity to play at the national team, and this is my chance. My strong point lies on my ability to utilise my physical strengths to create opportunities upfront, so I will do my best to earn results. I have been able to score goals at Kyoto, but it wouldn't mean anything if I can't score with the national team. I hope to blend into the team colour while showcasing my own strengths.


U-22 Japan National Team vs U-22 Jamaica National Team
Date: Sat. 28 December 2019 19:20
Venue: Transcosmos Stadium Nagasaki, Nagasaki