NEWS
Report from U-22 Japan National Team for AFC U-23 Championship Qualifiers (RIO 2016 Asian Qualifiers Round 1) (3/18)
19 March 2015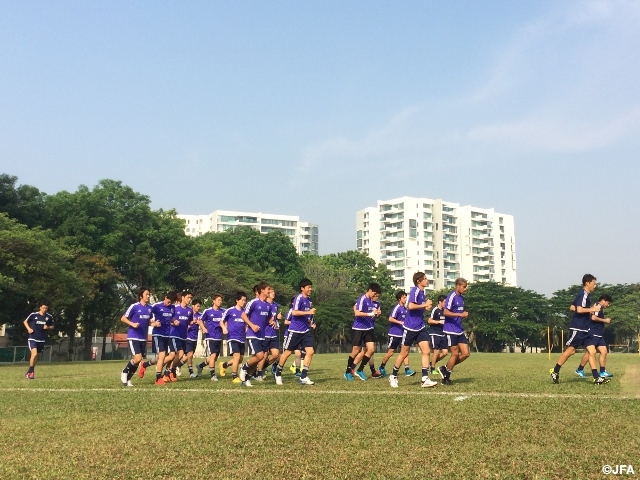 On Wednesday 18 March, now it is the third morning in Malaysia for U-22 Japan National Team.
In the heat of 32 C and 74% humidity, which gives us even choking feeling at times, the players took on strength training in the morning. While on the previous day the session was centred on aerobic exercises to stimulate the circulatory system, this day's training was targeted to muscles to bring out as much strength as possible in one moment. Various kinds of equipment were located at the total of 10 stations, and the players, working in pairs, trained at one station after another.
The humidity went down a little in the afternoon, the temperature, however, went the opposite way to 37 C. In the training session in the early evening had the players work in the groups of eight mainly on both offensive and defensive tactics including passing, finishing combinations, 3-on-1-plus-1-on-3 possession drill, and 3-on-2-plus-2-on-3 simulated match. In a different regimen from the morning session but as tough as it was, all the players were highly motivated and took on very intense workouts.
From Thursday 19 March, the team will welcome YAMANAKA Ryosuke of Kashiwa Reysol into the training, who had been ill and just joined the team this evening.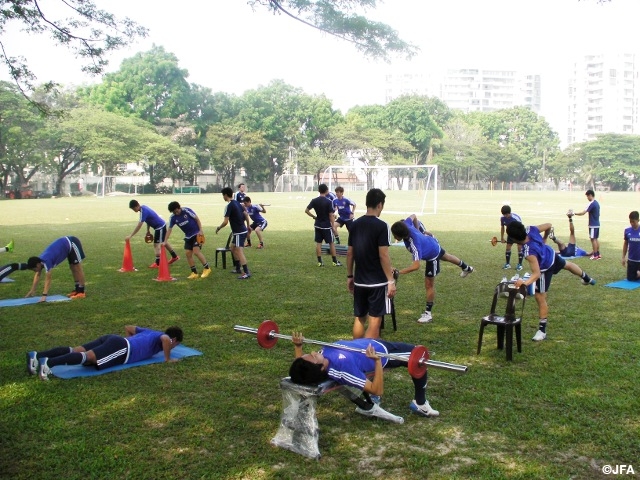 Head Coach and Players' Comments
TEGURAMORI Makoto, Head Coach
As we are working hard with our training theme that is getting used to the heat, any kind of practice here is tough for the players. But as we move on from a session to session, hopefully this extra burden feels less and less and becomes normal to them. And we are targeting to get into the best shape next week when we have matches. Our opponents are used to playing under this kind of weather, so whatever they are, we have to focus on getting ourselves ready for it. So far, we have been able to finish the training plan we set in Japan. From now on, we want to adjust it according to the condition of the players, and I will play the players who are at their best at the time of the match on 27 March. And in the three matches with only one day between them, and under this hot weather, I want everyone on this team to do his best.
MF #3 ENDO Wataru (Shonan Bellmare)
It's very hot in Malaysia. Even so, we hydrate ourselves very often and we try to take care of our conditioning. I have been playing well with my club this year, so I want to take that momentum to the national team and play well here, too. The match against Myanmar National U-22 Team at Fukuda Denshi Arena had various meanings to it, but there it was good that we were able to win and get good results. The more we play together, the more we unite as a team. We have more and more positive voices aloud among the team. But I think there are more to improve mentally, including talking with each other and solving the situation when things are not going well, just like the match against Korea Republic at last year's Asian Games. The first round of qualifiers will be tough matches as we have three matches in a row and only one day between matches. But in situations like that, we have to unite as one team. As the captain of the team, I want to show good examples and lead the team.
FW #16 ASANO Takuma (Sanfrecce Hiroshima)
I haven't got used to the heat in Malaysia yet, but I want to get used to it as soon as possible and we want to be able to play 100% to our normal abilities. It's a tough schedule to have both J.League matches and national team activities, and it's also difficult to go back and forth between our club and the national team. But we want to do what we are supposed to do and get good results. As long as I play forward position, I have to score goals, and it was very disappointing that I couldn't do it against Myanmar U-22 team on 11 March. I played right behind our strikers and I was supposed to receive the ball and then pass it out to the guys. But even when playing that position, I should have taken advantage of my quickness and showed my strength of attacking behind the defenders. I strongly realised that. The first round of qualifiers is tough schedule-wise, but I want to help my team move forward by scoring goals.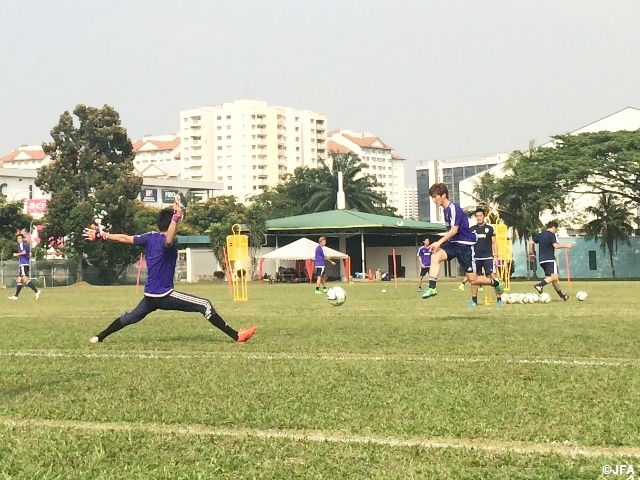 Schedule
Mon. 9 March

PM

Training
Tue. 10 March

PM

Official Training
Wed. 11 March
9-0
International Friendly vs. Myanmmar U-22 National Team
(@Fukuda Denshi Arena)
Tue. 17 March

AM

Training

PM

Training
Wed. 18 March

AM/PM

Training
Thu. 19 March

AM/PM

Training
Fri. 20 March

PM

Training
Sat. 21 March

17:00

Training Match vs. tbd(@Petaring Jaya Stadium)
Mon. 23 March

AM/PM

Training
Tue. 24 March

AM/PM

Training
Wed. 25 March

PM

Training
Thu. 26 March

PM

Official training(@Shah Alam Stadium)
AFC U-23 Championship 2016 Qualifiers
Fri. 27 March

16:00

1st Match vs.Macau U-22 National Team(@Shah Alam Stadium)
Sat. 28 March

AM

Training
Sun. 29 March

20:15

2nd Match vs.Vietnam U-22 National Team (@Shah Alam Stadium)
Mon. 30 March


PM

Training
Tue. 31 March

20:45

3rd Match vs. Malaysia U-22 National Team (@Shah Alam Stadium)
Local time