NEWS
U-22 Japan squad get to work in Malaysia for AFC U-23 Championship Qualifier (3/17)
18 March 2015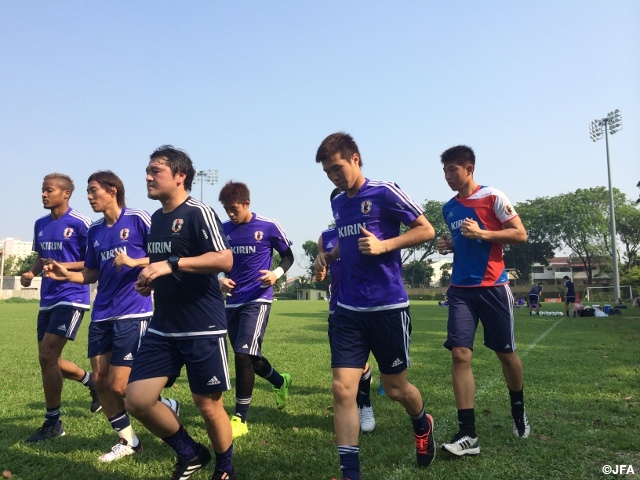 The U-22 Japan national squad had their first training in Malaysia.
The team assembled on 15 March and flew to Malaysia, the site for the AFC U-23 Championship (first Asian qualifying for the Rio de Janeiro Olympics), had two-a-day practice on the 17th. They used the pitch in the site of the Malaysia Football Association in the morning. Under a severe weather of the East Southeast Asia with a temperature of over 30 C and humidity of over 70 percent, they worked mainly on physical menu, trying to adjust to the heat there.
In the afternoon, the team moved to a field at a Japanese school in Malaysia to have another session of practice. While about 450 students and parents observed, the players began with a Yo-Yo test and then worked on practices using balls, such as on passing and controlling, possession, and combination plays in the attacking third area. And in the end they pushed themselves to train their physicality with an aerobic running. After the practice, they had an occasion to exchange with the teachers, students and parents of the Japanese school.
The players referred to the head that was more than they'd expected, but would have expressions with full of hopes and enthusiasm for their first match on the 27th. They are schedule to work hard in two-a-day training on the 18th as well.
Players' Comments
MF #8 HARAKAWA Riki (Kyoto Sanga F.C.)
It's hotter than I'd expected and my body hasn't fully been used to it. This team has grown a lot since when we were formed in January of 2014, and we feel improvements both offensively and defensively. Especially, it's easier for us to play offensively because our distances with each other are better and we don't have any worries in terms of our linkages. While we have a lot of guys who can attack up front, our offence often tend to end by itself, so I think our team is going to improve b intentionally possessing the ball and controlling our own time. I'm thrilled as we are soon getting in the Olympics qualifier.
DF #5 UEDA Naomichi (Kashima Antlers)
Malaysia is hot, but I'm used to it because I was at the Asia Cup back in January, and you can't advance if you are bothered by the heat. Through this trip, I want to speak out loud to the entire team even toward the end of games, being aware of reducing goals allowed, and hopefully it will lead to my growth. We gave up goals off our own mistakes in our Singapore trip, but were able to hold Myanmar to no goals. Yet we still make mistakes and when we play against better teams, it could cost games, so we still have a lot of things to correct. Many of us have played together since we were in the lower categories and have good relationships, but I would like to aim at having relationships that we can talk harshly to each other.
FW #9 SUZUKI Musashi (Albirex Niigata)
The humidity is high and this is a circumstance that you feel hot even without the sunshine.I scored four goals against the Myanmar U-22 team on 11 March, but I feel like we could've overwhelmed them even more. We would like to elaborate our plays including our connections and plays before the opponent's goal, through this training camp, so our team and each individual will perform better. We are going to have to go through tough times in the three games, but we only believe in what we've done and try to perform to the best of our ability. And I want to make some goals, capitalizing on my traits, such as speed to get past the defenders and dribbling through them, to help the team qualify through the first qualifier.
Mr. NAKAMURA Kiyotada, principal of the Japanese school in Malaysia
We are always rooting for Japanese football from Malaysia. When we were notified that the Japan U-22 team were coming to Malaysia this time, our children wanted to support them, so we offered you to use our ground. I'm sure you can qualify the first qualifier. We hope you to make the top three in next January's final qualifying and win a medal at the Rio de Janeiro Olympics!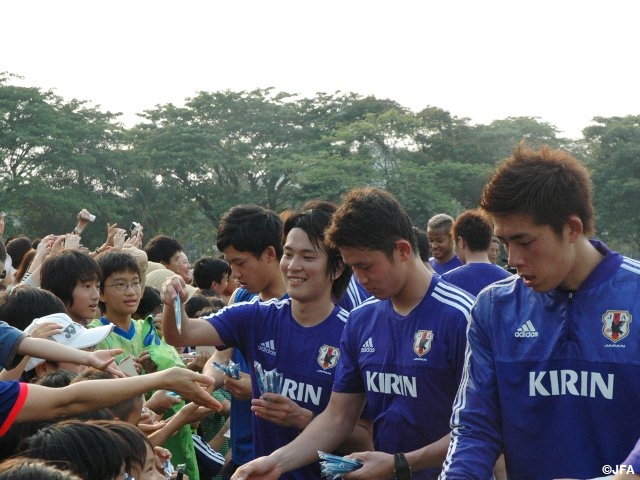 Schedule
Mon. 9 March

PM

Training
Tue. 10 March

PM

Official Training
Wed. 11 March

19:10

International Friendly vs. Myanmmar U-22 National Team
(@Fukuda Denshi Arena)
Tue. 17 March

AM

Training

PM

Training
Wed. 18 March

AM/PM

Training
Thu. 19 March

AM/PM

Training
Fri. 20 March

PM

Training
Sat. 21 March

17:00

Training Match vs. tbd(@Petaring Jaya Stadium)
Mon. 23 March

AM/PM

Training
Tue. 24 March

AM/PM

Training
Wed. 25 March

PM

Training
Thu. 26 March

PM

Official training(@Shah Alam Stadium)
AFC U-23 Championship 2016 Qualifiers
Fri. 27 March

16:00

1st Match vs.Macau U-22 National Team(@Shah Alam Stadium)
Sat. 28 March

AM

Training
Sun. 29 March

20:15

2nd Match vs.Vietnam U-22 National Team (@Shah Alam Stadium)
Mon. 30 March


PM

Training
Tue. 31 March

20:45

3rd Match vs. Malaysia U-22 National Team (@Shah Alam Stadium)
Local time