NEWS
U-22 Japan National Team face Costa Rica tomorrow!
30 June 2015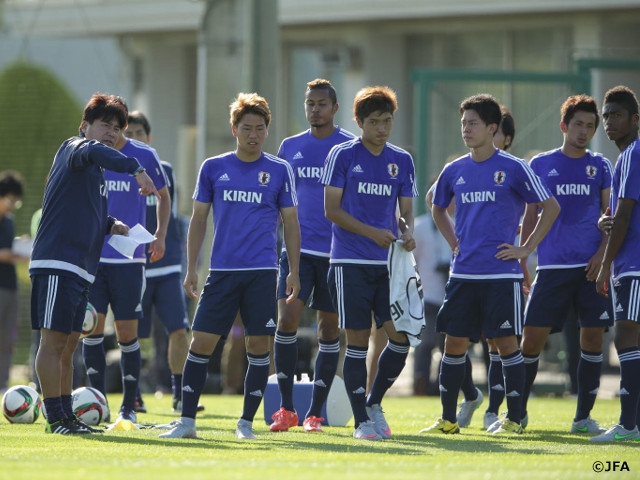 U-22 Japan National Team had the second day of its training camp for the match against Costa Rica which will be held on 1 July.
Prior to the sessions, a presentation ceremony was held and the Official Partner Kirin Group encouraged the team with their drink products. Three players who played in J3 League as J. League under 22 squad players joined the team last night, and another five players who play in J2 League joined around lunch time today. All 23 of the young national squad players started their 2nd day training in the sunny weather which is rare during the rainy season in Japan, with a pass control session, a 10-on-6 possession exercise, formation and combination session, and 8-on-8 practical game.
During the two hour training sessions, the Head Coach TEGURAMORI Makoto kept raising his voice, giving suggestions to the players to break through consistent defense by their thicker and wider offense. The players also expressed their passion to survive this challenging competition to be selected for the match by showing their intensive play in front of the ball and communicating sharply amongst each other with loud voices.
On 30th, KUSHIBIKI Kazuki who plays for Consadore Sapporo will join the team and they will have an official training at the match venue Yurtec Stadium Sendai to prepare for the match against Costa Rica.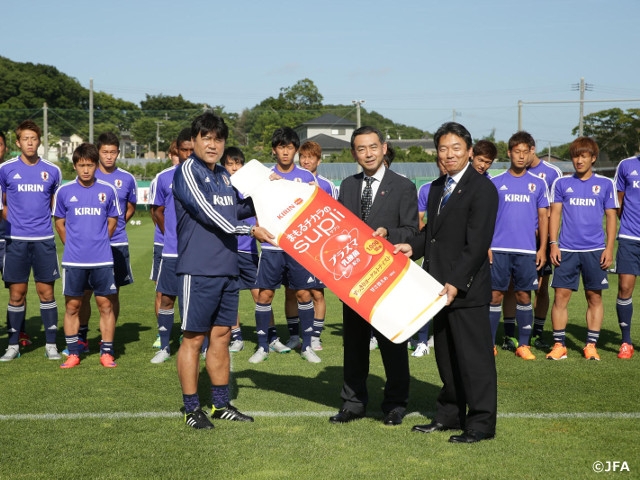 Head Coach and Players' Comments
TEGURAMORI Makoto, Head Coach
I appreciate that we had today's sessions on a good pitch. I know that how we will break their blocking defense is what people expects of us, so we will definitely break it in the next match. Costa Rica defends from upper line and they form the blocking defense at the back very quickly so we want to make our attack even quicker before they form any blocks. At the same time, we have to pay good attention to taking control of the match. How we can switch between our offense variations will be the key. Considering Costa Rica may let us have the ball to steal it, we have to be careful not to lose the ball easily.
MF #7 OHSHIMA Ryota (Kawasaki Frontale)
In this camp I want to work particularly on "how to break the deeper defense" with my teammates. This is one of the important issues when we play against Asian teams. Today, there were some players who have just joined the team, some of them joined for the first time, and there were some players who have come back to the team after a long time. We all communicated well and very positively so we had very effective sessions.
But we still need to improve our level especially our finishing accuracy and defense consistency in front of the ball to get the medal at the Olympic Games. In the match, I want to express what we have improved as well as maintain my mental strength throughout the match including some special moments like I'm in front of the ball.
FW #16 ASANO Takuma (Sanfrecce Hiroshima)
It was very inspirational when I joined SAMURAI BLUE's training camp in May. Amongst so much skillful players, I got to know that my play could be equivalent to them but only when I could show 100% of my play. This gave me good confidence and it has kept encouraging me. I also got to know about the importance of having "world-class standard" in myself and if you see yourself with that standard. I could see that there are still lots for me to improve. In the match against Costa Rica, I will put the victory first and it is nice if I can score in the process. First of all, I want to get the victory as a team.
MF #11 MAEDA Naoki (Matsumoto Yamaga F.C.)
I'm very happy to be selected as a squad player after a long time. At the same time, I have now more sense of responsibility as a squad player. During the past year, I couldn't be selected but I believe I could improve myself, so I want to show how I have improved in the match against Costa Rica. Especially I want to express some of my team's advantages such as "quick switch between defense and offense" and "how much we can sprint" as well as my own strength "dribbling". I have some aims in my football life and playing in the Olympic Games is one of them. To make it, I have to contribute to the team well, so my passion for the next match is very strong.
GK #21 YAMADA Genki (Kyoto Sanga F.C.)
After two years, I was selected again as a squad player. I am very happy to come back here and I want to show my advantage which is "shot stopping". This is my first time to join in this team and we have only two more days before the match, but I still expect that I can show 100% of my strength once I get the chance to play in the match. It is such an honor to play as a squad player with the Japanese flag.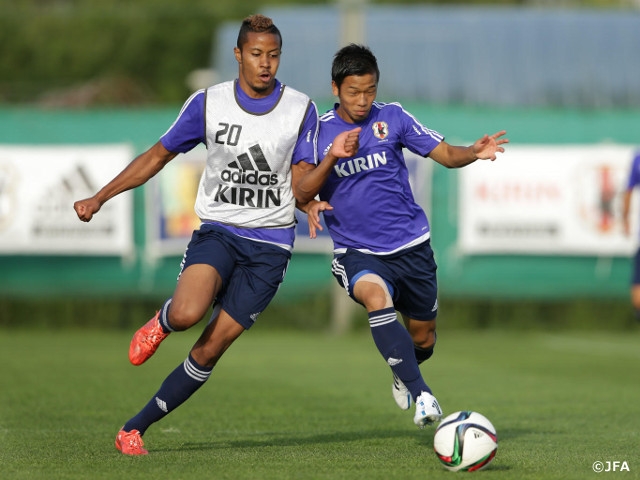 JFA-TV (Japanese version only)
Interview - SUZUKI Musashi(Albirex Niigata )

Interview - ENDO Wataru (Shonan Bellmare)

Interview - TAKAHASHI Soya (Sanfrecce Hiroshima)
International Friendly Match
U-22 Japan National Team vs. U-22 Costa Rica National Team
2015-7-1 (Wed.) – 19:00
Yurtec Stadium Sendai, Miyagi
Ticket information (Japanese version only)
Match information