NEWS
"No future if you can't make something of the now" - press conference announcing U-22 Japan squad for International Friendly (7/1 @Yurtec Stadium Sendai)
23 June 2015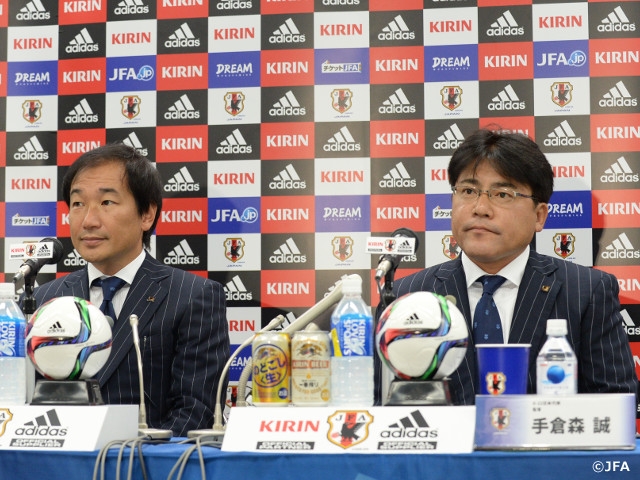 The U-22 Japan National Team head coach TEGURAMORI Makoto attended the press conference at JFA House in Tokyo on 22 June and announced 21 of the 23 squad players for the International Friendship Match against U-22 Costa Rica National Team which will kick-off on 1 July in Sendai.
The U-22 Japan National Team, whose aim is to go to the Rio de Janeiro Olympic Games, will restart its activity since the AFC U-23 Championship 2016 Qualifiers (Rio 2016 Asian Qualifiers Round 1) which was held in March. Teguramori explained about his decision to change nearly half of players from the previous squad members, "I chosen the players who have improved themselves in their club teams since the AFC U-23 Championship Qualifiers."
He commented on the U-22 Costa Rica National Team, "Costa Rica are good team which gives us a good simulation for the Final Round and for the Olympic Games", and expressed his excitement "We want to see how much we can do when we play against a team with good tactics, physical strength, and strong mentality."
U-22 Japan will start its training from 28 June to prepare for the International Friendly Match against Costa Rica which will kick-off at 7pm, 1 July in Yurtec Stadium Sendai.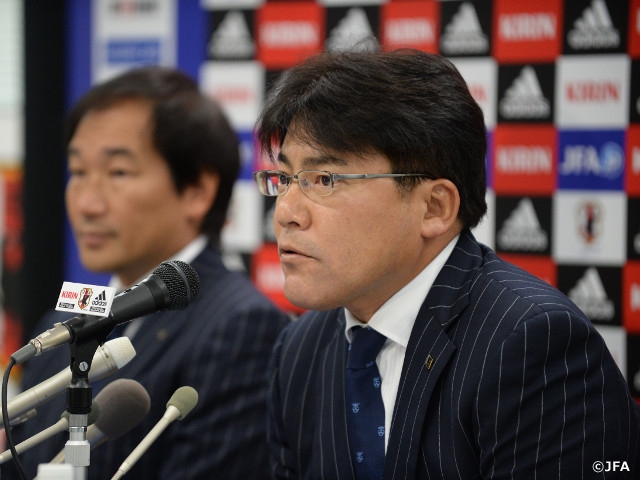 Head Coach's Comment
TEGURAMORI Makoto, Head Coach of U-22 Japan National Team
Costa Rica is a good team with sharp play and I'm excited to play against a team like them. Suppose their defense line is lower, we shouldn't see them as a weak team; we will be careful not to get caught by their sturdy traps typical of Latin American teams. Being flexible is our issue which we have kept brushing up and we also want to be like SAMURAI BLUE moving the ball to the front quickly, this is what they have strengthened after Vahid Halilhodzic started managing the team.
Switching our mind to move on to the next play is what we want at the same time; we have to know that we can't always play how we want. Since our time is limited, it is important for the players to understand the team's strategies in meetings. In that sense, I also needed some players who have already been selected several times before.
However, this is not the final form of the squad; they won't have another chance if they can't achieve something in this opportunity. Apart from what they have done in their teams in J. League matches, what I check is if they can play well in this squad or not. For the players who weren't selected this time, I want them to watch this up-coming match and think about what they could have done for this team to keep strong motivation to be selected next time.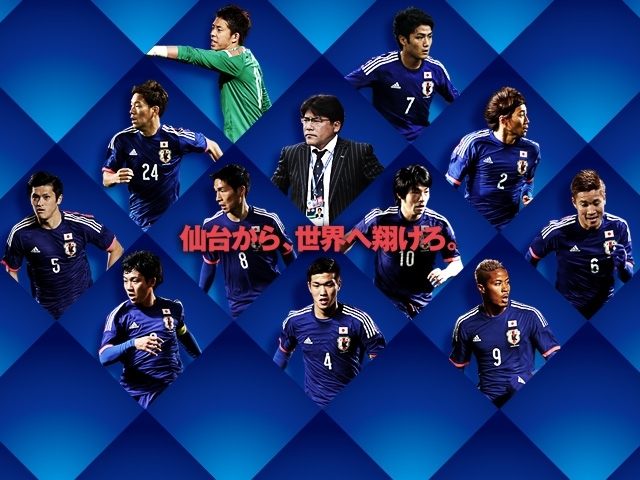 Schedule
Sun. 28 June


PM

Training

Mon. 29 June

PM

Training

Tue. 30 June

PM

Official Training (@Yurtec Stadium Sendai)

Wed. 1 July

19:00

International Friendly Match:
vs U-22 Costa Rica National Team (@Yurtec Stadium Sendai)
International Friendly Match
U-22 Japan National Team vs. U-22 Costa Rica National Team
2015-7-1 (Wed.) – 19:00
Yurtec Stadium Sendai, Miyagi
Ticket information (Japanese version only)
Match information