NEWS
U-22 Japan National Team begin training in Sendai ahead for Costa Rica clash (6/28)
29 June 2015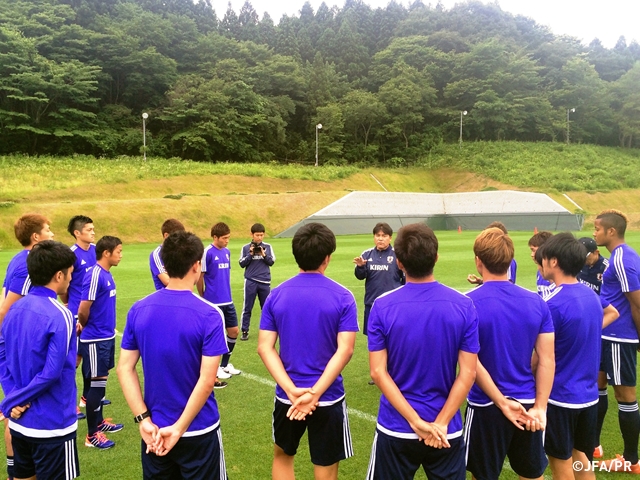 U-22 Japan National Team began their training camp on 28 June in Sendai ahead of an international friendly against U-22 Costa Rica National Team.
Fifteen of the J1 league U-22 players assembled at the training site on the day. In a drizzling rain, the players who had long playing time in the weekend's J.League went through recovery training such as jogging and stretching. The other players worked out for an hour with passing and controlling drills and interval running.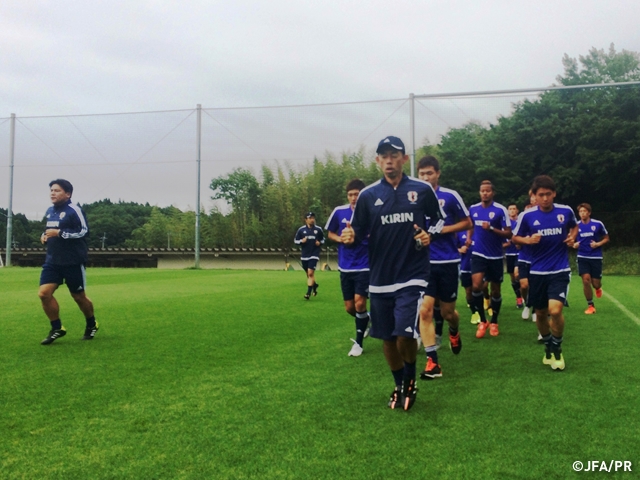 "Your age group is supposed to be playing at not only the Rio De Janeiro Olympics but also the FIFA World Cup Russia," sent head coach TEGURAMORI Makoto a powerful message to the players. The head coach's words seemed to remind the players of pride and responsibility as a Japanese international.
Three more players, after playing the J3 League with the J.League U-22 Selection squad, joined the team at the dinner time. With five more players, belonging to J2 teams, expected to join on 29th, the team are scheduled to have a training session starting from the evening.
Japan boss Teguramori visited the Meiji Yasuda J1 League 1st Stage Matchday 17 match between Vegalta Sendai and Nagoya Grampus at Yurtec Stadium Sendai and greeted during the halftime in front of fans. He said, "Please ignite the potential of the young national team and future Japanese football. You all, come and join our match!" Fans in the stadium gave applause to his speech.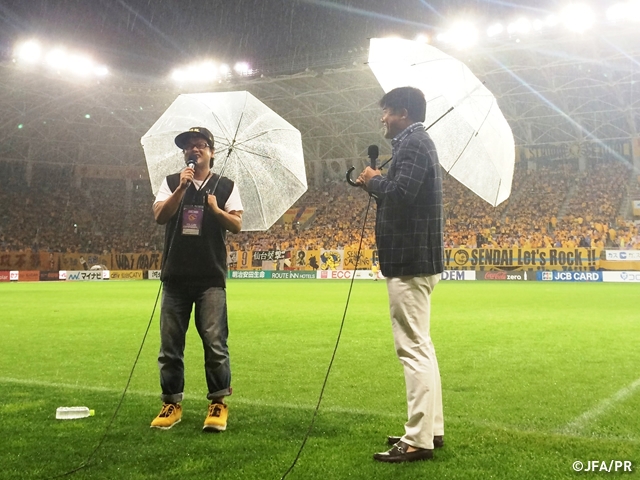 Head Coach and Players' Comments
TEGURAMORI Makoto, Head Coach of U-22 Japan National Team
I said to the players, "It's been a while since you played the first qualifying round in March, but I've watched how you performed, and I want you to show in this camp how you've grown."
Their age group is at the final stage of developing. The growth of this team may be connected to the future of the Japan national team and Japanese football. They are at such ages. I want fans to have hopes on this team's changes. The players may experience various things while growing. But their age group is expected to experience such things to grow more.
We will go out for the Costa Rica match to show a game that indicates the potential of U-22s for the Rio Olympics. The young players must show their best performance if they carry a hope. I'd like you all to put your hopes and give support to us.
MF #3 ENDO Wataru (Shonan Bellmare)
I played my club's match for 90 minutes, but I've been in great form this season and didn't have any problem working on today's training. I've already refreshed my mindset to battle as a Japanese international. The upcoming match is going to be important ahead of the final qualifiers next January. It's just a short period of time, but we will keep up our work during the camp.
In the Costa Rica match, we will display hard-working at both ends of the pitch and try to defend together and attack together, which our head coach Teguramori is aiming at. Additionally, we will try to improve the quality of our attacking options like how to break through defence while moving the ball and counterattacks we showed in the first round.
JFA-TV (Japanese version only)
Interview - TEGURAMORI Makoto, Head Coach

Interview - ENDO Wataru (Shonan Bellmare)
International Friendly Match
U-22 Japan National Team vs. U-22 Costa Rica National Team
2015-7-1 (Wed.) – 19:00
Yurtec Stadium Sendai, Miyagi
Ticket information (Japanese version only)
Match information