NEWS
U-22 Japan Singapore trip report (12 Feb)
13 February 2015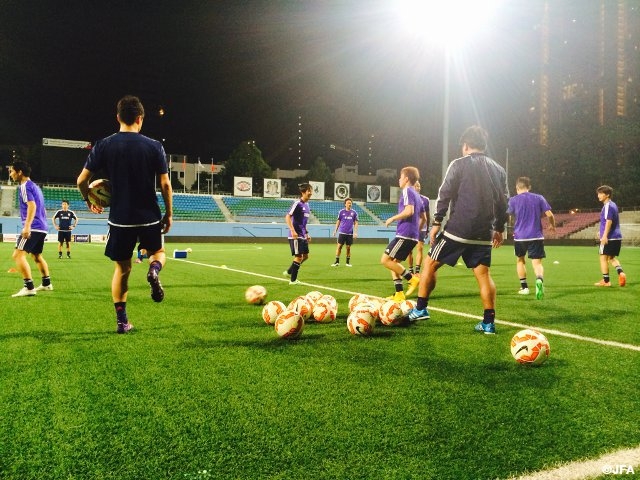 U-22 Japan national team started their Singapore trip.
In the evening of 11th, head coach Teguramori spoke to the players assembled in Tokyo and told them to keep the same objective as when they went to Thailand and Bangladesh in December, "acclimatising to the heat." They departed Haneda Airport for Singapore in the morning of 12th. The team had had some troubles with their trip such as equipment malfunction in their past trips, but this time they arrived at the destination as scheduled without any trouble. Soon after arriving in Singapore, the squad went through their first workout at Jalan Besar Stadium, where their match will be held. Under the environment with somewhat high humidity but not high temperature, they worked out for an hour mainly on aerobic training to achieve their objective "acclimatising the heat."
The squad will have a two-a-day practice in the morning and afternoon on 13th and aim to continue having productive training sessions.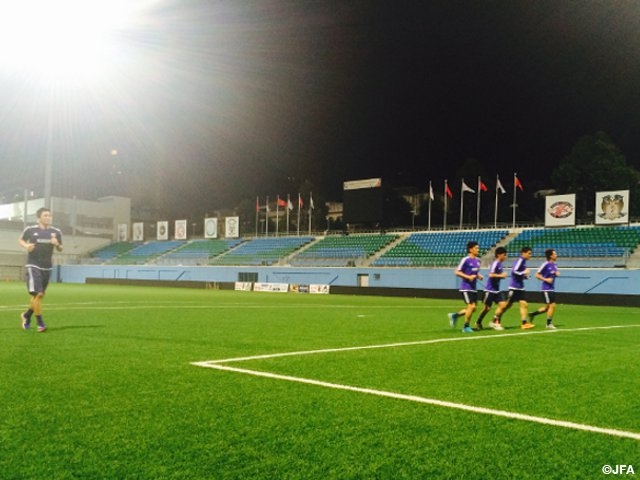 Head Coach and Players Comments
TEGURAMORI Makoto, Head Coach
In this trip, we aim at "acclimatising to the heat" in preparation for the 2016 AFC U-23 Championship qualifiers next month. In the same situation as March qualifiers where the players move from a cold place to a heated place, I want the players to figure out how their body reacts. And I also want to see how well each player can perform in the current condition in the midst of enhancing the fitness at their team ahead of J.League season's opening. But if someone gets injured, we get nothing out of it, so I want them to show their motivation without putting too much pressure on themselves.
I told the players two things. I said we are in the situation where the 2016 AFC U-23 Championship qualifiers are coming up soon, and they also serve as the Olympic qualifiers. All the activities here are for the Olympics. I also told them to go out and play with determination that we cannot lose any match until we get a medal.
UEDA Naomichi(Kashima Antlers)
I was selected for the AFC Asian Cup squad in January, and I learned lots of things and got lots of inspiration out of the spell there. I will keep them in mind at my club and the U-22 team and take advantage of them to develop myself.
One of the purposes of this trip is to check up the team condition ahead of the 2016 AFC U-23 Championship qualifiers, so I will try to bring out my best. And I will try to win the competition within the team to play the qualifiers.
NIEKAWA Ayumi(Jubilo Iwata)
In this trip, I will try to adapt my physical condition to the same South East Asian environment as Malaysia where the 2016 AFC U-23 Championship qualifiers take place. And we will definitely win the match against U-23 Singapore on 14th. Japan are supposed to be at the top group in Asia, and we are obligated to get through the Olympic qualifiers. To achieve that, I want to make this trip productive.
NARA Tatsuki(FC Tokyo)
Looking ahead to the qualifiers next month, I want to think about how we can adapt to the heat and environment during this trip not only as a team but also as an individual. I moved to a new club this year. I'm spending everyday with a sense of tense under intensive competition and I'm in good shape. The qualifiers are not a goal but just a way to the higher objective, so we will win the match, showing how better a team we are.
MATSUBARA Ken(Albirex Niigata)
During this trip simulating the qualifiers, I want to get used to not only the climate but the South East Asian environment. I see the Olympics is positioned as a bit different tournament compared to other ones at the youth category. It is a compilation of the international championships of the youth generation. So for such an occasion, I will work hard on this trip to show my strengths like hard-running and precise cross balls in offence and lead the team as the oldest player in this team.
SUZUKI Musashi(Albirex Niigata)
I pushed myself pretty hard in my club's camp, so I'm joining this trip in very fulfilling condition. In the match against Singapore, we will intensify what we've built up as much as possible as a team. The qualifying matches are going to take place every two days, which will be very tough, but we will display what we've done as a team and personally I will show my strengths like speed and dynamic plays and definitely score goals.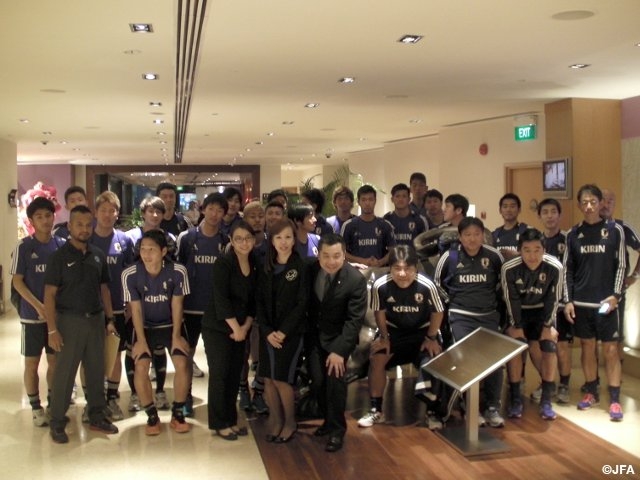 Schedule
Thu. 12 February
PM
Training
Fri. 13 February
AM/PM
Training
Sat. 14 February
18:00
International Friendly Match vs.U-23 Singapore National Team
(@Jalan Besar Stadium)
※Local Time
TV Coverage
International Friendly Match "U-22 Japan National Team vs. U-23 Singapore National Team" will be live broadcasted as follows.
Date: Sat. 14 February 2015 18:50-21:30 *Japan Time
Channel: BS Skyperfect! (BS 241/CS 585)
International Friendly Match
Wed.11 March 2015 Kickoff 19:10
vs U-22 Myanmar National Team
Fukuda Denshi Arena/Chiba
Tickets on sale!
More information(Japanese version only)