NEWS
U-21 Japan National Team wins over UAE to advance to the final of the 18th Asian Games 2018 Jakarta Palembang
30 August 2018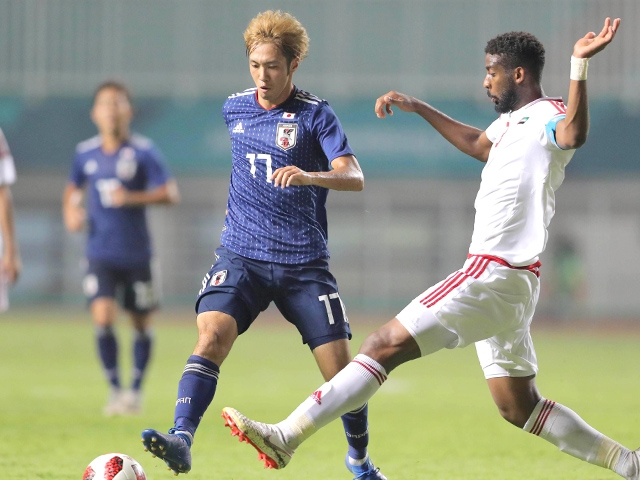 On Wednesday 29 August, the U-21 Japan National Team faced the U-23 UAE National Team at the semi-final match of the 18th Asian Games 2018 Jakarta Palembang, where they won the match 1-0 to secure their spot into the final.
As a result, Japan will now face the U-23 Korea Republic National Team in the final on Saturday 1 September.
Coach MORIYASU Hajime rotated four players from their starting line-up at the quarterfinals, as HARA Teruki was positioned in the defence line, KAMIYA Yuta in the midfield, while ENDO Keita and HATSUSE Ryo were placed in the flanks. In this match goalkeeper KOJIMA Ryosuke was named as the team captain.
From the beginning of the match, the U-21 Japan National Team showcased an aggressive approach. In the sixth minute, TATSUTA Yugo delivered a long ball from the defence line to HATATE Reo, who passed the ball to allow Endo to strike a shot from the left side. His shot was deflected off, but Maeda quickly responded to the loose ball and dropped the ball to IWASAKI Yuto, who fired a shot. Despite creating numbers of opportunities in the early minutes, Japan gradually lost their momentum as they made numbers of mistakes to allow the opponents to pick up their rhythm. However, in the closing minutes of the first half, Japan were seen creating some opportunities to seek for their first goal. In the 36th minute, after collecting a cleared ball from the opposing end, Endo delivered a through ball in between the defence line and the goalkeeper, and Maeda made a diving effort to convert this chance but came short from finding the net. In the 41st minute, Iwasaki reacted to a cut back towards the centre to strike a shot, giving Maeda a chance to follow up on the loose ball, but his shot couldn't capture the target.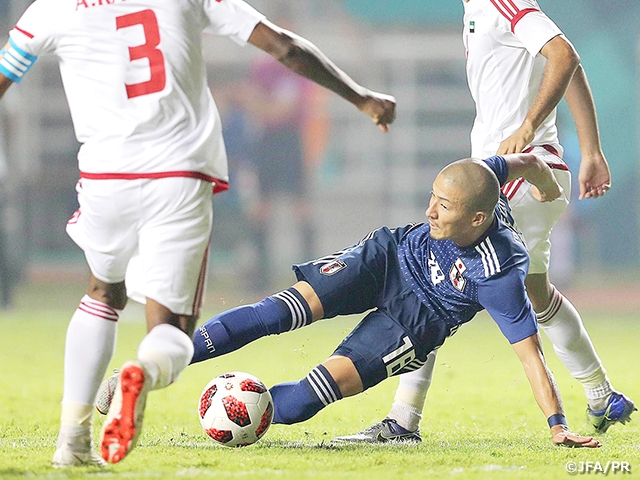 With both sides struggling to score a goal, the match entered the second half scoreless. The UAE side anticipated to initiate their fast breaks as they collected the loose ball and launched vertical passes but failed to threaten the Japanese goal. Even when they get an opportunity to take shots at the goal, The Japanese Captain Kojima was there to make the save. In efforts to break this deadlock, Japan brought in UEDA Ayase on to the pitch for Hatate in the 64th minute. A minute later, Ueda created a crucial opportunity as he shielded off the opposing defenders to deliver an excellent through ball to set up a golden chance for Maeda, but his shot went just wide of the UAE goal. Despite their struggles to find the net, Japan displayed great focus and composure. The anticipating moment finally arrived in the 78th minute, when WATANABE Kouta made sliding effort to force a turnover deep in the UAE territory. Once he gained possession of the ball, he delivered a quick pass, as he later reflected, "I just saw a blue jersey." The ball landed right on target to Ueda who was anticipating for his opportunity, as he fired a shot that struck the crossbar before landing inside of the goal.
Japan kept their concentration to sustain their lead and clinched the final for the second time in three attempts, setting up a showdown against the Korea Republic side who has won against Vietnam 3-1 on this day.
The final will kick-off at 18:30 local time (20:30 Japan time) on Saturday 1 September.
Coach and Players' Comments
MORIYASU Hajime, Coach (U-21 Japan National Team)
Even under such tough match, the players showcased great efforts to fight through. We struggled to score, but the players kept their focus and played with composure to keep a clean sheet. (Regarding the goal scene) Our persistence prevailed as we anticipated to force turnovers when the ball was in motion. We have strived to win every match, as we have set our goal to play the maximum seven matches. It is clear that Korea Republic is a very strong team. There is no doubt that the match will be a tough one, but I hope our players will play up to their full potential to make it a great match.
MF #6 HATSUSE Ryo (Gamba Osaka)
After fighting though multiple matches, I knew there were players that were much more tired than I am, so I wanted to stay vocal to cheer up my teammates. It means a lot for us that we managed to win the match while rotating our line-ups and the fact that our late substitute, Ueda scored the goal for us. It was also good that we kept on encouraging each other even after we scored the goal. Every player was very vocal during halftime as we all shared our opinions and that gave us a strong sense of unity. We just have to keep on going from here. In our match against Korea Republic, I will be squaring off against Hwang Ui-jo (Gamba Osaka) and I am looking forward for the match. I hope we can take home the gold medal.
MF #16 WATANABE Kouta (Tokyo Verdy)
It was a difficult match, but we managed to keep communicating with each other and kept our focus until the very end to earn a victory with a total team effort. Our coach has told us to stay aggressive to win the balls, and when we scored the first goal, I managed to win the ball in my first attempt. Once I got up, I just saw a blue jersey, so I squared up my pass towards that direction. Ueda did a great job to score that goal. Korea Republic has many talented players and I was looking forward to facing them even before the tournament. I don't know how much we can cope with them, but I am very excited for the final.
FW #15 UEDA Ayase (Hosei University)
(Regarding the goal scene) 80% of the credit goes to Watanabe, because I just had to finish it up. While my job is to score goals, it was important for me to stay calm despite that long drought of goals the team was facing. Regardless of who we face in the final, I will stick with my own play style. The Korea Republic has utilised their over-age members and they are seriously going after the title. But we will also enter the match with the full intention to win the match.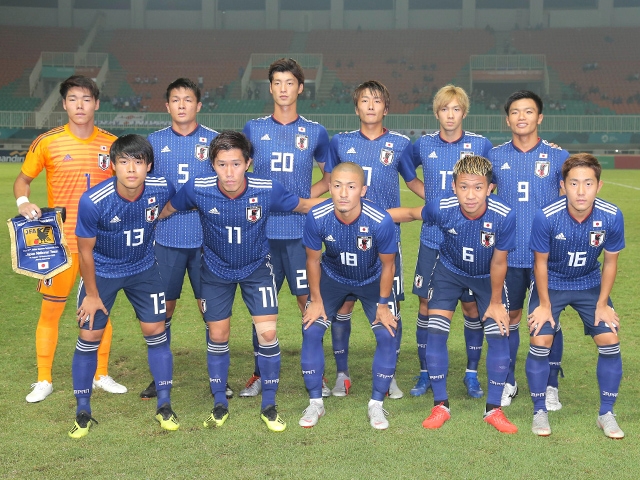 Schedule
The 18th Asian Games 2018 Jakarta Palembang
Tue. 14 August
1-0

1st Match vs Nepal
(Cikarang/Wibawa Mukti Stadium)
Wed. 15 August
-
Training
Thu. 16 August
4-0
2nd Match vs Pakistan
(Cikarang/Wibawa Mukti Stadium)
Fri. 17 August
-
Training
Sat. 18 August
-
Training
Sun. 19 August
0-1
3rd Match vs Vietnam
(Cikarang/Wibawa Mukti Stadium)
Mon. 20 August
-
Training
Tue. 21 August
-
Training
Wed. 22 August
-
Training
Thu. 23 August
-
Training
Fri. 24 August
1-0
Round of 16 vs Malaysia
(Bekasi/Patriot Stadium)
Sat. 25 August
-
Training
Sun. 26 August
-
Training
Mon. 27 August
2-1

Quarterfinal vs Saudi Arabia
(Cibinong/Pakansari Stadium)
Tue. 28 August
-
Training
Wed. 29 August
1-0
Semi-finals vs UAE
(Cibinong/Pakansari Stadium)
Thu. 30 August
-
Training
Fri. 31 August
-
Training
Sat. 1 September
18:30
(20:30)
Final vs Korea Republic
(Cibinong/Pakansari Stadium)
*Local Time
*The schedule is subject to change due to the team condition, the weather, etc.
The 18th Asian Games 2018 Jakarta Palembang
Tournament Dates: Sat. 18 August - Sun. 2 September 2018
【Men's】Final
Sat. 1 September 20:30 [Japan Time] vs U-23 Korea Republic National Team