NEWS
U-21 Japan National Team to play with a total team effort in Semi-final of the 18th Asian Games 2018 Jakarta Palembang
29 August 2018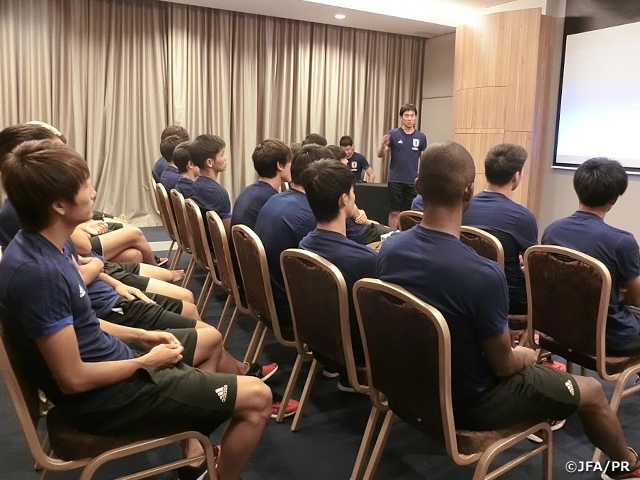 On Tuesday 28 August, the U-21 Japan National Team held a conditioning session ahead of their semi-final match against the U-23 UAE National Team scheduled on the following day.
Very few players appeared on the training ground on this day, including their goalkeeper OBI Powell Obinna, as majority of the team remained at their hotel to recover their bodies by stretching and spending time in ice-baths.
The semi-final match will be played with just one-day rest following their match against Saudi Arabia. If the team advances to the final, the next match will be played with a two-day rest. Despite the tough schedule, led by their Physical Coach MATSUMOTO Ryoichi, the team has been paying close attention to the players' conditions, as this tournament simulates the playing schedule of the Olympics, where the players will be playing with two-days rest while traveling between match venues.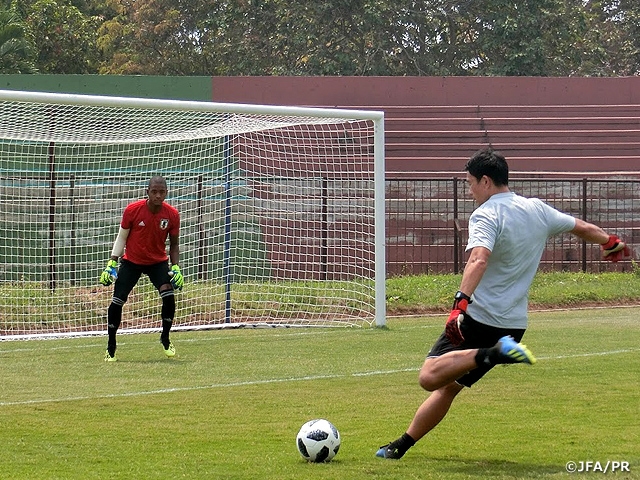 The team has also been attended by Mr. NAKAMURA Daisuke and Ms. NAKAMURA Mariko from the Japan Institute of Sports Sciences (JISS) who has been supporting the players by lecturing ways to deal with the heat and maintain their conditions. The data collected in this tournament will be analysed and utilised in the future competitions for the Japanese athletes.
With the players showing more and more eagerness to win the title, team captain MIYOSHI Koji who has been actively helping others to keep their motivations high mentioned, "Our confidence has grown with each game we've played. Our team has also shown more unity as we play together." The team spent their time celebrating UEDA Ayase's 20th birthday during supper time, creating a positive vibe throughout the team.
UAE has entered the round of 16 while finishing third in Group C and the team has won two straight matches in the knockout round in penalty kicks after forcing each of the matches into overtime. The semi-final match between the U-21 Japan National Team and the U-23 UAE National Team will kick-off at 19:30 local time (21:30 Japan time) on Wednesday 29 August.
Coach and Players' Comments
MORIYASU Hajime, Coach (U-21 Japan National Team)
We want our players to refresh their mind and body as much as possible within this short period of time, and we consider our meeting sessions to be equivalent to training. Our team has been able to show a collective effort as a team and I don't expect our starting line-up to decide the match. I know it could be frustrating for some of the players to be sat on the bench, but they are all preparing themselves to help the team in the best way they can. UAE has shown their persistency in their road up to the semi-finals. They will certainly take a defensive approach against us while anticipating for their chance to break through. They will present us with a tough challenge, so we must stay composed and find our ways to win the match.
MF #13 IWASAKI Yuto (Kyoto Sanga F.C.)
Our motivations are growing each day and each one of us has been showing great efforts in our matches. We have also shown great maturity in the mental aspect. We are facing a tough schedule, but we will fight through as a team.
FW #15 UEDA Ayase (Hosei University)
In our quarterfinal match, I was preparing myself on the bench, just like how I did in our match against Malaysia, as I sought for our opponents' weak points and ways to exploit them. It will require a total team effort to win matches from here on. Everyone's effort will be necessary, so we all must condition ourselves well and prepare in the best way possible ahead of the semi-final. I hope to utilise every experience I gain here to my future football career while we strive to win the title.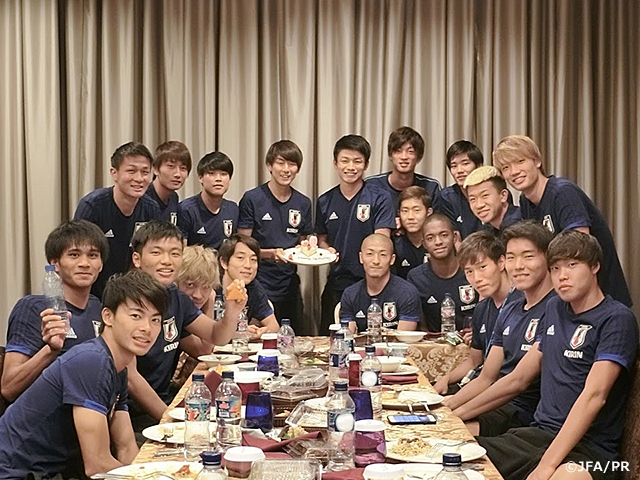 Schedule
The 18th Asian Games 2018 Jakarta Palembang
Tue. 14 August
1-0

1st Match vs Nepal
(Cikarang/Wibawa Mukti Stadium)
Wed. 15 August
-
Training
Thu. 16 August
4-0
2nd Match vs Pakistan
(Cikarang/Wibawa Mukti Stadium)
Fri. 17 August
-
Training
Sat. 18 August
-
Training
Sun. 19 August
0-1
3rd Match vs Vietnam
(Cikarang/Wibawa Mukti Stadium)
Mon. 20 August
-
Training
Tue. 21 August
-
Training
Wed. 22 August
-
Training
Thu. 23 August
-
Training
Fri. 24 August
1-0
Round of 16 vs Malaysia
(Bekasi/Patriot Stadium)
Sat. 25 August
-
Training
Sun. 26 August
-
Training
Mon. 27 August
2-1

Quarterfinal vs Saudi Arabia
(Cibinong/Pakansari Stadium)
Tue. 28 August
-
Training
Wed. 29 August
19:30
(21:30)
Semi-finals vs UAE
(Cibinong/Pakansari Stadium)
Thu. 30 August
-
Training
Fri. 31 August
-
Training
Sat. 1 September
15:00
18:30
3rd Place Match (Cibinong/Pakansari Stadium)
Final (Cibinong/Pakansari Stadium)
*Local Time
*The schedule is subject to change due to the team condition, the weather, etc.
The 18th Asian Games 2018 Jakarta Palembang
Tournament Dates: Sat. 18 August - Sun. 2 September 2018
【Men's】Semi-final
Wed. 29 August 21:30 [Japan Time] vs U-23 UAE National Team
Live broadcasting on NHK BS1