NEWS
U-21 Japan National Team holds official training session ahead of Quarter-final match at the 18th Asian Games 2018 Jakarta Palembang
27 August 2018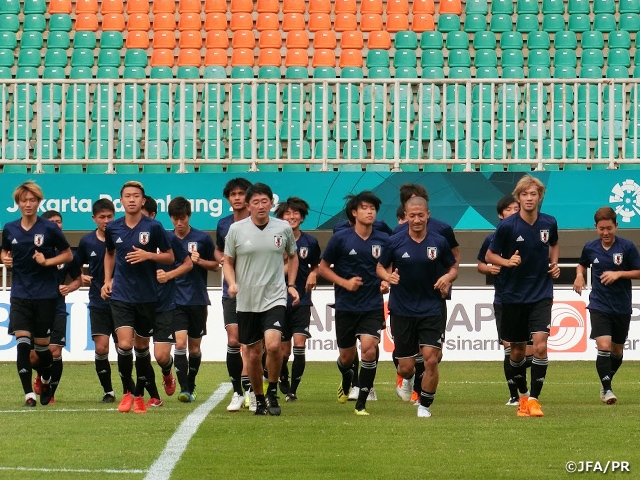 One day ahead of their quarterfinal match at the 18th Asian Games 2018 Jakarta Palembang, the U-21 Japan National Team held an official training session at the match venue, Pakansari Stadium, on Sunday 26 August. The session started at 16:00 and was conducted for an hour.
The team had just arrived in Bogor, which is located just south of Jakarta, on the day before. On this day, the team held a meeting before heading to the stadium. The first 15 minutes of the session was open to the media, as the team went on to go over their team tactics through scrimmage drills, then walking through set-plays to prepare for the match. The players seemed to be satisfied with the pitch condition as Coach MORIYASU Hajime also mentioned, "The environment is good enough for us to play to the fullest."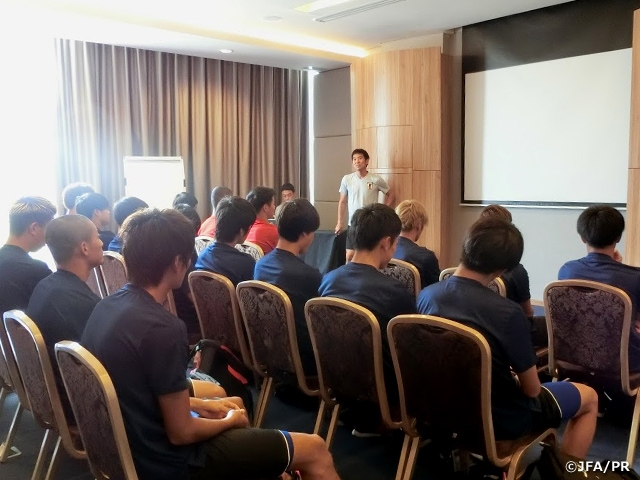 In the quarterfinals Japan will face Saudi Arabia, who also entered this tournament with their U-21 squad. They have won against the U-23 China PR National Team at the round of 16, propelled by their forward CAMARA Haroune Moussa's hat-trick, the team went onto win the match 4-3. Japan has faced Saudi Arabia at the final of the AFC U-19 Championship Bahrain 2016, where Japan took down their first title in penalty kicks. HATSUSE Ryo described their opponents, "Team with great driving force," while HARA Teruki mentioned, "I personally think that they are one of the best teams of this tournament. We must keep a clean sheet and win the match in 90 minutes, or maybe in overtime."
Japan has fought their first match of the tournament on 14 August, and the next match will be their fifth. If the team goes all the way, they will be playing seven matches in a 19-day span. The next match will be a crucial match for Japan who are striving to take down the title. As every match is directed towards the 2020 Tokyo Olympics.
The Asian Games' quarterfinal match against the U-21 Saudi Arabia National Team will be held on Monday 27 August with a kick-off time of 16:00 local time (18:00 Japan time).
Coach and Players' Comments
MORIYASU Hajime, Coach (U-21 Japan National Team)
The Saudi Arabia team consists with players with great individual skills and features great talents in offence. How we enter the match will be a critical aspect, and we must maintain our concentration level for the entire match. The players must stay on the same page while working hard to win the ball. We must keep a clean sheet in defence, while we create chances in offence. It will be ideal if we can score goals within the flow of our plays. Our players have shown great improvements over each match we have played thus far. I hope they can play to their full potential in our next match./p>
DF #20 TATSUTA Yugo (Shimizu S-Pulse)
If the defence can keep a clean sheet we will not lose, so we will do our best to contain our opponents and deny them from creating chances. There will be many types of players we don't normally see even at the J. League. But in order for us to strive forward, we must overcome our challenges at this stage, because we will certainly face even bigger challenges in the future. I hope to improve myself at this stage. I will give my very best to help my team by utilising my height advantage and winning the one-on-ones, so that we can shutout our opponents and win the match.
MF #11 ENDO Keita (Yokohama F・Marinos)
In the match against Malaysia at the round of 16, we saw our team carrying the ball upfront more often and even though our goal was threatened a few times, we created many goal scoring opportunities. We also showed improvement on what we worked during our training session such as our build-ups, risk management, and the fifty-fifty situations. Saudi Arabia is an intelligent team with great speed, and they are very difficult to play against. At the AFC U-19 Championship, our team was forced to play defence for a long portion of the match, and it left an impression that we defended our way into penalty kicks to win the match. However, this time we have shown great improvements since our match against Vietnam. In order for us to make a deep run in this tournament, Saudi Arabia is a team we must face sooner or later, so we will give our best to win the match.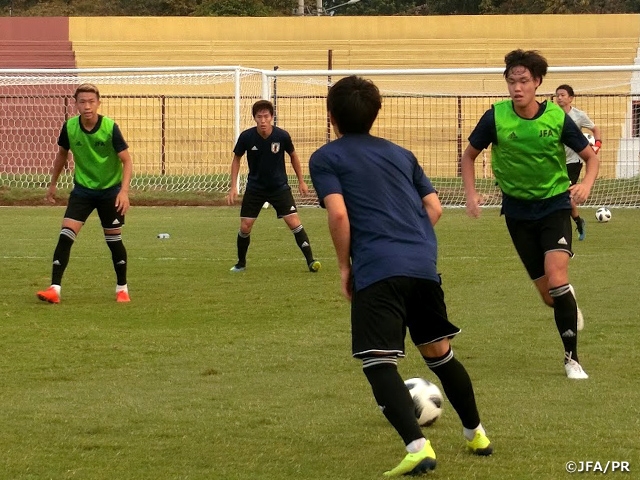 Schedule
The 18th Asian Games 2018 Jakarta Palembang
Tue. 14 August
1-0

1st Match vs Nepal
(Cikarang/Wibawa Mukti Stadium)
Wed. 15 August
-
Training
Thu. 16 August
4-0
2nd Match vs Pakistan
(Cikarang/Wibawa Mukti Stadium)
Fri. 17 August
-
Training
Sat. 18 August
-
Training
Sun. 19 August
0-1
3rd Match vs Vietnam
(Cikarang/Wibawa Mukti Stadium)
Mon. 20 August
-
Training
Tue. 21 August
-
Training
Wed. 22 August
-
Training
Thu. 23 August
-
Training
Fri. 24 August
1-0
Round of 16 vs Malaysia
(Bekasi/Patriot Stadium)
Sat. 25 August
-
Training
Sun. 26 August
-
Training
Mon. 27 August
16:00
(18:00)

Quarterfinal vs Saudi Arabia
(Cibinong/Pakansari Stadium)
Tue. 28 August
-
Training
Wed. 29 August
16:00 or 19:30
Semi-finals (Cibinong/Pakansari Stadium)
Thu. 30 August
-
Training
Fri. 31 August
-
Training
Sat. 1 September
15:00
18:30
3rd Place Match (Cibinong/Pakansari Stadium)
Final (Cibinong/Pakansari Stadium)
*Local Time
*The schedule is subject to change due to the team condition, the weather, etc.
The 18th Asian Games 2018 Jakarta Palembang
Tournament Dates: Sat. 18 August - Sun. 2 September 2018
【Men's】Quarterfinal
Mon. 27 August 18:00 [Japan Time] vs U-21 Saudi Arabia National Team
Live broadcasting on NHK BS1