NEWS
U-21 Japan National Team advances to Quarter final with 1-0 victory at the 18th Asian Games 2018 Jakarta Palembang
25 August 2018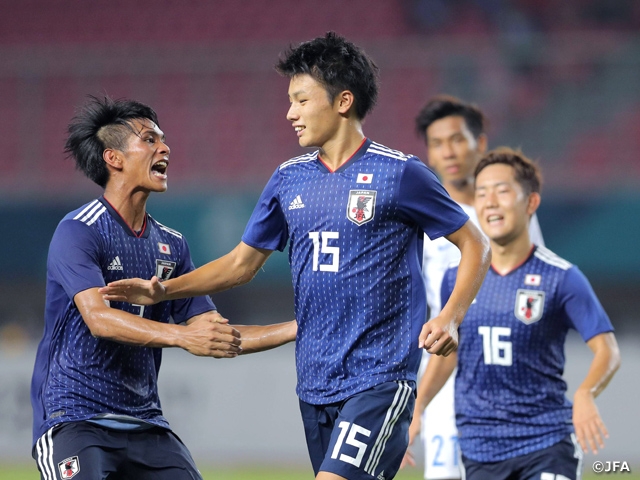 On Friday 24 August, the U-21 Japan National Team advanced to the quarterfinals of the 18th Asian Games, after winning their round of 16 match against the U-23 Malaysia National Team at Bekasi, Indonesia. UEDA Ayase's goal in the closing minutes of the match was the deciding goal that sent Japan into the next round, where they will meet Saudi Arabia, who has beaten China PR on this day, on Monday 27 August.
Four days after their final group stage match, Japan entered the match against Malaysia with KOJIMA Ryosuke in goal, along with HARA Teruki, TATSUTA Yugo, and ITAKURA Kou forming a three-man defence line. WATANABE Kouta and MATSUMOTO Taishi were named as the defensive midfielders, while NAGANUMA Yoichi and SUGIOKA Daiki were positioned in the flanks. MAEDA Daizen was named as the lone striker, with IWASAKI Yuto and HATATE Reo placed right beneath him.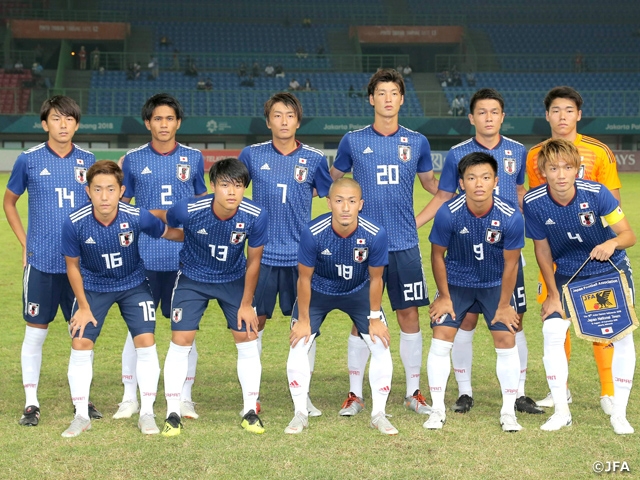 Learning their lessons from the match against Vietnam, Japan came out applying aggressive pressure from the beginning of the match, as they sought for opportunities while keeping possession of the ball. In the sixth minute, Naganuma delivered a long ball to Iwasaki, who broke through the open space, but was denied before taking a shot. Two minutes later, Tatsuta sent a through ball to Hatate, who combined with Sugioka at the left flank, before sending the last pass to allow Iwasaki to fire a shot from the inside of the box, but his shot sailed over the crossbar. Malaysia fought back in the 12th minute, when they threaded a pass into the space behind the Japanese defence line, and struck a shot, but their effort went well off the target. Japan kept on the pressure as Hatate delivered a pass to Maeda, who launched a shot in the 31st minute, but came short from scoring the opening goal. Despite creating numerous opportunities, Japan lacked quality in the final third, as they finished the first half scoreless.
While Japan continued to struggle to convert their chances in the second half, Malaysia came out threatening the Japanese goal with their counter attacks, as they created consecutive goal scoring opportunities in the 57th and 58th minute. After evading the threats to their goal, Japan started to exploit the space between the opposing goalkeeper and the defence line. In the 73rd minute, a ball was delivered to the centre where Maeda held off the defenders to dish the ball to Sugioka, allowing him to fire a shot, but the shot was denied by the goalkeeper. In efforts to break the deadlock, Japan brought in Ueda for Maeda in the 76th minute. With both sides lacking quality in the final third to convert their opportunities, Matsumoto delivered a long feed to the open space behind the opposing defenders, allowing the second half substitute, Ueda to chase the ball. This run made by Ueda induced a foul from the Malaysian defender inside of the penalty box, giving Japan a golden opportunity in the 90th minute. Ueda calmly converted this spot kick to give Japan the long-awaited goal. With their back behind the wall, Malaysia attacked fiercely during additional time, but as Iwasaki later reflected, "Our defence performed solid throughout the match," Japan held onto their one-goal lead to advance to the quarterfinals, despite conceding a total of 12 shots from the opposing side.
On this day, three other matches of the round of 16 took place as Saudi Arabia, UAE, and DPR Korea advanced to the quarterfinals. As a result, the U-21 Japan National Team will square off with the U-21 Saudi Arabia National Team at Pakansari Stadium on Monday 27 August with a kick-off time of 16:00 local time.
Coach and Players' Comments
MORIYASU Hajime, Coach (U-21 Japan National Team)
Despite creating many opportunities, we failed to convert our chances and the match could have gone either way. But the players displayed their strong determination to win through to the next round, while showing signs of improvements from the three group stage matches. The players made clear adjustments to their approach to win the fifty-fifty balls, after being overwhelmed by Vietnam in the previous match. However, as we move forward in this tournament, we must heighten our overall quality, as well as our decision makings both as a team and as an individual.
DF #4 ITAKURA Kou (Vegalta Sendai)
We entered the match with an emphasis to manage the risks by actively communicating among the defensive end. Despite our struggles to score a goal, we managed to advance through while keeping a clean sheet, so that was a good thing. It would have been better if we could have scored in the earlier minutes of the match, but we just have to reset our minds ahead of the next match. The next match against Saudi Arabia will certainly be a tough match for us, but for now, I am just glad we can play another match. We will stay focused and prepare well ahead of our next match.
DF #7 HARA Teruki (Albirex Niigata)
We entered the match poorly against Vietnam, so we focused on keeping a high intensity from the start of this match. It would have been better if we scored earlier, as we struggled to badly to find our first goal. Although we managed to catch our opponents off guard and capitalised on the opportunity, there were many scenes where we almost conceded a goal, so we must do a better job in defence. We knew entering this tournament that the competition in Asia was going to be tough, but there are many things we can only learn from being and playing on the pitch. It is a tough tournament, but we can learn so many from it. We hope to play as many matches as possible to keep improving ourselves.
FW #15 UEDA Ayase (Hosei University)
I was watching the match from the bench, thinking of what I must do if I enter the match as a substitute. It was such a tough match and both teams were getting extended over the field, so I focused on making those extra runs for my teammates and sought for ways to score a goal. In the group stage, I was given multiple opportunities to score goals, but failed to convert those chances, so I am glad I managed to score a goal, regardless of it being off a penalty kick. I am here to take something back to improve myself. Advancing to the quarterfinals means that we get another opportunity to learn something, so I am happy for that.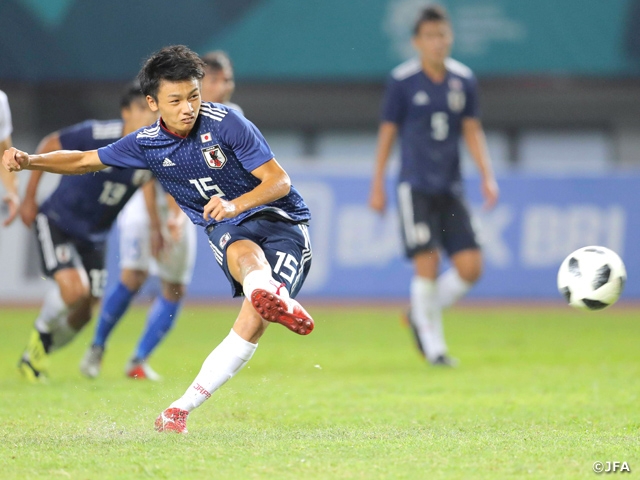 Schedule
The 18th Asian Games 2018 Jakarta Palembang
Tue. 14 August
1-0

1st Match vs Nepal
(Cikarang/Wibawa Mukti Stadium)
Wed. 15 August
-
Training
Thu. 16 August
4-0
2nd Match vs Pakistan
(Cikarang/Wibawa Mukti Stadium)
Fri. 17 August
-
Training
Sat. 18 August
-
Training
Sun. 19 August
0-1
3rd Match vs Vietnam
(Cikarang/Wibawa Mukti Stadium)
Mon. 20 August
-
Training
Tue. 21 August
-
Training
Wed. 22 August
-
Training
Thu. 23 August
-
Training
Fri. 24 August
1-0
Round of 16 vs Malaysia
(Bekasi/Patriot Stadium)
Sat. 25 August
-
Training
Sun. 26 August
-
Training
Mon. 27 August
16:00
(18:00)

Quarterfinal vs Saudi Arabia
(Cibinong/Pakansari Stadium)
Tue. 28 August
-
Training
Wed. 29 August
16:00 or 19:30
Semi-finals (Cibinong/Pakansari Stadium)
Thu. 30 August
-
Training
Fri. 31 August
-
Training
Sat. 1 September
15:00
18:30
3rd Place Match (Cibinong/Pakansari Stadium)
Final (Cibinong/Pakansari Stadium)
*Local Time
*The schedule is subject to change due to the team condition, the weather, etc.
The 18th Asian Games 2018 Jakarta Palembang
Tournament Dates: Sat. 18 August - Sun. 2 September 2018
【Men's】Quarterfinal
Mon. 27 August 18:00 [Japan Time] vs U-21 Saudi Arabia National Team