NEWS
U-18 Japan National Team earns two consecutive wins by beating Portugal during their Portugal tour
17 June 2018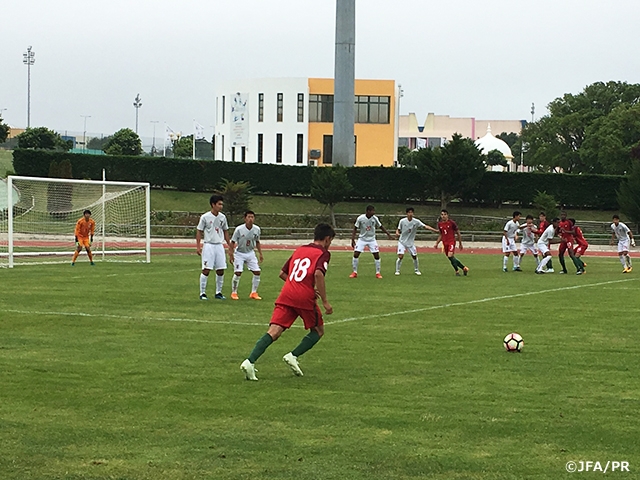 The 24th Lisbon International U18 Tournament 2nd Match vs U-18 Portugal
Fri. 15 June 2018 16:00 90mins (45mins x2)
Municipal Sports Park/Mafra, Portugal
U-18 Japan National Team 1-0 (1-0, 0-0) U-18 Portugal National Team
Scores
87' SAKURAGAWA Solomon (U-18 Japan National Team)
Starting Line-ups
GK: UMEDA Togo
DF: NAKAMURA Takumi, MIKUNI Kenedeiebusu, NAKAMURA Toya, HIGASHI Shunki
MF: KOZUKI Soichiro, HIRAKAWA Rei, YAMAMOTO Rihito, SUZUKI Toichi
FW: MIYASHIRO Taisei, SAKURAGAWA Solomon
Reserves
GK: ISHII Ryo
DF: YOSHINAGA Shoi, YOSHIMURA Hitoshi
MF: TSUBAKI Naoki, MIZUNO Yuta, Appelkamp Shinta Karl, KIDA Hinata
FW: YAMADA Hiroto, SAITO Koki
Substitutions
66' MIYASHIRO Taisei → SAITO Koki
72' SUZUKI Toichi → MIZUNO Yuta
72' YAMAMOTO Rihito → KIDA Hinata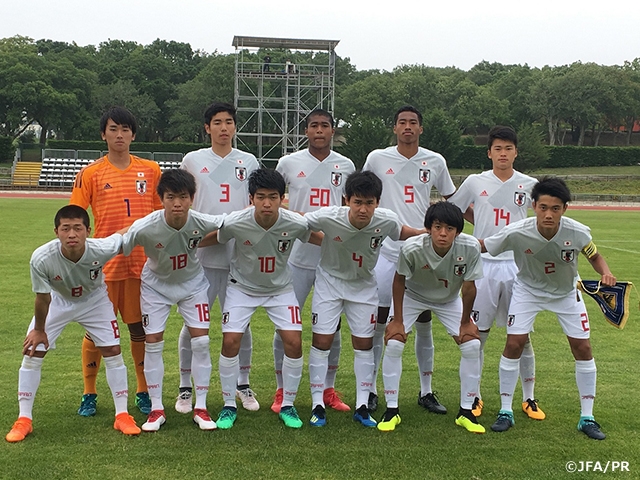 Match Report
On the second day of the 24th Lisbon International U18 Tournament, U-18 Japan National Team played against U-18 Portugal National Team and earned their second consecutive win by winning 1-0.
Japan faced Portugal last year and was beaten 1-3. One age category above them, the U-19 Portugal National Team will play in the UEFA European Under-19 Championship which will serve as the qualifies for the FIFA U-20 World Cup Poland 2019. That same team also played in the 46th Toulon International Tournament 2018 and played against U-21 Japan National Team which they lost the match 2-3 despite their dominance in the match, displaying their presence as one of the top teams in Europe.
Japan kept their focus from their warm-up session before the match the European powerhouse. Both teams had won their first match and winning this second match meant that they will be one step closer to the title, incentivising both teams to play aggressively from the beginning. Portugal initiated their attacks from quick vertical passes, utilising their speed to attack the flanks and sent in many cross balls towards the centre. Japan countered them by showcasing an even faster transition than they displayed in their first match, playing persistent defence against a team with superior physical abilities.
Japanese defenders were well concentrated and managed to compete in equal terms against Portugal in height, speed, and patience. They also kept their game simple to managed risks. Due to strong wind, they had to be patient in offense, but they created a chance at the end of the first half when the Portuguese side showed signs of exhaustion from the persistent defence shown by their opponents. The Japanese side built their rhythm through their approach to move into the space left by the opponents, which they have worked on in their training sessions. In the 41st minute, midfielder SUZUKI Toichi delivered a pass towards the centre which was redirected by MIYASHIRO Taisei. SAKURAGAWA Solomon was there to chase the ball, but was called off-sides. Despite their efforts, the first half ended scoreless.
The second half saw Portugal coming out attacking aggressively in efforts to score the opening goal, but Japan responded with poise, exchanging quick passes while the players in the flanks created opportunities. In the 50th minute, defender NAKAMURA Toya delivered an superb cross from the right side, but failed to reach the players in the centre. In the 56th minute, this time, HIGASHI Shunki delivered a fast driven cross from the left side, but once again came short from scoring the opener. While Japan missed out on their consecutive opportunities, the Portuguese side brought in multiple substitutes to take over the match.
In the 57th minute, Portugal forward penetrated the right side before launching a powerful shot from distance, forcing Japanese goalkeeper UMEDA Togo to parry the ball. Japan made a critical error in the 77th minute, giving away a goal scoring opportunity for Portugal, when they lost possession of the ball in their defence line. Umeda was beaten and a shot was taken towards the open goal, but KIDA Hinata came to the rescue to clear the ball. In the 87th minute, the match saw another turn of an event when Sakuragawa dished the ball to the left side. Forward SAITO Koki drew in the defenders before sending a pin-point cross towards the centre, allowing Sakuragawa to score off a powerful header, giving Japan their long awaited goal. In the closing minutes of the match, Saito came close to scoring Japan's second goal, but his effort went off target. Japan went onto utilise the remaining time effectively, while denying the Portuguese attacks, marking their second consecutive win in a dramatic fashion, with their 1-0 win over Portugal.
Japan will now face U-18 Norway National Team who drew 1-1 against U-18 Australian National Team today.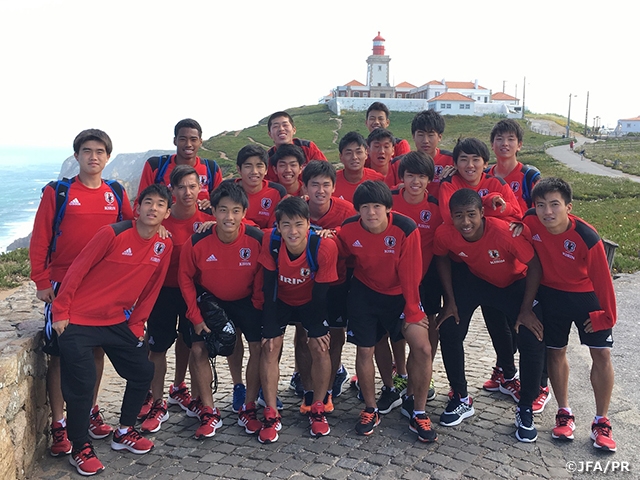 Players' Comments
GK #1 UMEDA Togo (Shimizu S-Pulse Youth)
I haven't been called up to the national team since the FIFA U-17 World Cup India 2017, so I am very happy to be here. I will do my best to be called up in future events as well. This is my first time playing for a national team under Coach KAGEYAMA Masanaga, so I had to really hang in there to get used to everything. The training sessions were held under a good atmosphere where the players kept their intentions toward the match. Portugal had many players with great individual abilities, and our goal was threatened many times, but our eagerness to win the match led us to victory. However, I personally made a critical mistake and my teammates bailed me out from the potential goal conceding situation, so I must not make such mistakes anymore. I also must think of what I can do in matches with high intensity like the ones in the FIFA U-17 World Cup. I will continue to train hard to be able to keep a clean sheet in those types of matches. We will prepare ourselves well ahead of the final match and work hard as a team to earn the win. We want to stay eager until the very end to earn good results.
DF #2 HIGASHI Shunki (Sanfrecce Hiroshima Youth)
I am honoured to be selected into the national team since getting called up for the U-19 Indonesia tour. I am also very happy to be given the opportunity to play against foreign powerhouses. We managed to win our first match and gain great experience both as a team and as an individual. Being named as the team captain in today's match, it gave me a stronger sense of responsibility, and I am glad we were able to pull off a win against a strong team like Portugal. Compared to our first match, we created more opportunities from crosses with higher frequency and quality, but we lacked quality in finishing those chances. In our final match, I would like to display my strength and assist more plays to earn a victory for the team, before heading back to Japan.
DF #5 MIKUNI Kenedeiebusu (Aomori Yamada High School)
During my stint with the U-15 and U-16 Japan National Team, I was selected as a forward by Coach MORIYAMA Yoshiro, but this time I was assessed as a centre half, and I am very proud to be named in the U-18 squad for the first time. It's been a week since the Portugal tour started, and the team has been training with such great vibe, and our 1-0 win over Portugal today gave us great confidence. Our first match against Czech Republic was not bad neither, but we were given detailed advices from Coach AKIBA Tadahiro on how to improve our plays while going over the films. Entering today's match, we kept in mind what we had to improve from our first match, but I made a bad decision that could have cost the team a goal towards the end of the match, so I must have a stronger sense of responsibility playing as the centre half. I think our defence played well together for the entire 90 minutes. Through this tour, we are given the opportunity to play against strong teams around the world and get a feel of the World standards in first hand. We would like to play more vigorously to shut out the opponents under such settings. In our final match against Norway, we will keep a clean sheet and win the match to take home the title back to Japan.
FW #20 SAKURAGAWA Solomon (Jef United Ichihara Chiba U-18)
First of all, I am thankful for being called up to the national team. To be honest, I was very surprised to be selected, but I will like to utilise this experience to grow as a player. In our training sessions, I was shocked to see passes coming from directions where I normally don't expect from, while the pass accuracy and speed were also at a higher level than I'm used to seeing. I was overwhelmed by the overall quality but at the same time I enjoyed playing football more than ever before. In today's match, I couldn't accomplish much for the most part, but as a forward I am glad that I managed to score the deciding goal for the team. I will continue to learn from my teammates and opponents to get better. In this tournament, my team goal is to win all three matches and my personal goal is to be the top scorer. I will continue to do my best to contribute for the team's victory.
Schedule
Sun. 10 June
PM
Training
Mon. 11 June
AM/PM
Training
Tue. 12 June
AM/PM
Training
The 24th Lisbon International U18 Tournament
Wed. 13 June
1-0
1st Match vs U-18 Czech Republic (Municipal Sports Park)
Thu. 14 June
AM
Training
Fri. 15 June
1-0
2nd Match vs U-18 Portugal (Municipal Sports Park)
Sat. 16 June
AM
Training
Sun. 17 June
11:00
3rd Match vs U-18 Norway (National Stadium)
*Local Time
*The schedule is subject to change due to the team condition, the weather, etc.
The 24th Lisbon International U18 Tournament
Dates: Sat. 9 June - Tue. 19 June 2018
Venue: Municipal Sports Park, National Stadium/Portugal
Tournament Information