NEWS
U-18 Japan National Team wins first match of their Portugal tour - the 24th Lisbon International U18 Tournament
14 June 2018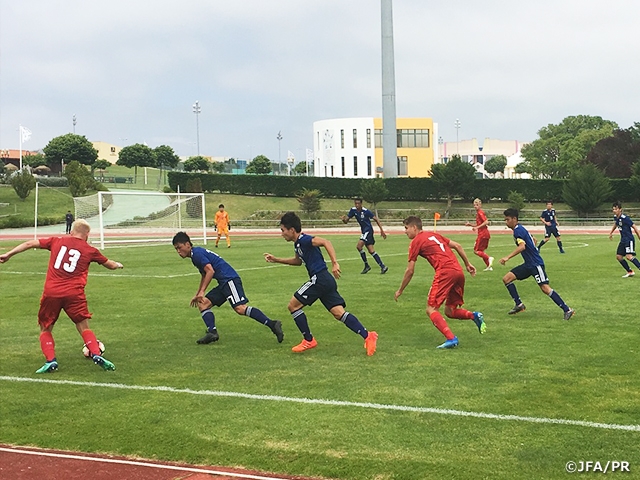 The 24th Lisbon International U18 Tournament 1st Match vs U-18 Czech Republic
Wed. 13 June 2018 Kick-off 15:00 90mins (45mins x2)
Mafra, Portugal
U-18 Japan National Team 1-0 (1-0, 0-0) U-18 Czech Republic National Team
Scores
22' YAMADA Hiroto (U-18 Japan National Team)
Starting Line-ups
GK: ISHII Ryo
DF: YOSHINAGA Shoi, MIKUNI Kenedeiebusu, YOSHIMURA Hitoshi, HIGASHI Shunki
MF: MIZUNO Yuta, KIDA Hinata, Appelkamp Shinta Karl, TSUBAKI Naoki
FW: YAMADA Hiroto, SAITO Koki
Reserves
GK: UMEDA Togo
DF: NAKAMURA Toya, NAKAMURA Takumi
MF: HIRAKAWA Rei, SUZUKI Toichi, KOZUKI Soichiro, YAMAMOTO Rihito
FW: MIYASHIRO Taisei, SAKURAGAWA Solomon
Substitutions
HT YAMADA Hiroto → SAKURAGAWA Solomon
61' Appelkamp Shinta Karl → HIRAKAWA Rei
61' YOSHIMURA Hitoshi → NAKAMURA Toya
70' TSUBAKI Naoki → SUZUKI Toichi
90' YOSHINAGA Shoi → NAKAMURA Takumi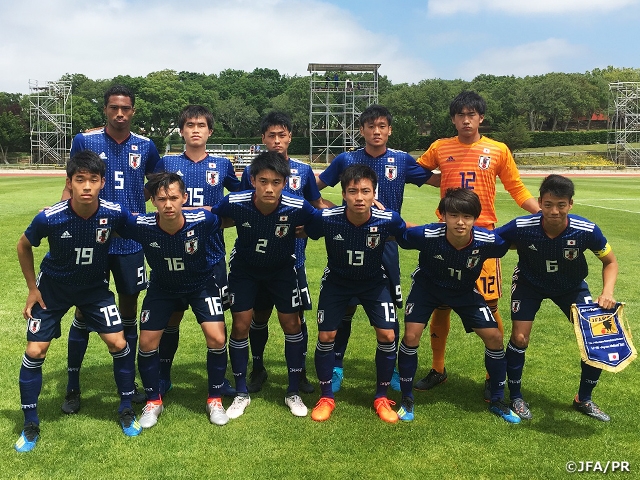 Match Report
The U-18 Japan National Team got off to a good start in the Lisbon International U18 Tournament as they won their first match against the U-18 Czech Republic National Team 1-0.
The two sides are no strangers to each other, as they have played against each other in every age categories, knowing exactly what the other side has to offer. The Japanese side entered the match seemingly nervous, struggled to push off the physical pressure applied from their European rival. In the 11th minute, the Czech Republic side came close to scoring the opener off a long-throw but was called offside. Just a minute later, they fired a shot after penetrating the Japanese flank, but this attempt was off target. Czech Republic continued to take control of the match, but led by the duo defenders MIKUNI Kenedeiebusu and YOSHIMURA Hitoshi, the Japanese defence showed great patience to deny the opposing threats utilising their body. Their persistent defensive efforts gradually built momentum, and on the 22nd minute, their patience got paid off. Midfielder Appelkamp Shinta Karl caught the opponents off guard as he forced a turnover in the midfield. The ball was passed to MIZUNO Yuta in the right side, who dribbled up the field, making a move to get past his marksman and launching a shot. The shot was deflected by the goalkeeper, but YAMADA Hiroto was there to convert the loose ball to give Japan the opening goal. Japan went onto take control of the ball possession, creating further opportunities to extend their lead. In the 40th minute, forward SAITO Koki fired a shot after playing a give-and-go with his teammate, but his effort went over the cross bar. Despite the later dominance in the half, Japan came short from scoring their second goal, entering halftime with a 1-0 lead.
Desperately seeking for a victory in their opening match, both teams clashed hard in the second half. Japan seemed to be affected by the wind, which picked up its pace in the second half. The Czech side on the other hand, effectively utilised long balls and give-and-goes to penetrate the flanks. To counter that, Japan showcased quick transitions, which they claim to be their team concept, fighting vigorously to regain possession of the ball when forced a turnover. Even when they were left off-balanced, the Japanese players stuck with the ball to initiate their build-ups, giving no goal scoring opportunities for the opponents. However, they also struggled to create opportunities as their offence seemed to lack quality in the final pass and shots. Czech Republic threatened the Japanese goal on the 61st and 69th minute, striking powerful shots from distance, but in both occasions, goalkeeper ISHII Ryo blocked the shots. Japan managed to secure their lead as they kept possession of the ball effectively against their opponents who seemed to be out of gas. Surviving through a last-minute scare, Japan got their first win of the tournament.
Japan will now face the host team, U-18 Portugal National Team on Friday 15, who bested U-18 Norway National Team 3-0 in their tournament opener.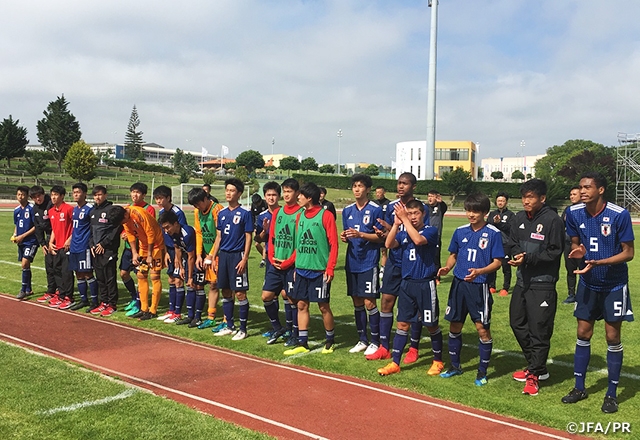 Players' Comments
DF #17 YOSHINAGA Shoi (Omiya Ardija Youth)
I am glad to be called up to the national team for the first time. I don't want this to be the last time, so I will give all I've got in this tournament. Training with players I've never played with before, at first it was hard even to connect passes, but as we trained together we started to get in sync with each other. It helped that my teammates were friendly and easy to talk with. We were able to win our match today because we managed to conduct quality trainings within our limited time. In our match today, I was too busy playing defence, so I didn't get much opportunities to over-lap, but I think I showed that I can cope with opponents who are physically superior and take them on singlehandedly. To win the title, it is important to win consecutive matches, so I will head into our next match against Portugal, with the mindset that we will win our match regardless of who we play and do my best to contribute to my team.
MF #13 MIZUNO Yuta (Ozu High School)
To be honest, I was very surprised to be called up to the national team. At the same time, I was very pleased and felt like I have accomplished one of my goals. The training sessions with teammates who shares great tactical understandings were very high level, filled with positive vibes and very productive. In our match today, we focused on our defence, but I personally regret how I couldn't cope against stronger opponents when I was in contact with them. I also made bad decisions, causing turnovers from my dribbles and gave away opportunities to our opponents to initiate counter attacks. However, there were scenes where I gained confidence, such as how I broke away from the marksmen with my one-touch plays, and the play which led to our opening goal. I feel like I gained a great experience through this match filled with high intensity, a type of match I cannot experience in Japan. I would like to learn from my teammates and opponents, take away all the positives and improve greatly as an individual. We will prepare ourselves well in order to win our next match as a team.
MF #16 Appelkamp Shinta Karl (Fortuna Düsseldorf U-19)
The opportunity to represent your country is always something special. It has been a while since I got called up for an international tournament with such high standards, so I am very happy. We managed to put in everything we got in the four training sessions leading up to our first match, so I think that led us to victory today. Winning the first match gives us great momentum through out the tournament. However, it was evident that we need to do a better job defending against physically superior opponents and fight harder in fifty-fifty situations. We also must create more attacking threats. Obviously, our team goal is to win the title, and we hope to learn the strong points of our opponents, who all shares different traits.
For our next match against Portugal, we hope to utilise the momentum we gained today and improve on our weak points we learned through our match against Czech Republic.
FW #9 YAMADA Hiroto (Cerezo Osaka)
After being called for the training camp in Osaka for the U-19 National Team Shortlist, I am glad to be called up again. However, I must keep in mind of the fact I did not make it into he U-19 Japan National Team, I hope to leave good results with the U-18 Japan National Team. We have a mixed bag of players, some usual faces from last year, and some who newly joined this year. It makes it that much harder to coordinate as a team, but we are learning the team concept from Coach KAGEYAMA each day, and we all shared the same intention, so our performance was not so bad today. At a personal level, I am glad because I managed to score a goal today. Winning the opening match is a big accomplishment for the team, and as our group leader UCHIYAMA Atsushi said, we must stay eager to earn results and win the title.
Schedule
Sun. 10 June
PM
Training
Mon. 11 June
AM/PM
Training
Tue. 12 June
AM/PM
Training
The 24th Lisbon International U18 Tournament
Wed. 13 June
1-0
1st Match vs U-18 Czech Republic (Municipal Sports Park)
Thu. 14 June
AM
Training
Fri. 15 June
16:00
2nd Match vs U-18 Portugal (Municipal Sports Park)
Sat. 16 June
AM
Training
Sun. 17 June
11:00
3rd Match vs U-18 Norway (National Stadium)
*Local Time
*The schedule is subject to change due to the team condition, the weather, etc.
The 24th Lisbon International U18 Tournament
Dates: Sat. 9 June - Tue. 19 June 2018
Venue: Municipal Sports Park, National Stadium/Portugal
Tournament Information