NEWS
U-17 Japan National Team claim title with win over U-19 Timor-Leste National Team- JENESYS2019 Youth Football Exchange Tournament
01 March 2020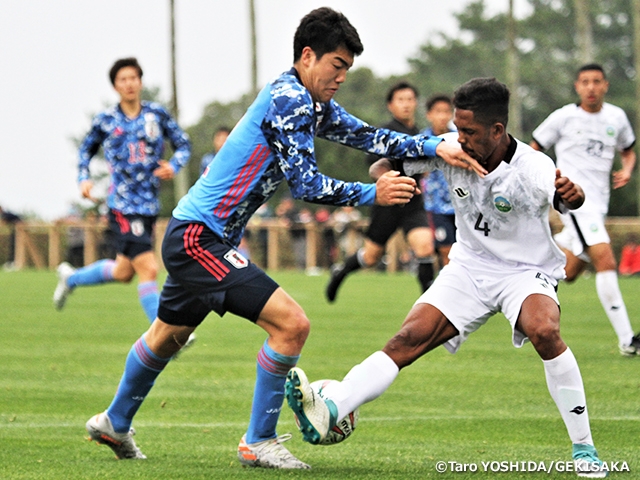 JENESYS2019 Youth Football Exchange Tournament
vs U-19 Timor-Leste National Team
Sat. 29 February 2020 14:00 Match duration 80mins (40mins×2)
Ibusuki Iwasaki Hotel Football Field, Kagoshima
U-17 Japan National Team 7-0 (5-0, 2-0) U-19 Timor-Leste National Team
Scores
4' MATSUKI Kuryu (U-17 Japan National Team)
5' TOYODA Koki (U-17 Japan National Team)
22' MAIE Hidetaka (U-17 Japan National Team)
27' CHASE Anrie (U-17 Japan National Team)
40' HIGASHI Ren (U-17 Japan National Team)
50' MAIE Hidetaka (U-17 Japan National Team)
74' FUJIWARA Kensuke (U-17 Japan National Team)
Starting Line-up
GK: TAKAHASHI Ippei
DF: KUDO Kota, NAMIMOTO Rai, CHASE Anrie, SHIMIZU Kazuma
MF: FUKUDA Shio, MATSUKI Kuryu, FUJIWARA Kensuke, TOYODA Koki
FW: MAIE Hidetaka, HIGASHI Ren
Reserves
GK: KUROKAWA Raihei
DF: MATSUDA Hayate, YASHIKI Yusei, SUWAMA Kosei
MF: AOKI Shunsuke, YASUDA Kojiro
FW: KATSUSHIMA Shinnosuke
Substitutions
HT KUDO Kota → MATSUDA Hayate
HT CHASE Anrie → SUWAMA Kosei
50' TOYODA Koki → AOKI Shunsuke
50' FUKUDA Shio → YASUDA Kojiro
60' HIGASHI Ren → KATSUSHIMA Shinnosuke
63' TAKAHASHI Ippei → KUROKAWA Raihei
Match Report
On Saturday 29 February, the U-17 Japan National Team faced the U-19 Timor-Leste National Team at the tournament final of the JENESYS2019 Youth Football Exchange Tournament held in Ibusuki, Kagoshima.
Ahead of the final, the team reviewed the previous three matches to address their tasks and areas they managed to improve on. The match started with Japan showing great aggression to take the initiative, as the opening goal came in the fourth minute, when MATSUKI Kuryu followed up a shot taken by TOYODA Koki to give the home side an early lead. It was Toyoda who scored the second goal, as he struck a powerful shot that pierced the net in the fifth minute. With momentum on their side, Japan managed to score their third goal, when MAIE Hidetaka broke through from a counterattack in the 22nd minute. CHASE Anrie was the beneficiary of the corner kick delivered by Matsuki in the 27th minute, as the defender struck a header to register the team's fourth goal. In the 40th minute, HIGASHI Ren connected with a cross to send Japan into halftime with a five goal lead.
Japan continued to show their dominance in the second half, as Maie showed a spectacular individual effort to score the team's sixth goal in the 50th minute. FUJIWARA Kensuke made it 7-0 in the 74th minute, after capitalising on a short counter. As a result, Japan took down the title with four consecutive victories. Following the final, the two teams spent their time taking pictures and interacting with each other on the pitch.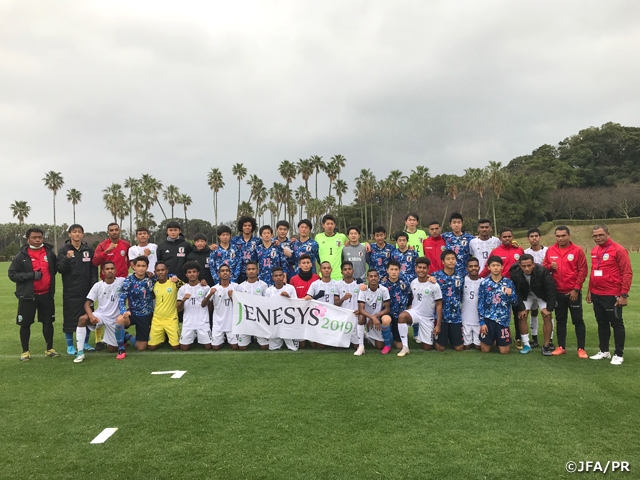 Coach and Players' Comments
FUNAKOSHI Yuzo, Coach
Throughout this tournament, I demanded my players to show their commitment as a member of the Japan National Team, and they responded by displaying great dedication in our training sessions and matches. As a result, I was able to see great development from our team. I hope the players will learn from this experience and work even harder at a daily basis, so that they can be selected into the national team for higher categories. Lastly, I would like to thank everyone who have supported the players, visiting teams from other nations, and tournament staffs for making this wonderful tournament possible during these tough times.
MF #13 FUJIWARA Kensuke (Jubilo Iwata U-18)
Through this tournament, I was able to learn the difficulties of facing teams from Asia. At a personal level, I struggled against their physical strengths and high athleticism. Asian teams are also very eager to win, so all of the matches were intense, but I am glad that I was able to showcase my strong points to get myself involved in our team's goals. It was also great to see our team accomplish our goal of staying undefeated to win the title. This was a very productive tournament. I am thankful for everyone involved to make this tournament possible.
FW #10 KATSUSHIMA Shinnosuke (Kyoto Sanga F.C. U-18)
We were able to win the title at this JENESYS2019 Youth Football Exchange Tournament. It was great to see our team making adjustments against defensive teams, as we managed to showcase great improvements in our plays at the final third. I personally would like to heighten the quality of my plays to become a more dangerous player in front of the goal.
FW #17 HIGASHI Ren (Shimizu S-Pulse Youth)
We faced our Asian rivals at this tournament and each team showed great intensity to win the ball, making it hard for us to score goals. Although I was able to score two goals today, there were plenty of more chances I could have converted. I will continue to work hard so that I can become a player who can score goals when the team is struggling.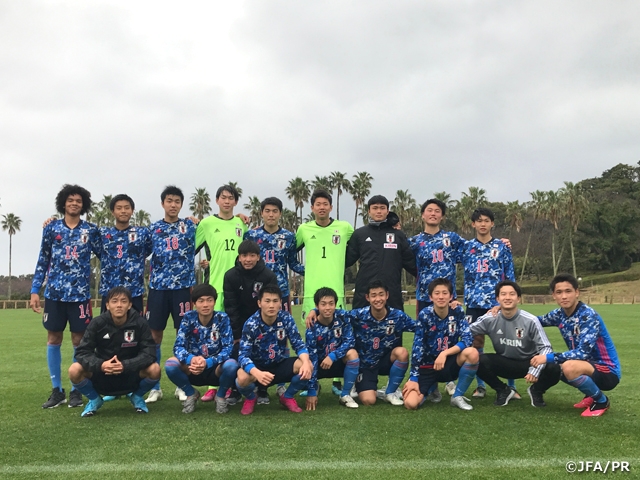 Schedule
Mon. 24 February
AM/PM
Training
Tue. 25 February
AM/PM
Training
Wed. 26 February
7-1
1st Match vs Kagoshima Selection U-18
(Ibusuki Iwasaki Hotel Football Field)
Thu. 27 February
2-1
2nd Match vs U-19 Laos National Team
(Ibusuki Iwasaki Hotel Football Field)
Fri. 28 February
1-0
3rd Match vs U-17 Malaysia National Team
(Ibusuki Iwasaki Hotel Football Field)
Sat. 29 February
7-0
Final vs U-19 Timor-Leste National Team
(Ibusuki Iwasaki Hotel Football Field)
*The schedule is subject to change due to the team condition, the weather, etc.
JENESYS2019 Youth Football Exchange Tournament
Dates: Wed. 26 – Sat. 29 February 2020
Venue: Ibusuki Iwasaki Hotel Football Field (Ibusuki, Kagoshima)
Participating Teams: Total of 8 teams including; national teams ranging between the U-17 and U-19 categories from 4 ASEAN countries (Cambodia, Laos, Malaysia, Myanmar), Timor-Leste, U-17 Japan National Team, Kagoshima Selection U-18, and KAGOSHIMA UNITED FC U-18
Upcoming Schedule of U-17 Japan National Team
| | |
| --- | --- |
| Sun. 24 - Wed. 27 May | Domestic Training Camp (J-Village, Fukushima) |
| Wed. 16 - Tue. 22 September | The 24th International Youth Soccer in Niigata |
| October - December (TBC) | Tour Abroad (TBC) |