NEWS
U-17 Japan National Team advance to tournament final with win over U-17 Malaysia National Team - JENESYS2019 Youth Football Exchange Tournament
29 February 2020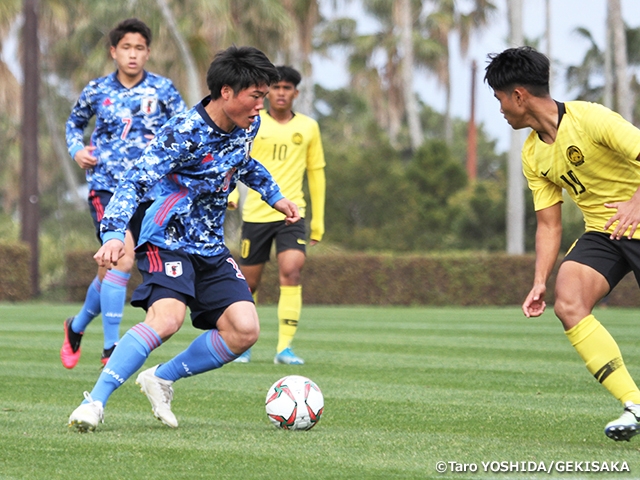 On Friday 28 February, the U-17 Japan National Team played their final group stage match of the JENESYS2019 Youth Football Exchange Tournament against the U-17 Malaysia National Team.
In the third and final group stage match, the Malaysian side started off the match with great aggression, as their pressure gave Japan a hard time controlling the ball at the final third. Japan sought for their opportunities through their quick ball movements and came close to scoring the opening goal in the seventh minute, when MATSUKI Kuryu struck a powerful shot from the left side, but his attempt couldn't hit the target. Although Japan continued to create chances through their side attacks, the match entered halftime scoreless.
The two sides maintained their aggression to showcase a heated battle in the second half. With Japan earning consecutive corner kicks and free kicks, they collected the ball to CHASE Anrie, who showed his dominance in the air, but their attempts fell short from capturing the goal. In efforts to break the deadlock, Japan brought MAIE Hidetaka and SHIMIZU Kazuma onto the pitch. Soon after being introduced to the match, the duo combined with each other to score the game winner, as Maie converted a cross delivered by Shimizu to give Japan their long awaited lead. With time running out, the aggression displayed by the Malaysian players started to escalate, as they saw two of their players getting ejected by the referee. Despite facing rough final minutes, the Japanese players managed to keep their composure to maintain the clean sheet to win the match 1-0.
The U-17 Japan National Team will now face the U-19 Timor-Leste National Team at the tournament final on Saturday 29 February.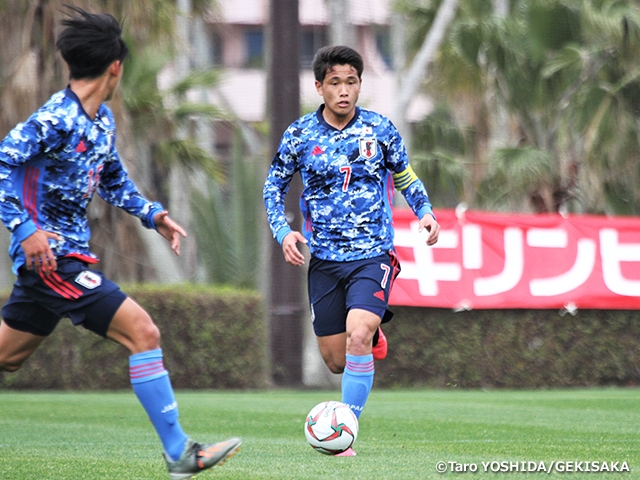 Players' Comments
DF #16 SHIMIZU Kazuma (Shizuoka Gakuen High School)
With today's match being a very close match, I am glad that I was able to assist the game winner with my cross, which is one of my strong points. I managed to assist a goal from a similar play in our first match as well, and it gave me confidence that I can compete at this level. Once I make my return to my club, I will continue to polish up on my strong points, while improving my weak points. At tomorrow's final, I will focus on showcasing what we learned through this camp and give my best efforts to help the team win the title.
FW #9 FUKUDA Shio (Kamimura Gakuen Junior High School)
With our opponent taking a defensive approach, we really struggled to create chances in today's match, especially in the first half. We had to be more creative in our ball movements to penetrate the opponent's weak spots. I personally would like to become a player who can change the dynamics of the match, especially in matches like this. Through this camp, I was able to find out what I lack as a player, so I will implement the findings into my daily trainings and work hard to improve myself.
FW #11 MAIE Hidetaka (Kashiwa Reysol U-18)
I was utilised as a substitute while the match was still tied at 0-0, and I entered the match with a strong determination to score the game winner. Shimizu delivered a great cross from the right flank and I focused on making good contact with the ball. Fortunately, the ball went right where I wanted, and I am very glad that I was able to score that goal. The game got a bit scrappy after that goal, but we managed to keep our composure as a team. We will work together as a team to win our final match and take home the title.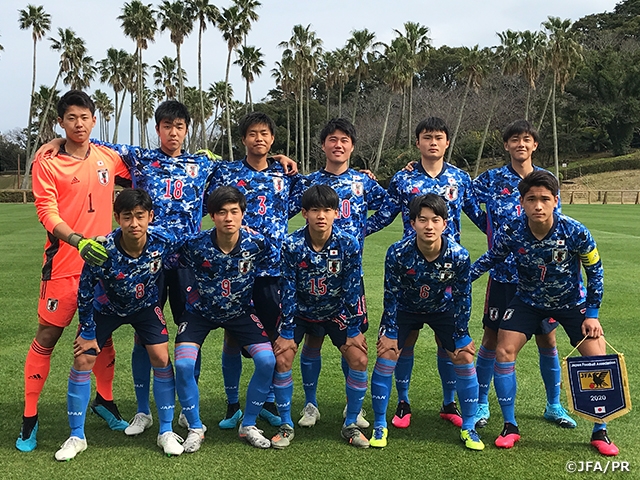 Schedule
Mon. 24 February
AM/PM
Training
Tue. 25 February
AM/PM
Training
Wed. 26 February
7-1
1st Match vs Kagoshima Selection U-18
(Ibusuki Iwasaki Hotel Football Field)
Thu. 27 February
2-1
2nd Match vs U-19 Laos National Team
(Ibusuki Iwasaki Hotel Football Field)
Fri. 28 February
1-0
3rd Match vs U-17 Malaysia National Team
(Ibusuki Iwasaki Hotel Football Field)
Sat. 29 February
14:00
Final vs U-19 Timor-Leste National Team
(Ibusuki Iwasaki Hotel Football Field)
*The schedule is subject to change due to the team condition, the weather, etc.
JENESYS2019 Youth Football Exchange Tournament
Dates: Wed. 26 – Sat. 29 February 2020
Venue: Ibusuki Iwasaki Hotel Football Field (Ibusuki, Kagoshima)
Participating Teams: Total of 8 teams including; national teams ranging between the U-17 and U-19 categories from 4 ASEAN countries (Cambodia, Laos, Malaysia, Myanmar), Timor-Leste, U-17 Japan National Team, Kagoshima Selection U-18, and KAGOSHIMA UNITED FC U-18
Upcoming Schedule of U-17 Japan National Team
| | |
| --- | --- |
| Sun. 24 - Wed. 27 May | Domestic Training Camp (J-Village, Fukushima) |
| Wed. 16 - Tue. 22 September | The 24th International Youth Soccer in Niigata |
| October - December (TBC) | Tour Abroad (TBC) |