NEWS
U-17 Japan National Team win 2nd group match against U-19 Laos National Team 2-1 - JENESYS2019 Youth Football Exchange Tournament
28 February 2020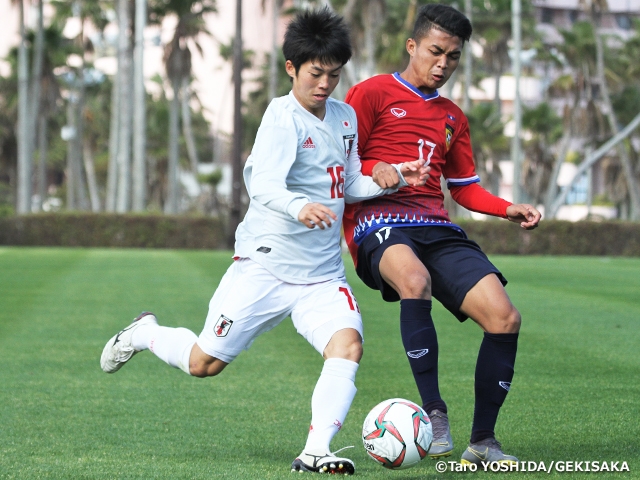 JENESYS2019 Youth Football Exchange Tournament
vs U-19 Laos National Team
Thu. 27 February 2020 14:00 Match duration 80mins (40mins×2)
Ibusuki Iwasaki Hotel Football Field, Kagoshima
U-17 Japan National Team 2-1 (1-1, 1-0) U-19 Laos National Team
Scores
17' TOYODA Koki (U-17 Japan National Team)
23' goal against (U-19 Laos National Team)
55' TOYODA Koki (U-17 Japan National Team)
Starting Line-up
GK: KUROKAWA Raihei
DF: MATSUKI Kuryu, KUDO Kota, CHASE Anrie, YASHIKI Yusei
MF: SHIMIZU Kazuma, TOYODA Koki, FUJIWARA Kensuke, AOKI Shunsuke
FW: MAIE Hidetaka, HIGASHI Ren
Reserves
GK: TAKAHASHI Ippei
DF: SUWAMA Kosei, NAMIMOTO Rai, MATSUDA Hayate
MF: YASUDA Kojiro
FW: KATSUSHIMA Shinnosuke, FUKUDA Shio
Substitutions
HT AOKI Shunsuke → YASUDA Kojiro
HT MATSUKI Kuryu → MATSUDA Hayate
51' HIGASHI Ren → KATSUSHIMA Shinnosuke
60' SHIMIZU Kazuma → FUKUDA Shio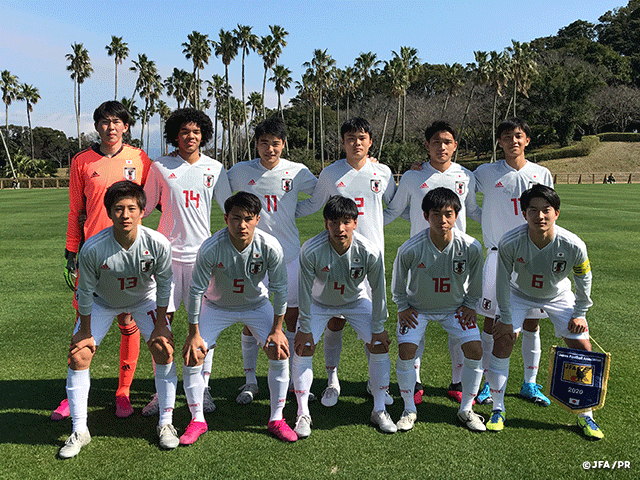 Match Report
On Thursday 27 February, the U-17 Japan National Team faced the U-19 Laos National Team in their second group match of the JENESYS2019 Youth Football Exchange Tournament held at Ibusuki, Kagoshima. With the team needing to play four matches in four days to claim the title, Japan made seven changes to their starting line-up from the day before.
The match started with Japan showing their dominance in ball possession, but struggled to create major opportunities, as Laos lined-up a 5-4-1 formation with their defenders dropping deep in their territory. Despite their early struggles, the home side struck the opening goal in the 17th minute, when team captain TOYODA Koki delivered a spectacular lobbing shot that found the back of the net. However, Laos responded just six minutes later, when they struck a mid-range shot following a counterattack to level the match, sending the match into halftime with a 1-1 score.
Similar to the first half, Japan took control of the ball possession in the early minutes of the second half, but had a tough time finding ways to crack open the Lao defence line. The deadlock was broken in the 55th minute, when Toyoda connected with a corner kick to score his second goal of the match. With momentum on their side, Japan continued to threaten the opposing goal, but the match ended with a final score of 2-1, giving Japan their second consecutive victory at the group stage.
The U-17 Japan National Team will now face the U-17 Malaysia National Team on Friday 28 February.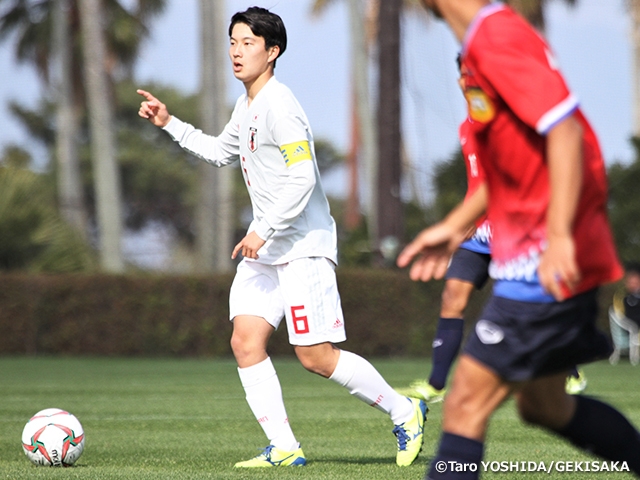 Players' Comments
DF #14 CHASE Anrie (Shoshi High School)
This was my first time playing for the national team, so I had a mixed feeling of nervousness and excitement. After playing the entire match, I felt that I was not at the level to play with this team, and that I must work harder to improve myself. We will give our best to win the remaining two matches and win the title.
MF #6 TOYODA Koki (Nagoya Grampus U-18)
I am very honoured to be selected into this U-17 Japan National Team. I was handed the armband in today's match against Laos, and our offensive quality was tested against a very defensive team. Facing one of our Asian rivals, our teamwork was also tested in this match. Through this match, it was evident that we lacked quality and creativity to convert our chances at the final third. We were also able to learn the unique difficulties when facing Asian teams, compared to European teams. Fortunately, we still have two more matches, so we hope to focus not only on winning the match, but to showcase a positive performance. I will give my utmost efforts to lead the team to win the title.
MF #7 MATSUKI Kuryu (Aomori Yamada High School)
First of all, I am glad that I was selected into this squad. In our match against the U-19 Laos National Team, we struggled against their five-back formation and couldn't showcase our usual performance at all. The fact that we conceded during the first half is a huge problem, but it was great to see our side convert a set-piece in the second half. We struggled dearly against our Asian rival, but I am glad that we were able to come through with a victory. We hope to fully display our willingness to win in the next two matches. Personally, I will do my best to showcase a performance that can contribute to the team's victory.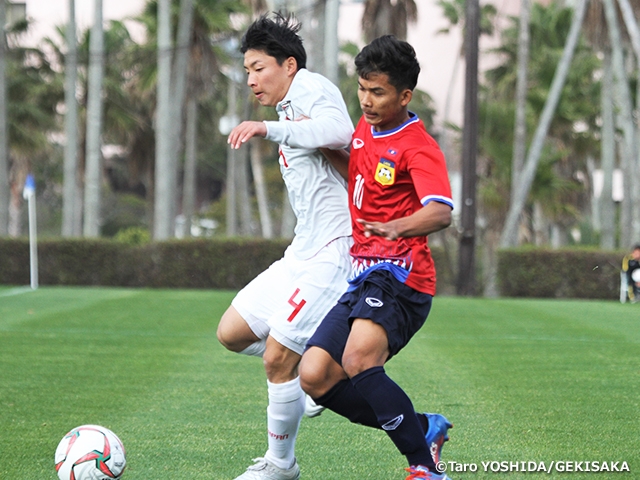 Schedule
Mon. 24 February
AM/PM
Training
Tue. 25 February
AM/PM
Training
Wed. 26 February
7-1
1st Match vs Kagoshima Selection U-18
(Ibusuki Iwasaki Hotel Football Field)
Thu. 27 February
2-1
2nd Match vs U-19 Laos National Team
(Ibusuki Iwasaki Hotel Football Field)
Fri. 28 February
14:00
3rd Match vs U-17 Malaysia National Team
(Ibusuki Iwasaki Hotel Football Field)
Sat. 29 February
10:30 or 14:00
4th Match Play-off
(Ibusuki Iwasaki Hotel Football Field)
*The schedule is subject to change due to the team condition, the weather, etc.
JENESYS2019 Youth Football Exchange Tournament
Dates: Wed. 26 – Sat. 29 February 2020
Venue: Ibusuki Iwasaki Hotel Football Field (Ibusuki, Kagoshima)
Participating Teams: Total of 8 teams including; national teams ranging between the U-17 and U-19 categories from 4 ASEAN countries (Cambodia, Laos, Malaysia, Myanmar), Timor-Leste, U-17 Japan National Team, Kagoshima Selection U-18, and KAGOSHIMA UNITED FC U-18
Upcoming Schedule of U-17 Japan National Team
| | |
| --- | --- |
| Sun. 24 - Wed. 27 May | Domestic Training Camp (J-Village, Fukushima) |
| Wed. 16 - Tue. 22 September | The 24th International Youth Soccer in Niigata |
| October - December (TBC) | Tour Abroad (TBC) |