NEWS
With loss to U-17 Niigata Selection U-17 Japan National Team finish in 2nd in the 20th International Youth Soccer in Niigata
19 July 2016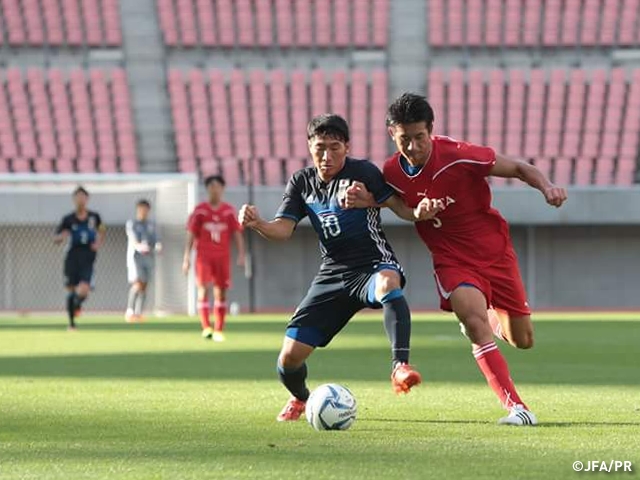 The 20th International Youth Soccer in Niigata 3rd Match vs U-17 Niigata Selection
2016-7-18 (Mon.) - 15:50 Playing Time: 90min. (45min.×2)
DENKA BIG SWAN STADIUM (Niigata City/Niigata)
U-17 Niigata Selection 2-1 (1-0, 1-1) U-17 Japan National Team
Scores
44' Goal against (U-17 Niigata Selection)
66' Goal against (U-17 Niigata Selection)
69' HORI Kenta (U-17 Japan National Team)
Line-ups
GK: SARUTA Haruki
DF: FUJIMATSU Kouya, NAKAGAWA Sou, AOYAMA Yusuke, HIYAMA Yuya
MF: SENBA Taishi, FUJIMOTO Kanya, KOBAYASHI Mao, WATAI Masaki
FW: TAGAWA Kyosuke, NAKAJIMA Motohiko
Substitutes
GK: WAKAHARA Tomoya
DF: IRUMAGAWA Keita, ISHIHARA Hirokazu
MF: IZAWA Haruki, MURATA Masaki, HORI Kenta
FW: TSUBAKI Naoki
HT SARUTA Haruki → WAKAHARA Tomoya
HT FUJIMATSU Kouya → ISHIHARA Hirokazu
HT WATAI Masaki → HORI Kenta
HT TAGAWA Kyosuke → TSUBAKI Naoki
61' KOBAYASHI Mao → MURATA Masaki
61' SENBA Taishi → IZAWA Haruki
74' HIYAMA Yuya → IRUMAGAWA Keita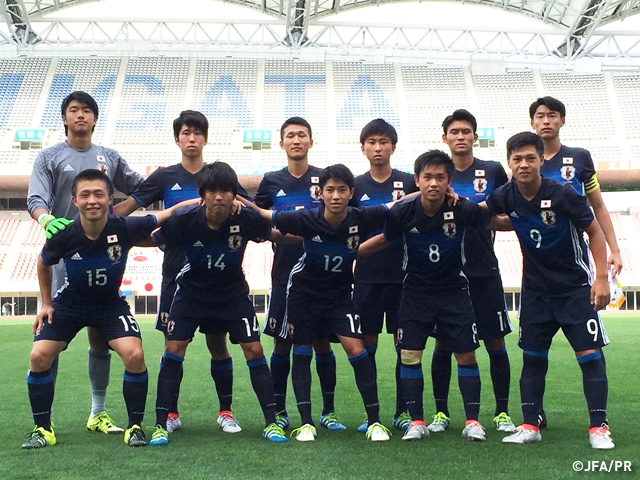 Match Report
The U-17 Japan National Team faced the U-17 Niigata Selection in their third match on Monday 18 July at 15:50 at Denka Big Swan Stadium.
Niigata Selection came close to Japan's goal with attacks mainly using long balls from the start. On the other hand, Japan strung the ball together from the back and initiated their attack from the flanks. Despite bringing the ball near the box, however, they struggled to take a shot.
In the 30th minute, left back HIYAMA went forward to provide a low cross to NAKAJIMA running towards the near post. Nakajima controlled the ball and fired a shot quickly, but it was well saved by the goalkeeper.
Japan continued to attack afterwards. In the 32nd minute, WATAI broke through the left flank and put in a low cross to Nakajima, but Nakajima's first-time point-blank shot was also parried by the goalkeeper. Japan created a couple of chances but failed to convert. When the first half was expected to finish 0-0, Niigata took a shot off the ball headed back from a left cross. The shot hit off the post, but a Niigata player tapped in a deflection to give his side a goal in the closing minutes of the first half.
Japan went aggressively with four players replaced from the second half. In the 49th minute, Nakajima launched a shot with a piece of individual play, but it again went straight to the goalkeeper. And in the 66th minute, Japan gave away the ball during build-up through a mistake, which helped the opponents score to put themselves into a 2-0 lead.
After breaking through his side a number of times with his speed, TSUBAKI ran up again in the 69th minute and sent a cross to Hori, who headed home to close the gap to 2-1. After that, although Tsubaki kept beating defenders on his side with his pace and dribble before putting in crosses, his teammates in the middle were not able to meet them because of lack of timing and accuracy.
In added time, IZAWA headed ISHIHARA's right side cross off the cross bar. Japan went attacking plenty more of times, but the net was still far away for them. The match finished with Niigata's 2-1 win.
The U-17 Japan National Team ended in second place in the 20th International Soccer in Niigata with one win, one loss and one draw.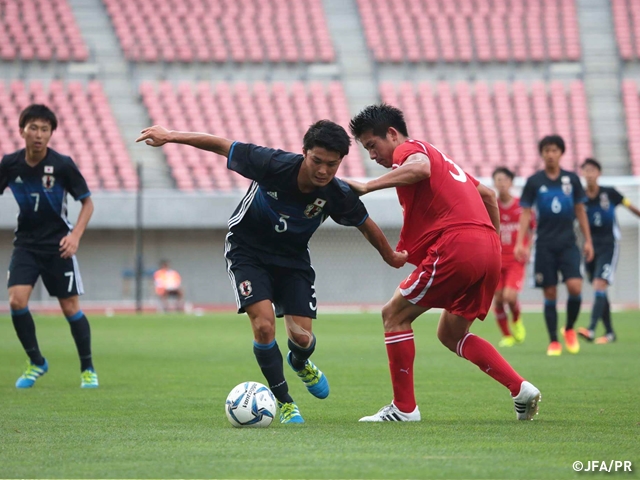 Coach and Players' Comments
YAMAGUCHI Motohiro, Coach
We came up short in the end, but our concept of "high-level attitude" stimulated our players, and I hope they could feel it. We should keep being stimulated and I want them to look forward and improve quality of daily training and life to get to their high goal for the next two years, four years and six years. I hope they will look back and say this tournament was meaningful.
DF #2 NAKAGAWA Sou (Kashiwa Reysol U-18)
When we started to figure out the style of football little by little, our camp came to an end, and I also lacked something. There are a lot of things we should work on and we didn't come through as a team. I'm disappointed at the result that we finished in second in the tournament where we were aiming at the back-to-back championship. I personally needed to work through better, so I will try to improve those stuff after getting back to my team.
GK #1 WAKAHARA Tomoya (Kyoto Sanga F.C. U-18)
On the first day of the camp, I wasn't able to bring out what I have and almost wasted the opportunity here because, while playing, I didn't understand why I came here to the camp. When I looked back at myself and tried to start over, I had a chance to listen to goalkeeper coach Hamano and my teammates so that I could play how I wanted in this national team. We lost the last match and I didn't get a sense of achievement. I will take advantage of this experience and work hard back in my team to be called up for the Czech trip in August again.
Schedule
The 20th International Youth Soccer in Niigata
Sat. 16 July
2-0
vs U-17 Mexico (SpoIsland Seiro)
Sun. 17 July
1-1
vs U-17 Croatia (SpoIsland Seiro)
Mon. 18 July
1-2
vs U-17 Niigata Selection (DENKA BIG SWAN STADIUM)
*The schedule is subject to change due to the team condition, the weather, etc.