NEWS
U-17 Japan National Team's activity report at 20th International Youth Soccer in Niigata (13 July)
14 July 2016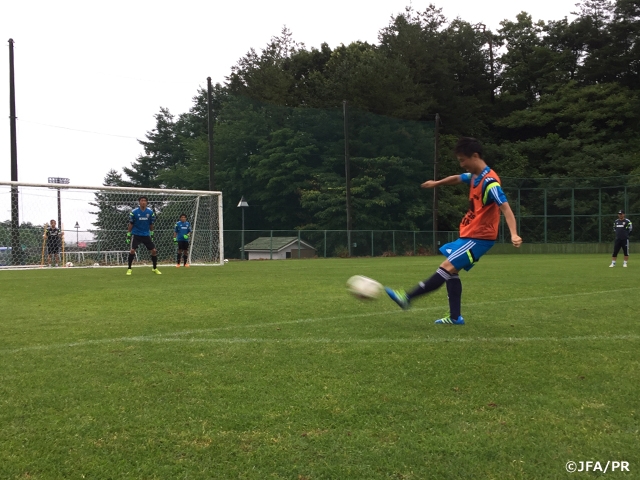 The U-17 Japan National Team held two practice sessions in the morning and afternoon, on the second day of the training camp.
In the morning, the players practiced passing and controlling as they had the day before, focusing more on forward passes. Then they moved onto keeping possession, followed by a practice game to finish the morning session. The new faces seemed to gradually get used to the atmosphere of team and started to show off their strengths.
In the afternoon, the team had to hold a session in strong rain. The players started to do a hand-passing game, focusing on communicating with each other. Then they moved onto practicing keeping possession with six balls, and went through attack combinations, so that they could improve coordination as a team. At the end, the attackers practiced shooting, while the defenders worked on long-distance shots and headers, in order to improve individual's skills.
During dinner, the team celebrated the birthdays of KIMURA Kokichi, the JFA Youth National Team Director, whose birthday was the previous day, KOBAYASHI Mao on 13 July, and WATAI Masaki on 18 July, the last day of the camp.
The players will hold another practice session tomorrow morning, followed by a training game against the Hokushinetsu Selection.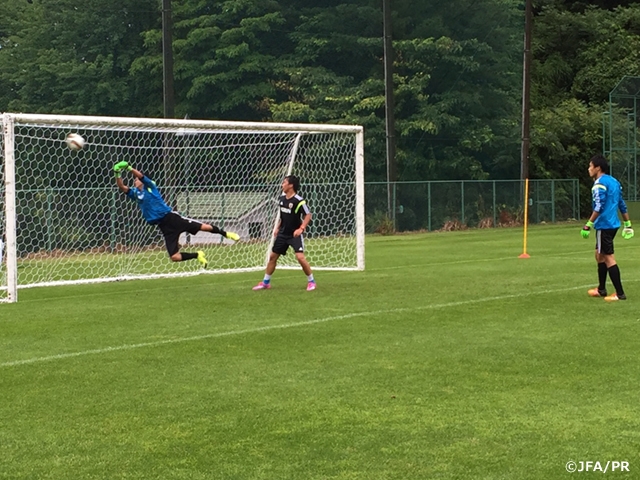 Players' Comments
MF #14 KOBAYASHI Mao (F.C. Tokyo U-18)
It is the second time I've joined the national team. Since I couldn't show off my strength enough last time, I really must perform better to display my skills. We've finished the second day. Although there are some new faces, I think we've been communicating well, getting prepared for the coming matches. We'd like to win all three games in the International Youth Soccer in Niigata. So I'd better prepare well.
FW #11 TAGAWA Kyosuke (Sagan Tosu U-18)
These two days have been an excellent experience, playing among high-level teammates. As it's a big opportunity for me to improve myself, I'd like to learn and take as much as possible from other players. There are only three forwards in our team. So I'll practice, focusing on the goal, so that I can score in every game as a striker.
DF #15 HIYAMA Yuya (Ichiritsu Funabashi High School)
I was surprised, to be honest, to be chosen for the national team for the first time. I was also nervous how much I could contribute to the team. During the camp, I believe I have been displaying my strengths, but I realised there is some level difference in the quality of small plays or passes, which I had never noticed before. As other players have better quality of technique and movement, I'd like to contribute by committing to a good amount of movement. I'm here as a representative of my club. So I'll show off my strengths aggressively, so that I can bring positive influence back to my club. I'll focus on each play in preparation for coming games, and never give up until the final whistle.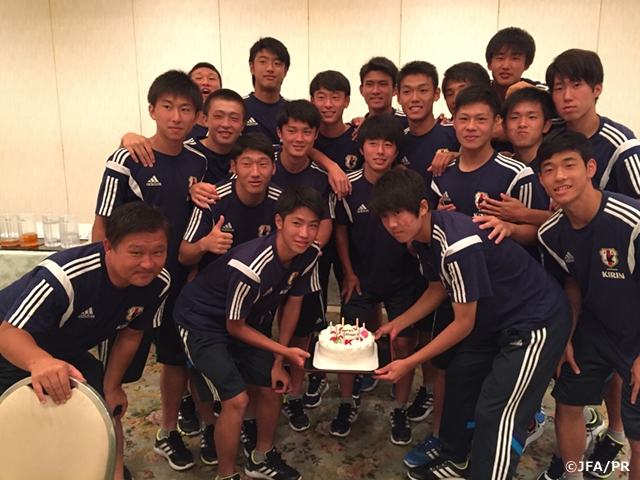 Schedule
Tue. 12 July
PM
Training
Wed. 13 July
AM/PM
Training
Thu. 14 July
AM
PM
Training
Training Match
vs Hokushinetsu Selection (Ijimino Park)
Fri. 15 July
AM
Training
The 20th International Youth Soccer in Niigata
Sat. 16 July
17:00
vs U-17 Mexico (SpoIsland Seiro)
Sun. 17 July
17:00
vs U-17 Croatia (SpoIsland Seiro)
Mon. 18 July
15:50
vs U-17 Niigata Selection (DENKA BIG SWAN STADIUM)
*The schedule is subject to change due to the team condition, the weather, etc.