NEWS
U-23 Japan National Team to seek for "Growth and results" in their first match of the AFC U-23 Championship Thailand 2020
09 January 2020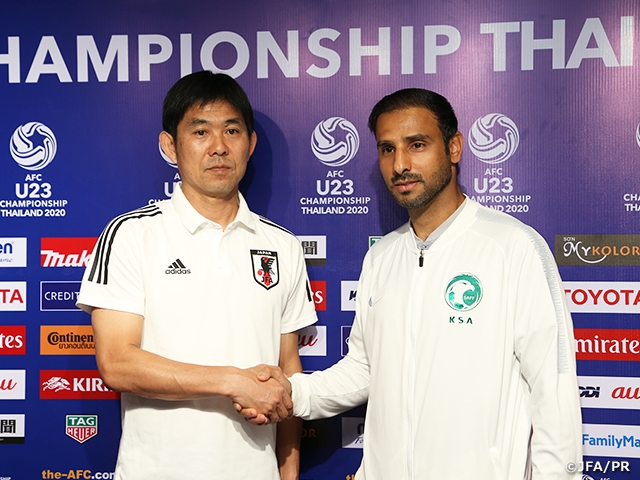 On Wednesday 8 January, one day ahead of their first match of the AFC U-23 Championship Thailand 2020, the U-23 Japan National Team held a training session in Bangkok. Also, on this day, coach MORIYASU Hajime appeared in the official press conference held at the match venue, Thammasat Stadium.
Along with U-23 Qatar National Team's coach Felix SANCHEZ BAS, U-23 Saudi Arabia National Team's coach Saad AL SHEHRI, and U-23 Syria National Team's coach Mohand AL FAQIR, coach Moriyasu took the podium and mentioned, "We our honoured to be a part of one of the top level tournament in Asia." The Japanese coach continued by sharing his aspiration towards the group competition, "We are grouped among strong teams and each match will present us with a great challenge. We will give our best efforts in each match while seeking for growth and results from our team."
When asked about their team captain, the coach mentioned KOJIMA Ryosuke (Albirex Niigata) as a candidate, but also commented, "None of our players are guaranteed to play in the match. Therefore, I will determine the game captain ahead of each match."
Ahead of the group stage, each coach mentioned that they are in a very difficult group, but also stated that they will give their best efforts to win through this tough group to advance to the knockout stage.
At the training session held in the evening, the team went over their team tactics. During the portion of the session where it was opened to the media, the field players went through their warmup routines before conducting various passing drills and sprints to condition their fitness. The goalkeepers were seen going through their own drills to get themselves prepared for the training session as well.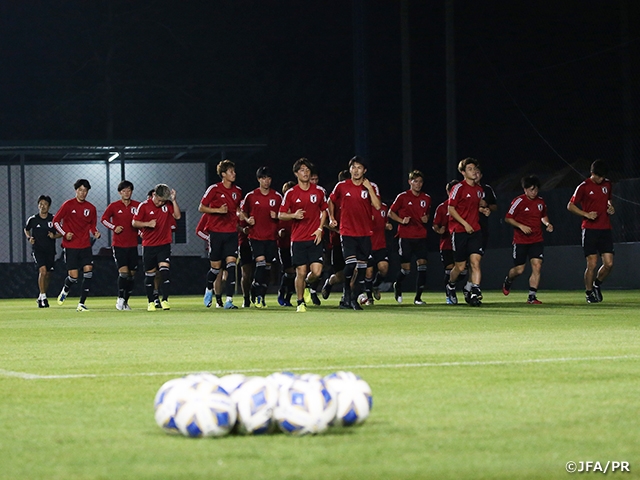 The AFC U-23 Championship Thailand 2020 has kicked off on this day, as fixtures of Group A were played. Led by coach NISHINO Akira, the host national Thailand defeated Bahrain 5-0, while the match between Iraq and Australia ended in a 1-1 draw.
The match between the U-23 Japan National Team and the U-23 Saudi Arabia National Team will kick-off at 20:15 (22:15 Japan time) on Thursday 9 January at Thammasat Stadium.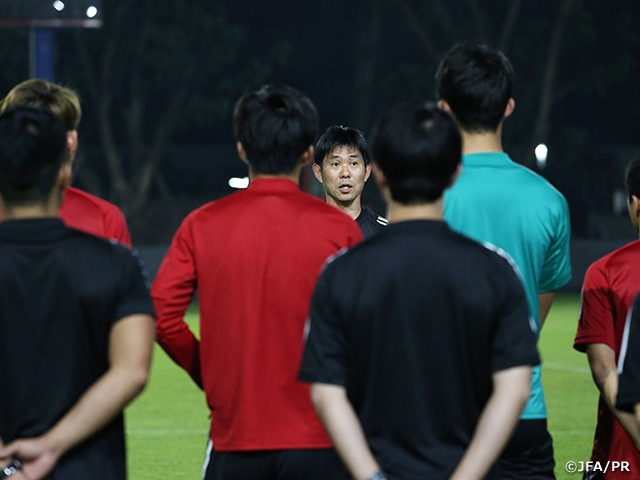 Coach and Players' Comments
MORIYASU Hajime, Coach
The first match of this tournament is going to be a very tough match for us. Our players have given their best efforts to prepare for this match, so I must do my job to allow them to enter the match relaxed and stay focused throughout the match. It is important that we respect our opponents and showcase our full potential in each match. We have faced Saudi Arabia at the Asian Games, and the SAMURAI BLUE (Japan National Team) have also faced them at the Asian Cup last year. They are a very organised team with great individual talents. We will be facing one of the top teams in Asia, and we are expecting a very difficult match.
GK #12 OSAKO Keisuke (Sanfrecce Hiroshima)
We will be facing a very difficult match tomorrow, but we have been working hard towards this match, so we will give our utmost efforts to win the match. The first match of the tournament is always an important match and the result of this match can have a huge impact on the team's momentum. How we enter this match will be an important factor, so we will focus to enter the match with great intensity.
DF #15 OKAZAKI Makoto (FC Tokyo)
The opening goal will play a key role in the first match of the tournament, so we must stay focused to keep a clean sheet. We should be able to pick up our pace as the match progresses, so it is important that we stay on the same page during the first 15 minutes of the match.
MF #14 MORISHIMA Tsukasa (Sanfrecce Hiroshima)
After watching our opponent on film, I have the impression that they have players with great speed. That is why it is important that we make it clear when to pull back and when to press forward. If we fail to win the ball while we press forward, our opponent can cause us some trouble. All players are aware that how we enter the first match will determine the outcome of the entire tournament. We must win this first match, especially knowing that we will be facing a strong Qatari side in our final group stage match.

Interview of ENDO Keita (Yokohama F・Marinos)

Interview of OGAWA Koki (Jubilo Iwata)
Schedule
Fri. 3 January
AM/PM
Training
Sat. 4 January
AM/PM
Training
Sun. 5 January
5-0
Training Match vs Samut Prakan City FC
Mon. 6 January
PM
Training
Tue. 7 January
PM
Training
AFC U-23 Championship Thailand 2020
Wed. 8 January
PM
Official Press-conference/Training
Thu. 9 January
20:15
1st Group Stage Match
vs U-23 Saudi Arabia National Team
(Thammasat Stadium, Bangkok)
Fri. 10 January
PM
Training
Sat. 11 January
PM
Training
Sun. 12 January
20:15
2nd Group Stage Match
vs U-23 Syria National Team
(Thammasat Stadium, Bangkok)
Mon. 13 January
PM
Training
Tue. 14 January
PM
Training
Wed. 15 January
20:15
3rd Group Stage Match
vs U-23 Qatar National Team
(Rajamangala Stadium, Bangkok)
Sat. 18 January
17:15/20:15
Quarterfinals (Thammasat/Rajamangala Stadium)
Wed. 22 January
17:15/20:15
Semi-Finals (Rajamangala/Thammasat Stadium)
Sat. 25 January
19:30
3rd Place Match (Rajamangala Stadium)
Sun. 26 January
19:30
Final (Rajamangala Stadium)
*Local time.
*The schedule is subject to change.
AFC U-23 Championship Thailand 2020
Tournament Dates: Wed. 8 - Sun. 26 January 2020
Tournament Venue: Thammasat Stadium, Rajamangala Stadium, Tinsulanon Stadium, Buriram Stadium (Thailand)